Spending time alone can be heaven or hell depending on what you do. Feel bored no longer though, this list of 43 things to do alone has you covered! Learn new skills, spend time relaxing by yourself or just find something fun to do on your own.
Table of Contents
Things to Do Alone Just for Fun
1. Geocaching
Geocaching is a fun new hobby that gets you outside and fills you with a sense of adventure. It's a mixture of treasure hunting and navigation. The goal is to find real-world caches that are hidden all over. Inside the caches could be anything. Often they will house a log book that you can sign.
To play, download the geocaching app and get started.
2. Order a Pizza
Give yourself a break, forget about cooking and washing up, and order your favorite pizza. Then, knowing that dinner's on the way, you have an extra half hour to get something else from this list done or decide which movie to watch.
3. Go to a restaurant
Just because you're going solo today doesn't mean you can't still get a table at a restaurant and eat well. There's no longer anything to be embarrassed about eating alone. On the other hand, if you feel a little self-conscious, why not go to a bar that also makes food? You can sit at the bar and have some comfort food and a beer (or two) to wash it down with.
4. Bake cookies, cake, or bread
Many people got into baking during the pandemic, but few kept it up after the lockdown. It's no secret that the smell of baking bread is the most inviting thing you can fill a house with. So bake yourself a loaf! You get to sit and smell it, and then you can eat it too.
5. Plan a Trip
Some time alone is perfect for planning your next trip away. Open up Google Maps and think about where in the world you'd like to go, then look online for the best things to do there.
Make yourself a travel itinerary full of the things you want to do a see. Then, make a list of souvenirs and travel memories you want to come back with, and then buy your flights!
6. Start a Website
Even if you don't know any HTML or aren't a techy person, you can still easily create your own website with builders like WordPress. There are only a few steps you need to take to build your own website and own real estate online. You might make a personal blog or create your own business. Here's what you need to do:
Buy your URL
Get hosting
Install WordPress
Start Publishing
7. Create Content for Social Media
Creating good social media content designed to get views and potentially even sales requires time and focus. Therefore, every post you make should be an investment in your future.
8. Eat Some Fruit and Plant the Seeds
You might think you need all sorts of equipment and special tools to create a garden full of fruits and vegetables. Although tools help, all you really need is a seed and some dirt to put it in.
So go to the fruit bowl, look in the bottom of the fridge or raid the pantry for your favorite fruit and veg. Then, eat it and plant the seeds in the backyard.
9. Make a Movie Starring Your Pets
We all love our pets, and if you've ever watched pet videos on Tiktok or YouTube, you'll know that we even love other people's pets. So why not come up with an entertaining idea starring your pet and film it? Your pet will love the extra attention, and you'll both have fun making it. Some good ideas might be:
Trying different foods
Obstacle course
Dressing up
Hide and Seek
10. Build a Fort in the Living Room
Take the pillows off the couch and use them as life-sized lego to create the ultimate fort! You probably haven't done this since you were a kid, but it's still as fun as ever. But, of course, now you have the advantage of age to build a much better fort than a six-year-old.
Afterward, prepare a picnic and invite the kids into your living room fort.
11. Go Shopping
A little retail therapy might be exactly what you need for a day by yourself. No kids moaning that they want to go home, no waiting for friends while they try on another outfit. No, just go into the stores you like and buy the things you want.
12. Go to the Book Store
In this age of digital everything, something is soothing about going to a store to buy a book. Also, my local bookstore has a cafe next door, so after I've found something I want to read, I can go next door for coffee and the perfect environment to read a good book.
13. Go to a Farmer's Market
If you're unsure where your local farmer's market is, Google it. I'm sure there is one closer than you think.
14. Find a New Podcast
15. Listen to the Best Albums Ever Made
Sure, you could listen to whatever your app recommends you, but why not decide to listen to the greatest albums ever made?
Give yourself a proper musical education by setting yourself the goal of listening to every song on every album of the 500 greatest albums ever made.
16. Test Drive Cars for Fun
Yes, people really do this! Contact your local car dealer and ask to test drive a few cars. You might have to listen to their sales pitch, but you don't have to buy one.
17. Watch Your Favorite Movie
You've seen it a hundred times, but you still love it. So why not watch it one more time and reminisce about that first time you watched it, and it captured your heart? For me, it was Crouching Tiger, Hidden Dragon.
18. Write a Blog Post
You don't have to be Hemmingway to write a blog post, and with a spellchecker, you don't even need to be able to spell.
Blog writing is more than a way to get things off your chest. Though you can use a blog that way, it's also a great side hustle that could turn into a real business.
19. Take a Road Trip
You're all alone, and you've got the day to yourself. So why not fill up the tank, put your favorite tunes on and take a road trip?
20. Play a Video Game You Loved as a Child
I grew up in the NES era and still love playing those games. Whenever you grew up, I'm sure there are video games that feel nostalgic, games that used to make hours fly by. But how often do you go back to those games now? Why not take them out and feel like a kid again?
Productive Things to Do When Alone
21. Start a Bullet Journal
Bullet journals like the ones you see posted online, full of beautiful artwork and calligraphy, obviously take a lot of work to maintain. But that's not what the bullet journal was supposed to be.
Carrol Ryder, the bullet journal creator, created it as a minimalist way to focus his ADHD. His version of the bullet journal takes less than five minutes to set up.
22. Create a Second Brain
The idea of a second mind isn't a new one, but the idea has received lots of further attention with the release of Tiago Forte's new book Building a Second Brain.
The idea is simple. Your mind isn't great at storing information for access when you want it. By creating a second brain with software, you'll never forget a good idea. Check out this guide to setting up a second brain in Obsidian.
23. Make a Vision Board
A vision board is a place to put all your hopes and dreams-the things you want to come true someday. You can write on it, attach photos or magazine clippings, or anything else. Be artistic with it and create something unique.
Seeing your vision board daily will keep your goals in the forefront of your mind and make you more likely to do the things you need to do to achieve them.
24. Write A List of Personal Goals
Find a good list of example personal goals and create your list of things you want to check off.
25. Declutter your home
A cluttered environment makes a cluttered mind. It's difficult to focus on something when the desk is a mess, just like it's difficult to cook a meal when the kitchen is a mess. You can't find the tools you need, there's no space to work, and everything is tugging your attention.
When you declutter and put everything away (or in the trash), you have the space to work and think, everything is where you expect it to be, and there are no distractions.
26. Organize your Digital Files
Just as you can't work well if your desk is a mess, you can't perform optimally if your laptop is a mess. Common problems include:
No files and folders hierarchy
Important files not backed up regularly
No separation between personal files and work files
You need a simple system that makes your digital life more manageable.
27. Financial Planning
Financial planning might not sound like much fun, but thanks to a new phenomenon called lifestyle creep, it's something that we should all do more regularly.
First, ask yourself, do you have any financial goals? If not, make some! And make them specific.
Save $300 each month.
Buy an investment property.
Buy $100 of index funds each month.
Then set up a system so that you meet your goals. It might mean:
Reducing expenses
Setting up automatic payments
Talking to a financial advisor
28. Start That Project
Do you have a project list? If not, you should think about making one. But if you have one, pull it out and decide to complete or make progress on one of your projects today. Again, time alone is perfect for this because you'll have no distractions and have the time and space you need to concentrate and make real progress.
29. Food Prep for the week
Food prep is an excellent use of time because it will save you so much time for the rest of the week. Think about how much time you spend making lunch and dinner each day. That's time you could spend working or doing something fun! So, prep the week's meals while you're alone at home with nothing better to do.
New Things to Learn by Yourself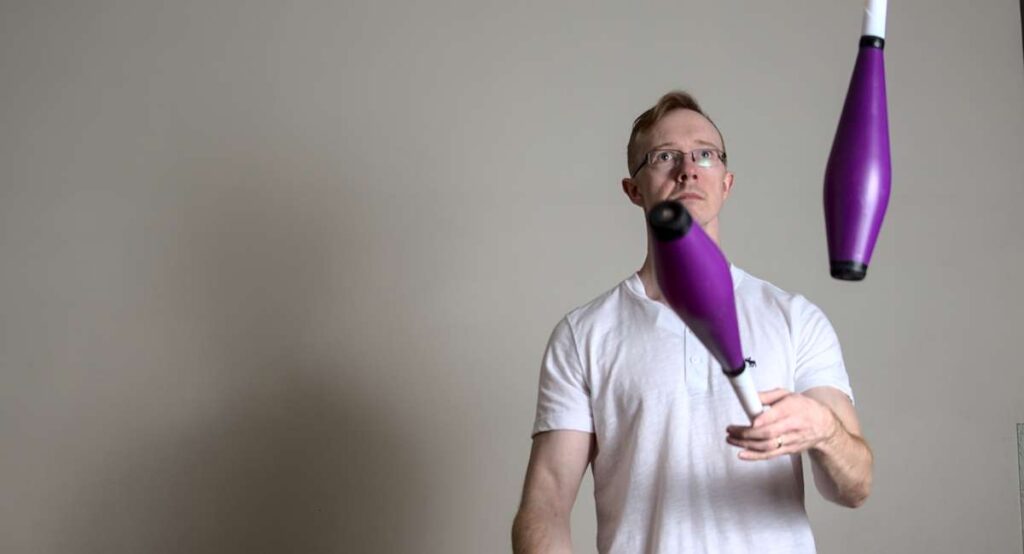 No one will see you throw the balls everywhere and drop them hundreds of times. An hour alone is the perfect time to learn to juggle because there's no need to be self-conscious. After about 30 minutes of practice, most people start to get the basic juggling pattern, and then quickly, you'll be good enough to show off in front of your friends.
31. Try Cooking a New Cuisine
Practice making a new dish from a foreign cuisine. Of course, if it all goes wrong, no one will know! But next time you have friends over and can whip up something unique and exotic, they'll all wonder where your new skills in the kitchen came from.
Here are some yummy suggestions:
32. Try Astrophotography
Photographing the night sky and getting good results can be tricky, but you don't need to have expensive cameras, lenses, and tripods to get started. Any phone can take beautiful photos of the stars. Just keep in mind these three tips:
Location – find a spot with little lighting around. This means getting out of the towns and cities deep into the countryside.
Shutterspeed – to take good nighttime images, you must be able to control your shutter speed. The slower, the better. Try downloading another camera app if yours doesn't let you.
Stabilization – with long shutter speeds, you need a steady camera. A tripod is ideal for this but not necessary. Anywhere you can keep the camera still will work; use rocks to prop it up if you need to.
33. Learn a new alphabet
The decision to learn a new language is a big step. It's a commitment to learning and practicing for years to come. Suppose you're not feeling confident to dedicate all that time right now. Instead, just set yourself the task of learning a new alphabet. It might spark the inspiration you need to jump further into the language. Here are a few alphabets you could quickly learn by yourself.
34. Practice a foreign language
Just because you're on your own doesn't mean you can't practice a foreign language today. Platforms like italki give you instant access to thousands of native speakers who you can talk to and get some tips on your foreign language.
35. Hello World!
"Hello, world!" is traditionally the first program you learn to write when learning a programming language. You don't need to have dreams of being a software developer to get some benefit from learning to code. However, writing your own scripts are little time savers, especially if you often repeat the same tasks, such as renaming files.
Some basic coding skills may even take you to a new career.
Ways to Work on Yourself
36. Go Hiking
With nothing better to do, you can't beat getting outdoors into the fresh air and the sunshine. So go for a hike, even if it's just a short one. You'll feel better if you do.
Any time you go hiking, be sure you have the hiking essentials.
37. Stretch
When was the last time you stretched out? Stretching is an often neglected aspect of physical fitness. Gaining flexibility will not only make you less likely to get injured, but it will also make you stronger, faster, and a better athlete all around.
Here's an excellent full-body stretching routine you do by yourself.
38. Have a Home Spa Day
We all need some pampering occasionally, and a day at home alone is the perfect opportunity.
Bath
Pedicure
Manicure
Facial
Foam Roll tight muscles
39. Go to the Gym
You've got nothing to do, you're alone, and you're looking online for something to do. Do you have any reason not to go to the gym and work out?
40. Start a Yoga Practice
I get it, yoga schools aren't cheap, and they aren't something you can decide to start immediately, but you can find an excellent and free teacher on YouTube. There are so many good yoga teachers on YouTube who offer free lessons. All you need to do is follow along and if you get tired, hit pause.
41. Start the Ketogenic Diet
I started the ketogenic diet a couple of months ago because I needed to lose a few pounds. If you want to see my progress, check out this post. The keto diet is the way to go if you want to lose some weight fast. It's fast and easy, and although it's very restrictive, you don't need to do it forever.
42. Pray or Meditate
Prayer and meditation don't have to be done alone but when you want to focus and build a relationship with your creator, alone is the way to go.
43. Practice Your Social Skills on Omegle
Omegle is a site where you connect to random people for a video call. Though it might seem frivolous, it's the perfect opportunity to practice your social skills. You must practice to become a good communicator, salesperson, leader, or rapport builder. Give yourself goals in conversations and see how often you can achieve them with different people.
Make someone agree with you
Make them say a particular word
Try to get someone to stay on the call for 30 minutes
etc.
Check Out More Lists of Things to Do!
Originally from the U.K, Greg has lived in Asia for over 15 years. Fluent in a handful of languages, he ran a management consultancy before creating Face Dragons. He spends his time now traveling around Asia, writing, taking photos, and drinking coffee.