We all need to get up in the morning, and depending on what we did the night before, it isn't always easy. A great alarm is necessary if you have something planned or need to wake up at a particular time. Although there are many alarm apps in the Google Play Store, in this post, I've reviewed seven free and open-source FOSS alarm apps from F-Droid.
F-Droid is an app store that contains all FOSS (free and open-source) apps for your Android phone. It doesn't require root privileges or any other modifications, download it and get access to thousands of FOSS apps!
Waking up early is something most of us wish we were better at, and although it takes good habits and getting quality sleep at night, a great alarm app makes waking up a little easier. Make one of these apps part of your morning routine.
Table of Contents
1. Alarmio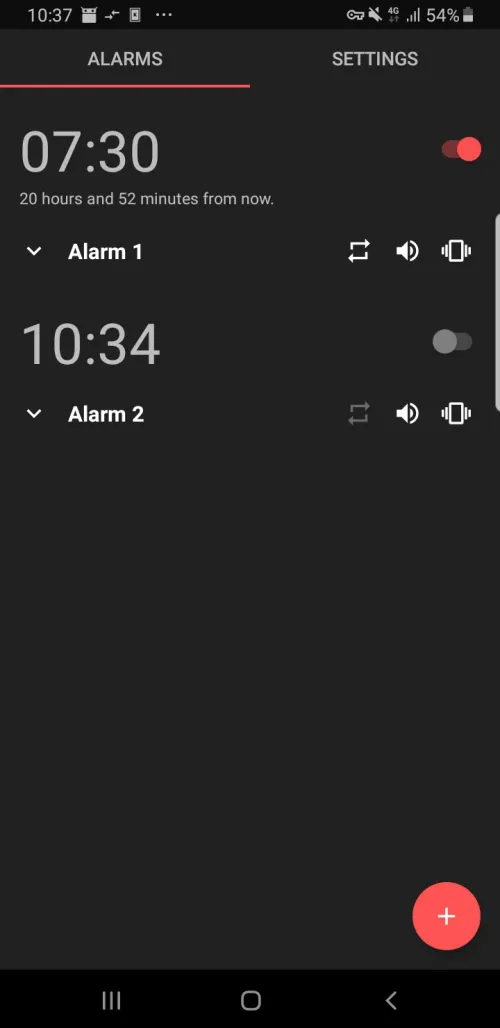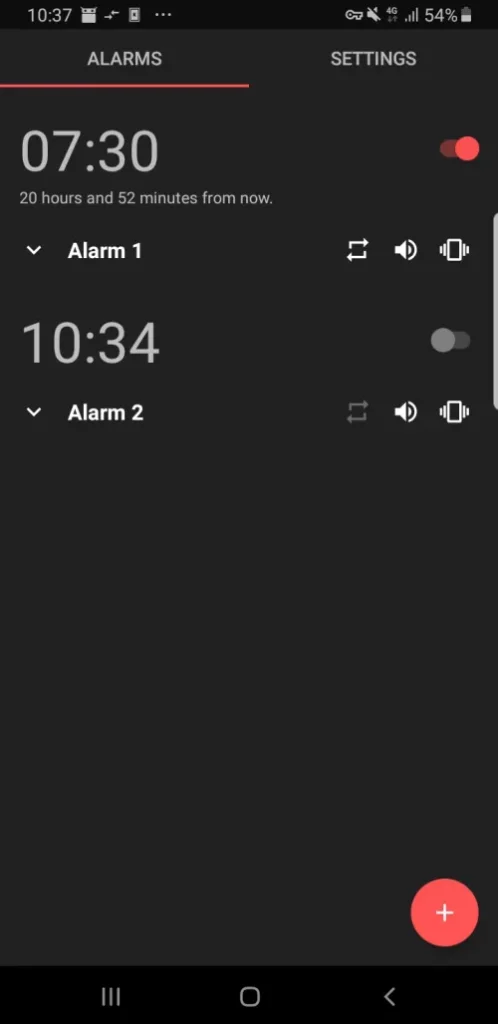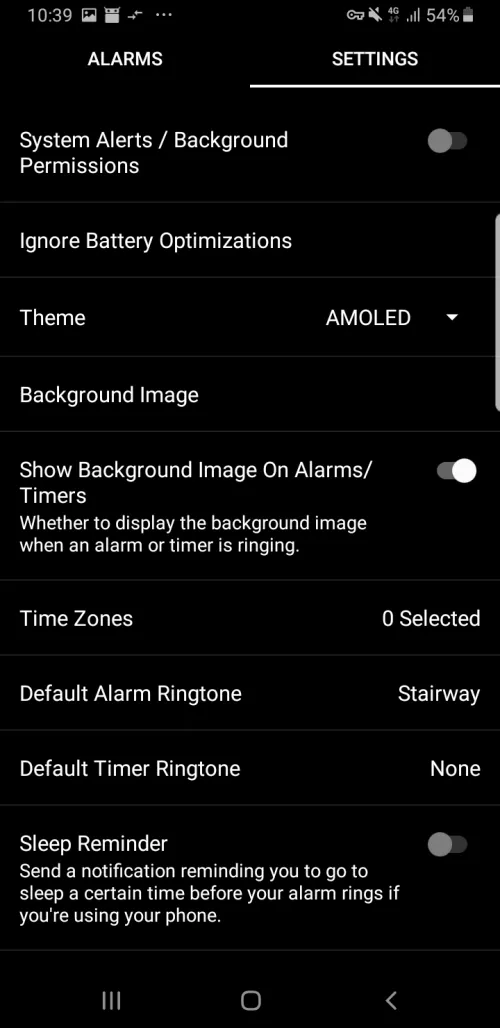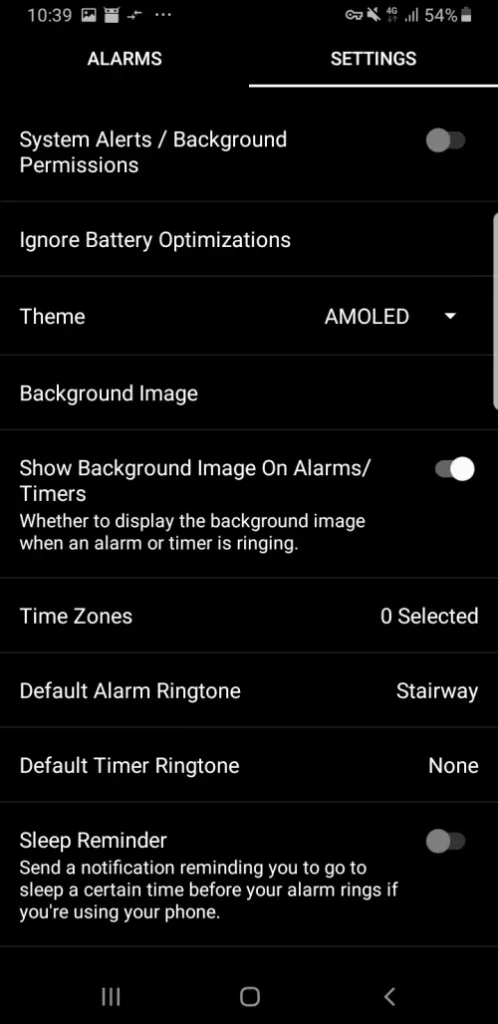 Alarmio is an excellent choice if you are looking for a free and open-source alarm app for your Android phone. It has all the features you would expect of an alarm app without becoming overwhelming. It looks terrific, too, with four different theme options, including a dark theme and AMOLED dark theme that will reduce battery usage with a true-black dark mode. All in all, there's very little to not like
Custom file for alarm
Internet radio for alarm
Slide to turn off the alarm
Dark Theme
Stopwatch, Timer & Alarms
2. Terminightor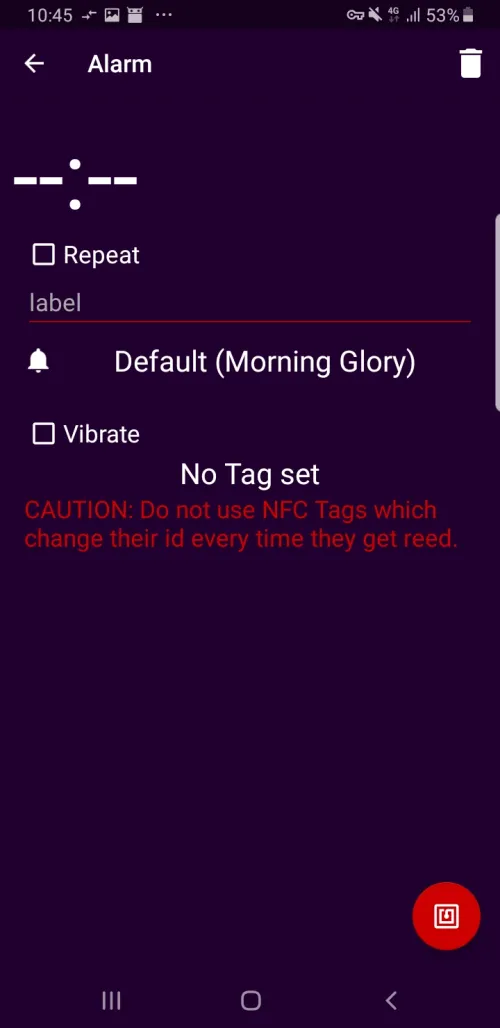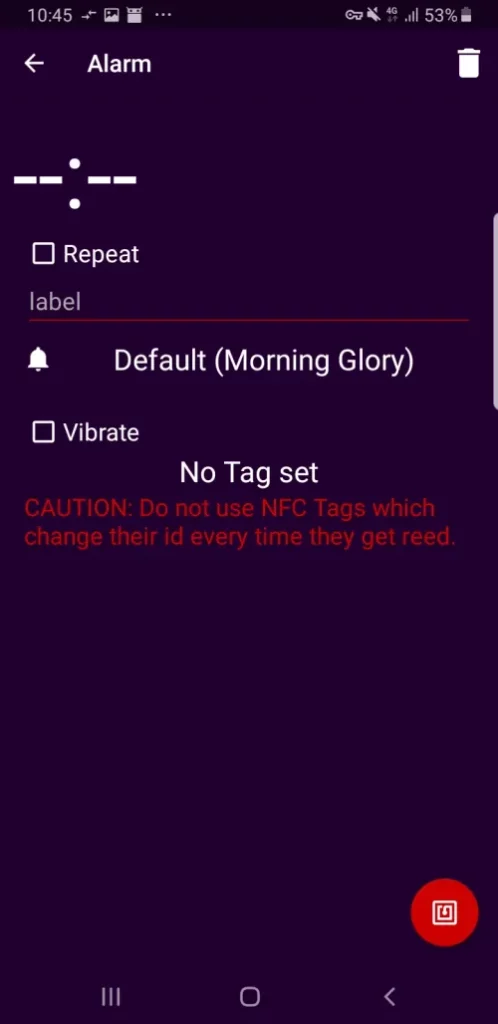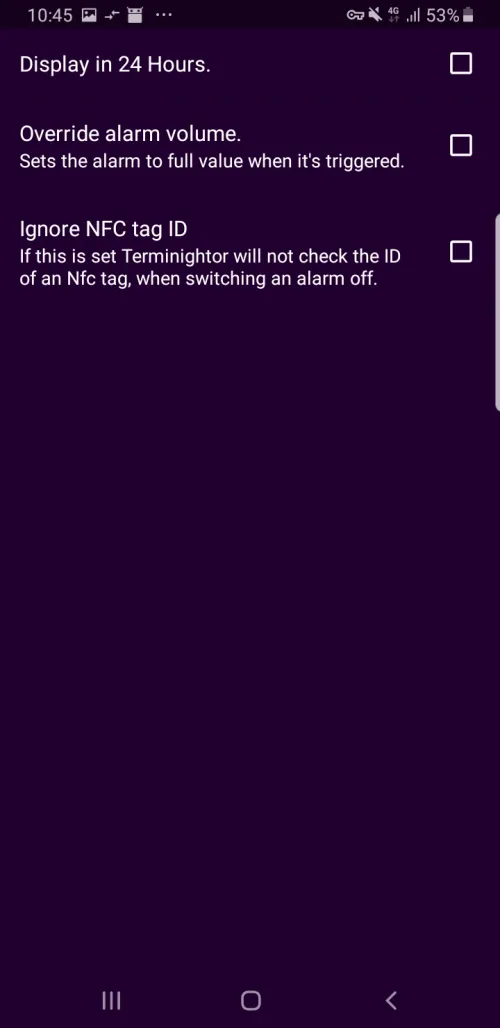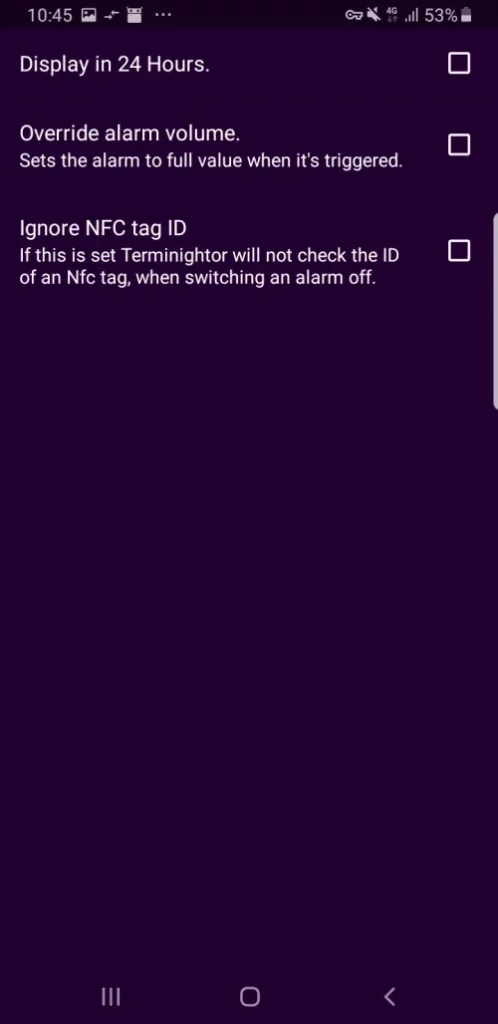 Terminightor is a unique alarm clock app; to use it, you must pair the app up with an NFC tag. The alarm will only stop when you bring the phone and NFC tag together. Terminightor is especially useful if you're the type of person to hit snooze and go back to sleep. Put the NFC tag in another room or outside, and you'll have to go get it in the morning to turn off your alarm.
Aside from the NFC tag option, this app has very few features.
No custom file alarms
No Theme options (default is dark)
The app can set up multiple repeatable alarms
3. Simple Alarm Clock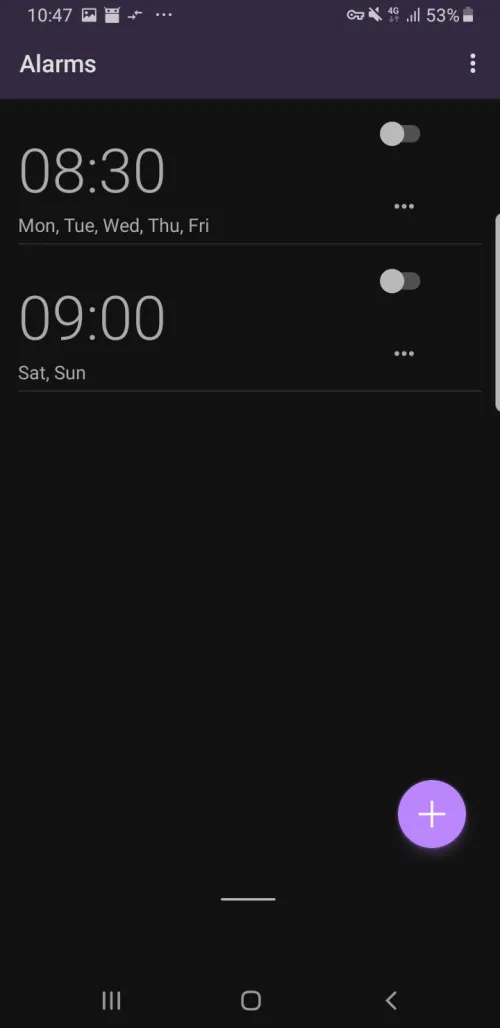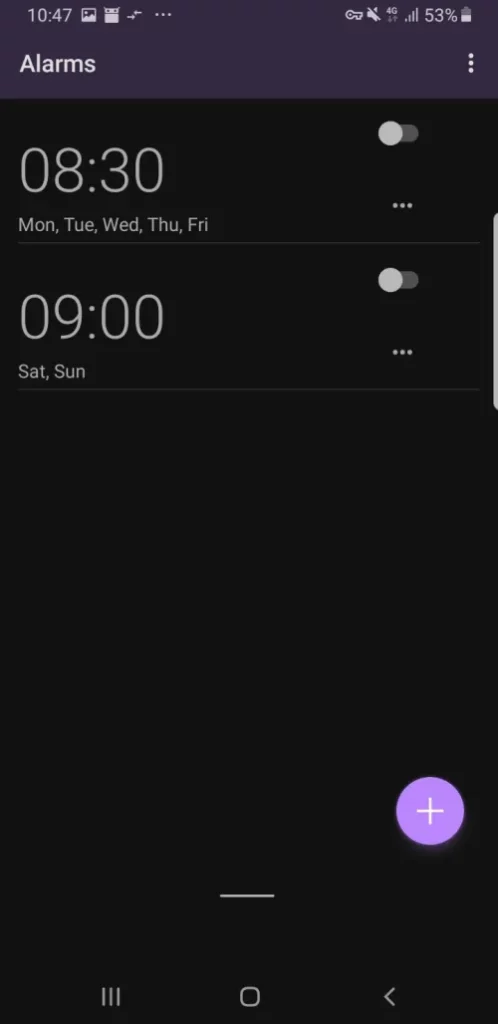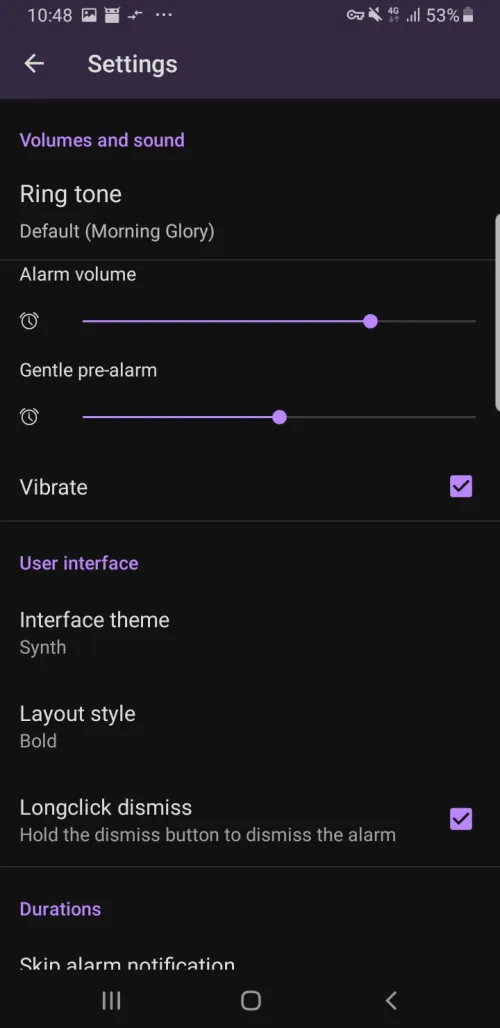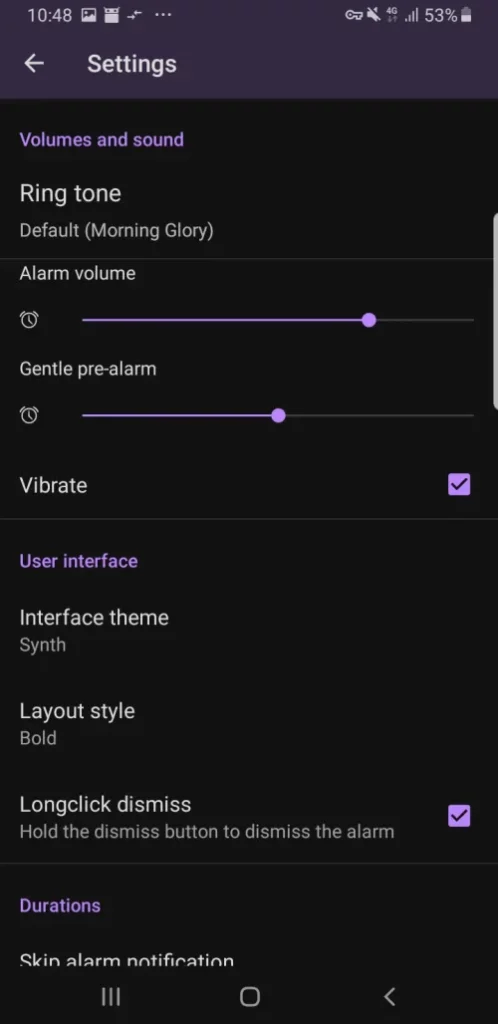 The app is actually called Alarms, not Simple Alarm Clock, once installed. The main view looks very similar to a stock alarm clock app that you might get on any Android phone, but once in the settings, you can find some interesting options. There are five good-looking themes to choose from. Ringtone vibration pattern and notification sound are all configurable, as are both alarm and pre-alarm volume.
Interface options
5 Themes
Alarm and Pre-alarm settings
Fade in
Auto Silence alarms
Custom file for alarm
4. Fake Dawn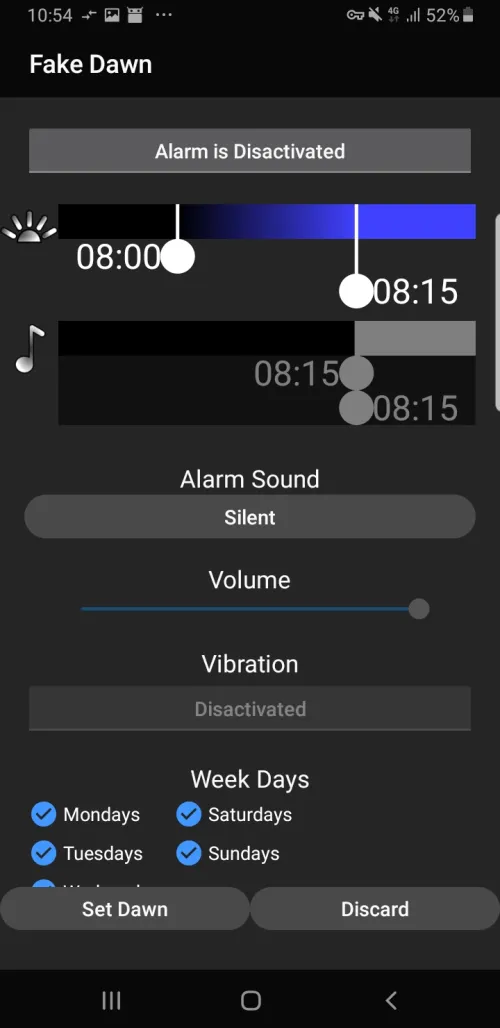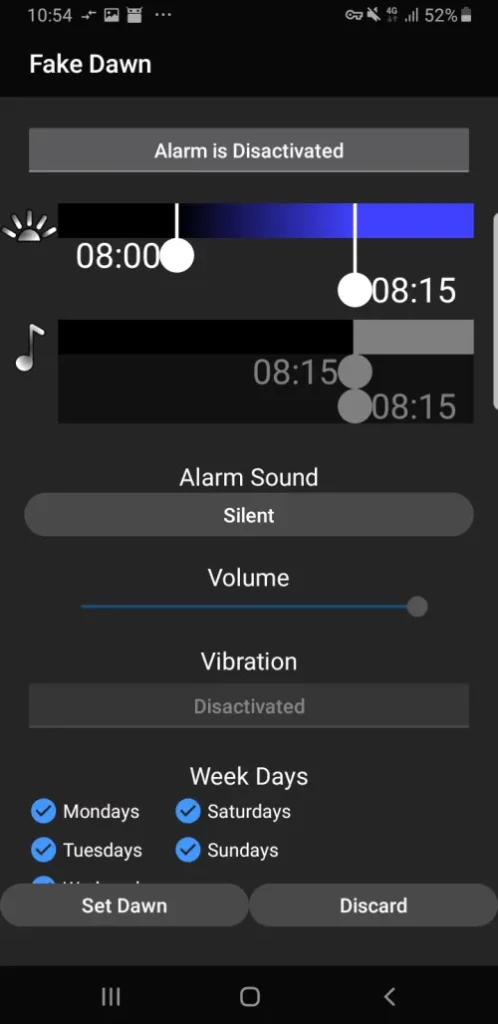 Fake Dawn is another unique FOSS alarm app. As the name suggests, the app emulates the dawn by gradually increasing the brightness of your screen when the alarm goes off. Despite being a single-view app, it is surprisingly customizable. You can set when the screen turns on and how long the fade to maximum brightness takes with a single slider. A second slider controls when the alarm starts to sound and how long the fade-in takes till the alarm is at max volume. It only takes a moment to figure it all out.
So if you like the idea of waking up like our ancestors did, with the (fake) dawn shining on your face, consider downloading Fake Dawn.
I had trouble getting this app to work, even after giving permissions to show notifications and allow interruptions.
No custom file alarms
Stock alarms only
Customizable fade-in brightness
Customizable fade-in volume
5. Talalarmo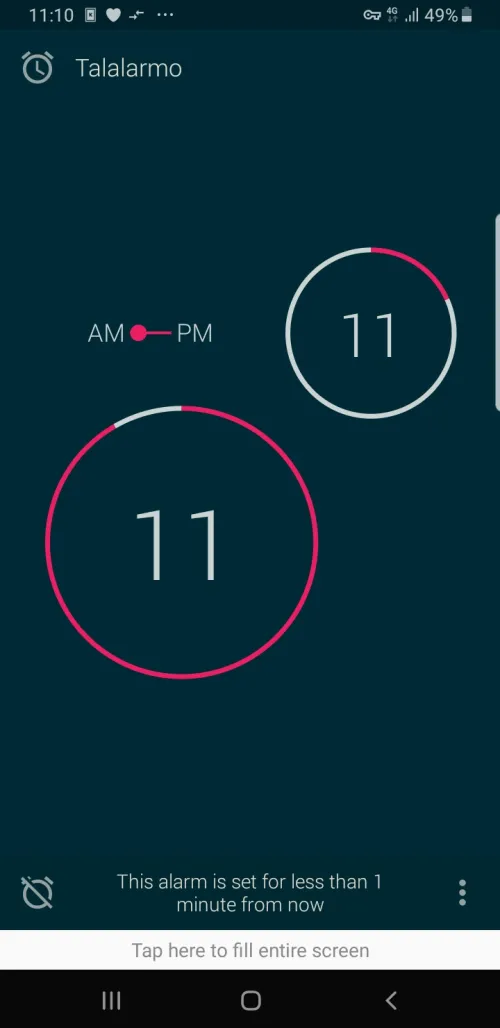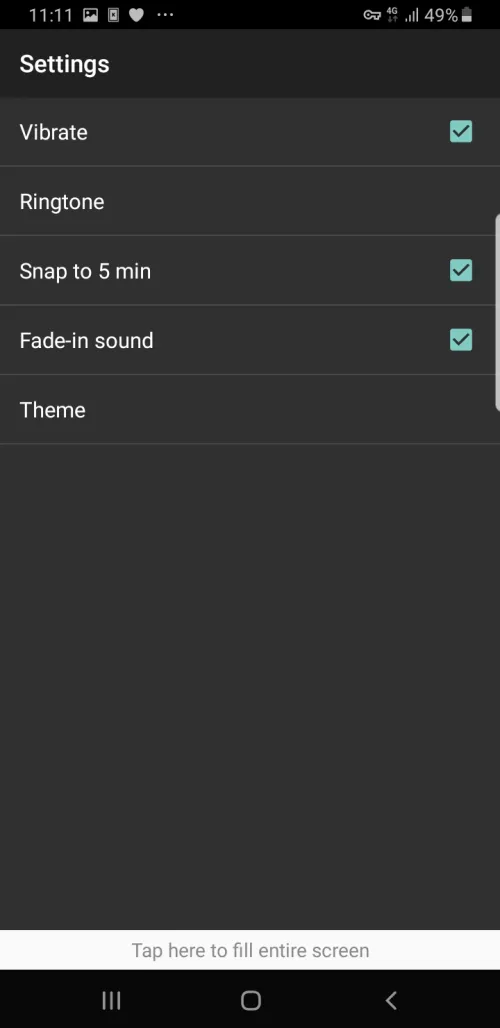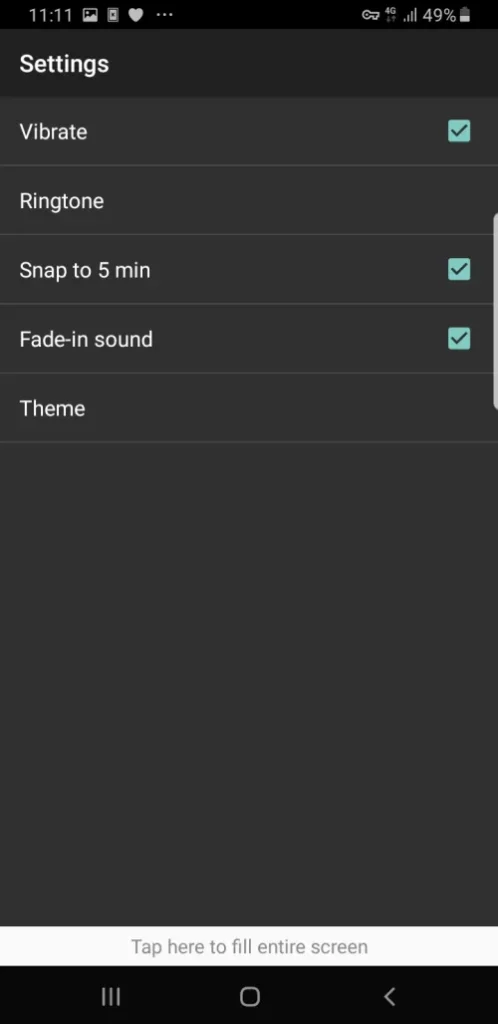 Talalarmo is a beautifully designed FOSS alarm app. The alarm view is clean looking and minimalistic. Setting the alarm is also very satisfying, spinning the circles with your finger to change the hour and minute. Staying with the minimal design, Talalarmo does not have many options in the settings view. You can, however, change the theme between light and dark, fade in the alarm and choose one of the stock alarm sounds.
Minimal
Gorgeous Looking
Dark/Light Themes
Fade in sound
6. Clock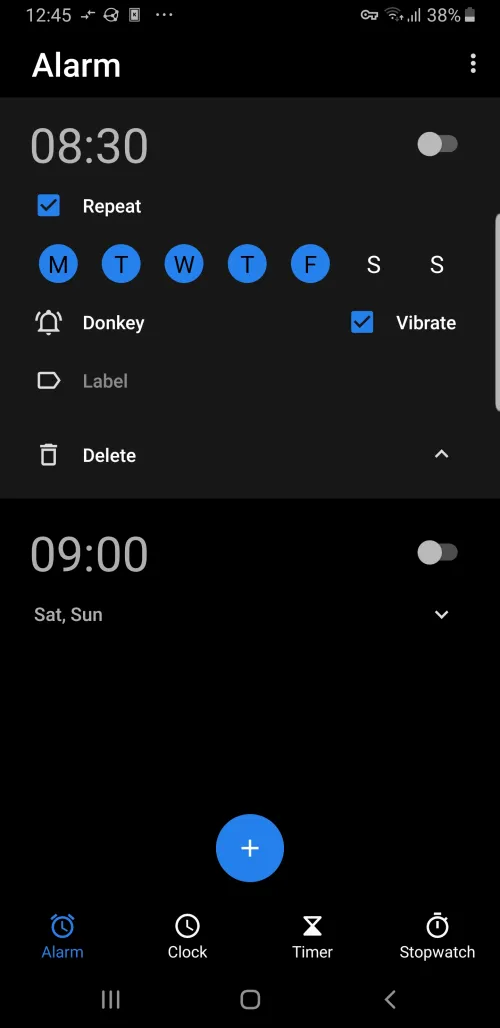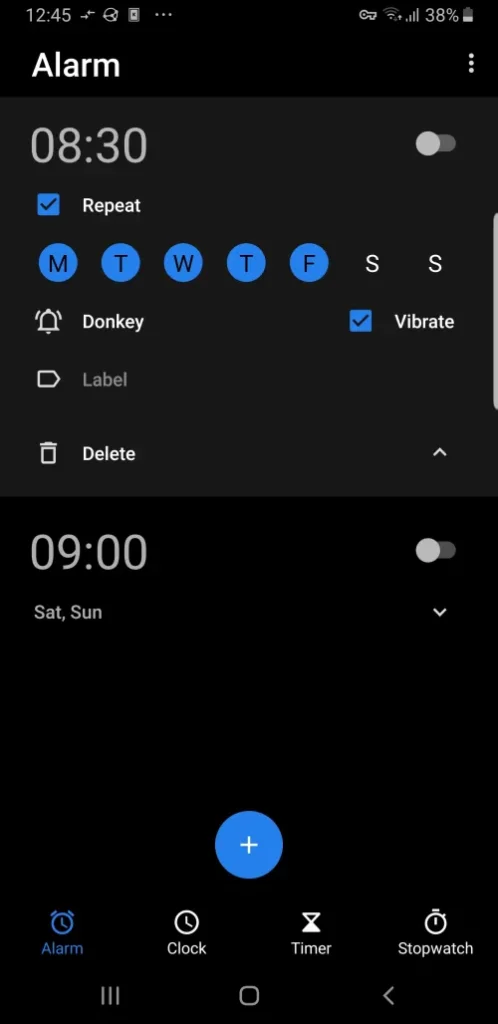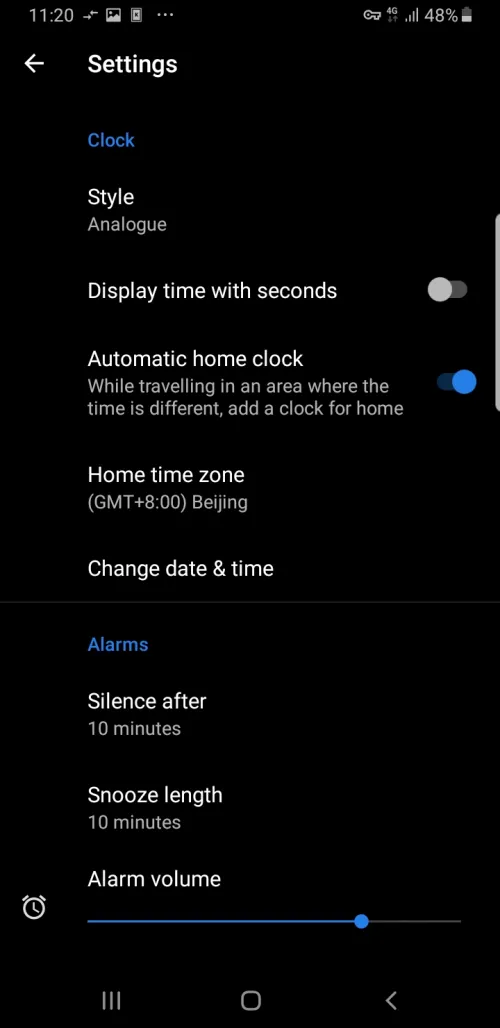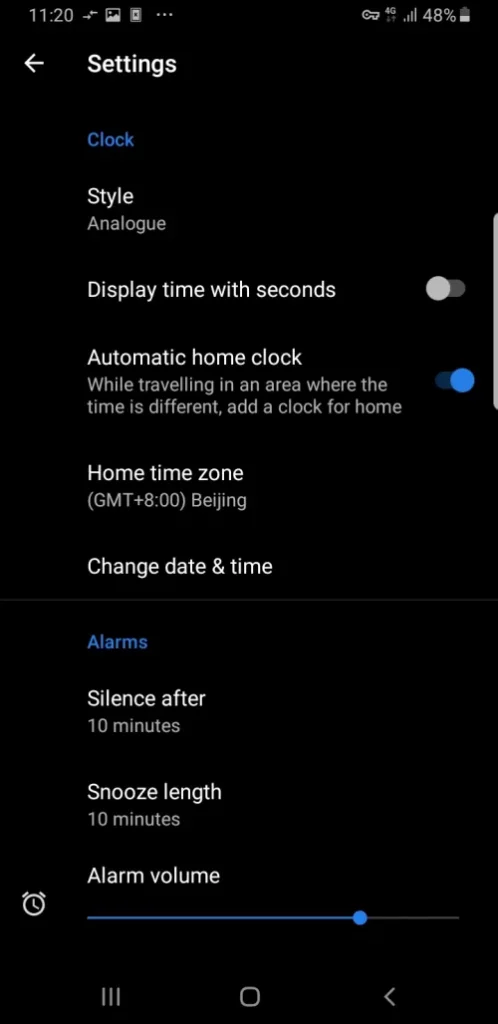 Clock is a fork of Deskclock, which in turn was a fork of AOSP. This free and open-source clock app is more than just an alarm; it's a replacement for your phone's clock. It includes an alarm, clock, timer, stopwatch, and multiple world clocks that can be set up on the home view. The alarm has all the features you'd expect from a well-designed alarm app, including custom sounds. In addition, it has a few exciting options, such as shake or flip to dismiss and fade in alarm.
Fade in
Custom Alarm Files
Flip/Shake to Dismiss
No Theme options
Analogue/Digital clock
7. Alarm Klock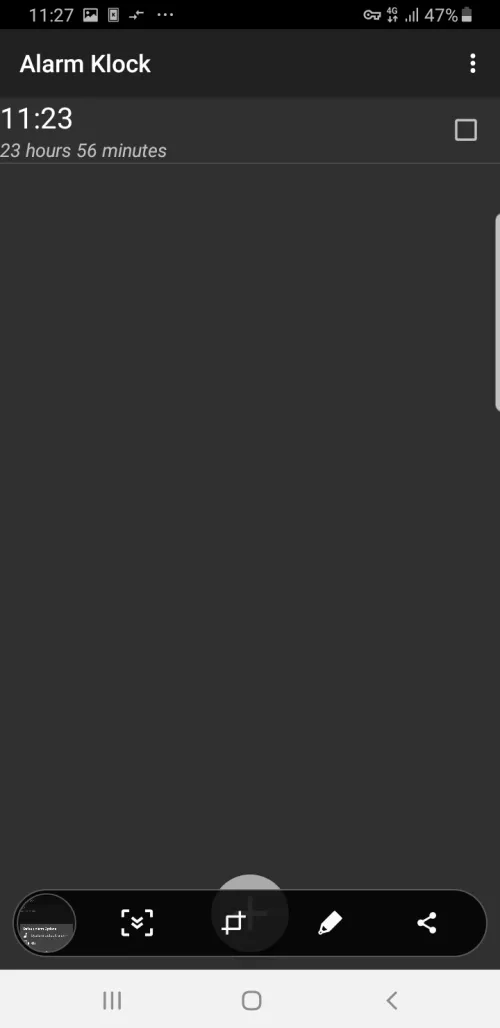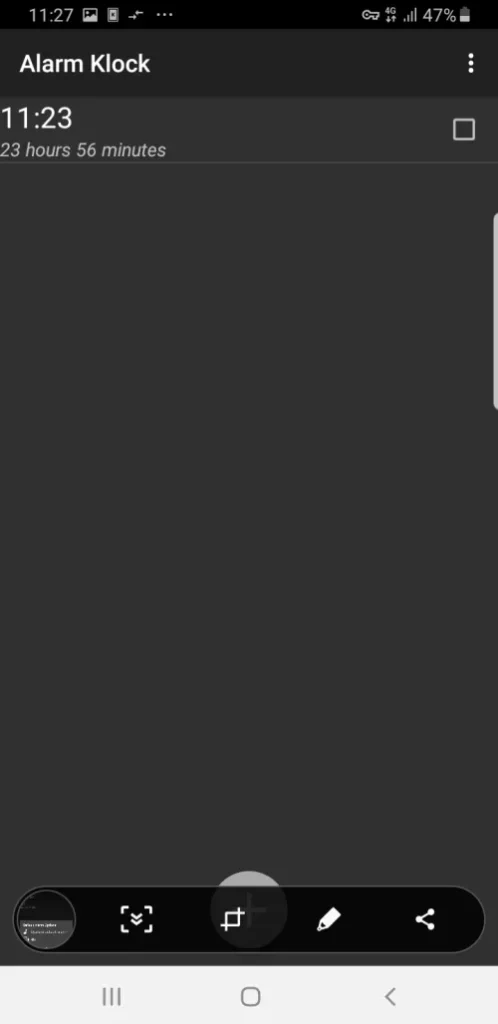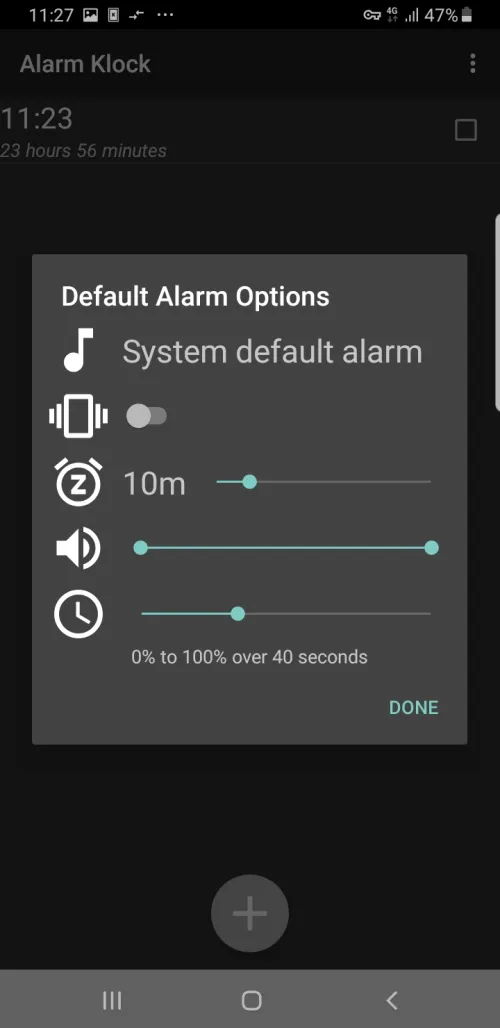 Alarm Klock is a super minimal alarm clock app, so if you want something without all the bells and whistles, you can just set and forget; this may be the app for you. There are no theme options, and adding a new alarm takes a few seconds. It does give you the option for a fade-in alarm and snooze duration, but that's about it.
Stock Alarm sounds
Vibrate
Snooze
Fade in
What About…?
AppAlarm Pro
This app is no longer maintained, and the developer suggests not using it anymore.
Alarm Clock
F-Droid flags this app as the source code is no longer available.
Flash Alarm
Flash Alarm allows your phone to use the camera's flash when the alarm goes off. It looks promising but currently only works with Samsung phones.
Originally from the U.K, Greg has lived in Asia for over 15 years. Fluent in a handful of languages, he ran a management consultancy before creating Face Dragons. He spends his time now traveling around Asia, writing, taking photos, and drinking coffee.