Obsidian is a fantastic way to write and keep your notes. Whether you use a zettelkasten setup or a more traditional note-taking method, Obsidian just works. But it's not much use if you don't have access to your notes across all your devices. This article will guide you through how to sync your obsidian notes across devices for free.
What Are We Syncing?
When you create a new vault in Obsidian, it creates a folder on your hard drive, just a regular folder. Inside this folder are three things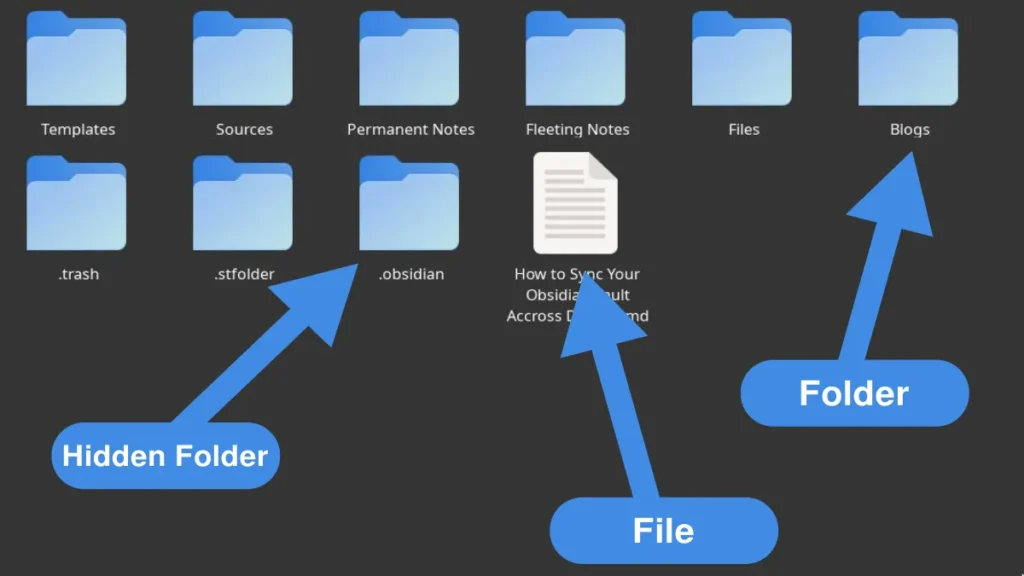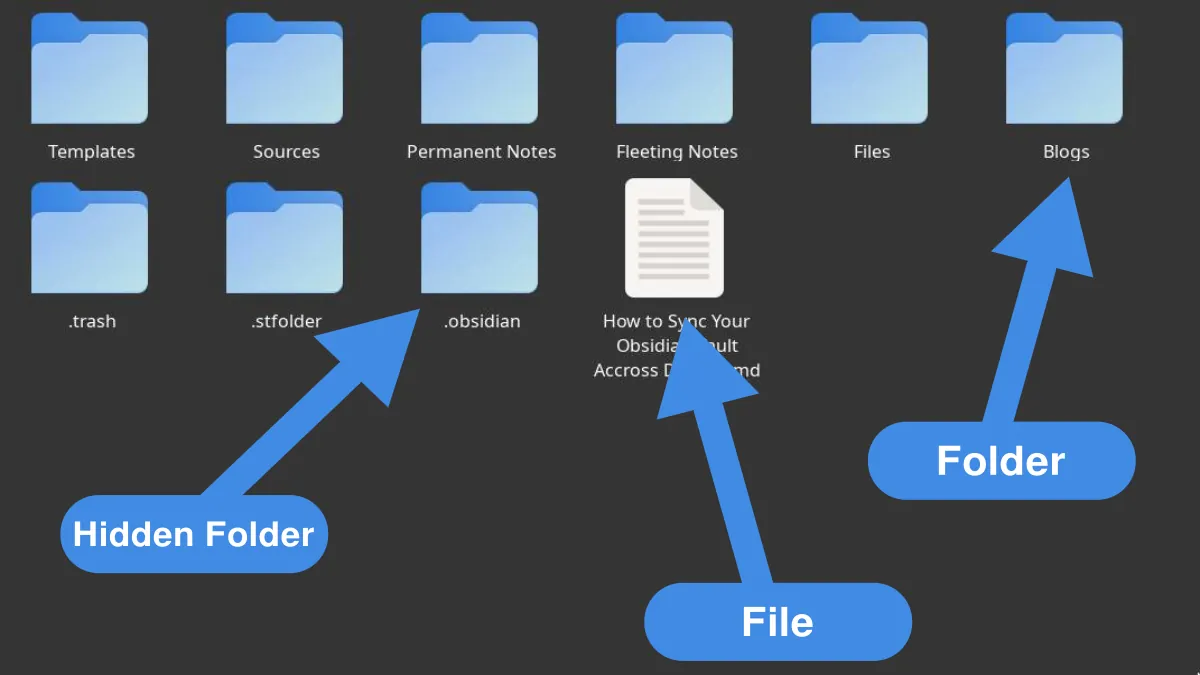 Files
Folders
Hidden Folders
Any folders you create within Obsidian will also be created within your Vault folder. So, by browsing your vault folder, you can see them all.
Inside these folders are your notes. Obsidian uses markdown text files, an open file format, to store your notes. Notes don't need to be in a folder, and you may have some notes in your vault without a folder.
If you have voice recordings, images, or pdf files inside Obsidian, you'll find them here too. I have a folder, "Files," for them.
Hidden Folders are folders you're operating system hides from you by default. You don't need to touch them. I'm using Linux, so you can see them with the dot in front of the name in the picture above, but usually, they will be invisible. Check out this course to learn more about running the Linux operating system: Introduction to Linux.
You need to synchronize everything: the files, folder, and hidden folders for Obsidian to work correctly on your other devices.
Sync Your entire Vault folder, and you'll know everything inside it will be kept in sync.
The Best Way to Sync Obsidian Notes
The tool I use with Obsidian to sync across multiple devices is syncthing. It does everything I need and keeps me getting things done, not worrying about where my notes are.
Syncthing is a free and open-source continuous file synchronization program. It syncs between your devices with no server or company in the middle. Most file synchronization software like Dropbox, Google Drive, or iCloud sync your data to their servers, then back to your devices. Syncthing cuts out the middleman.
I've used syncthing for years to sync everything from to-do lists to music and movies to my phones and tablets. I use it on my home server to transfer files, too; you can use it on almost any device.
Syncthing is developed for Linux and Android, but community versions for other operating systems are available on their downloads page.
How to Sync Obsidian Notes With syncthing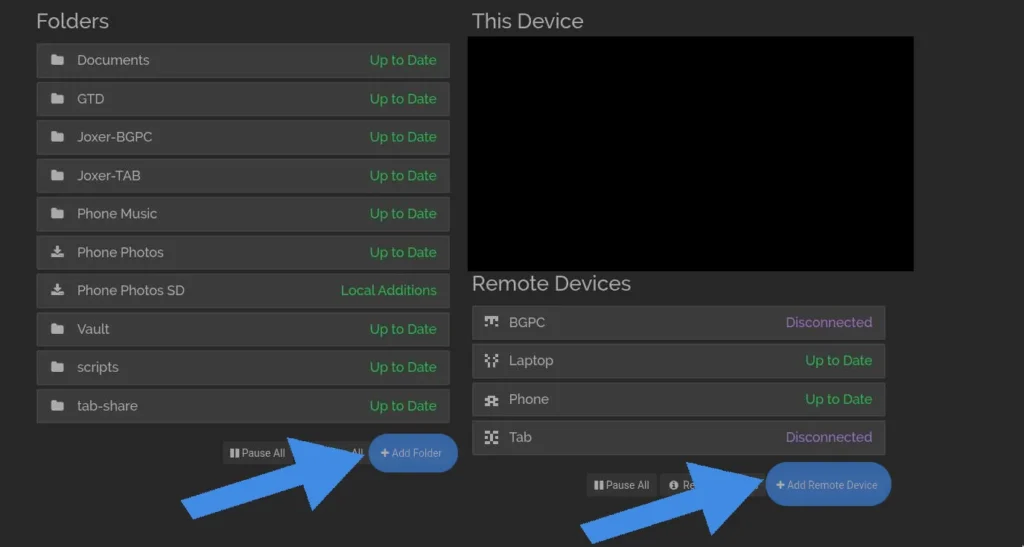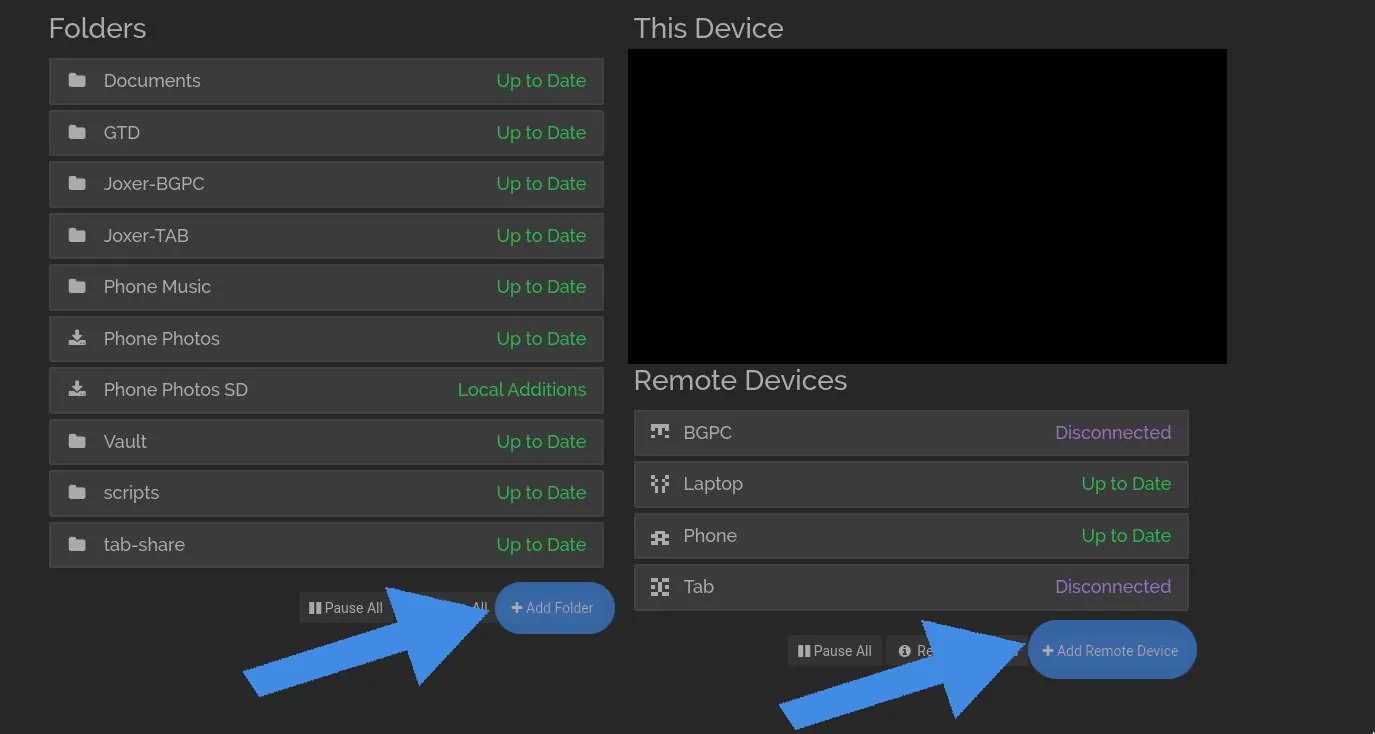 For this guide, I'm going to assume you have your Obsidian notes vault on a computer/laptop and want to share it with your mobile device.
First, you need to download syncthing on every device you want to sync.
On your PC (Where your Obsidian Vault already exists)
Open syncthing, the web view is http://127.0.0.1:8384/ by default
Connect your devices by clicking "Add Remote Device." The device ID can be found when you open synching on your device. Syncthing may find it automatically for you if you're on the same network.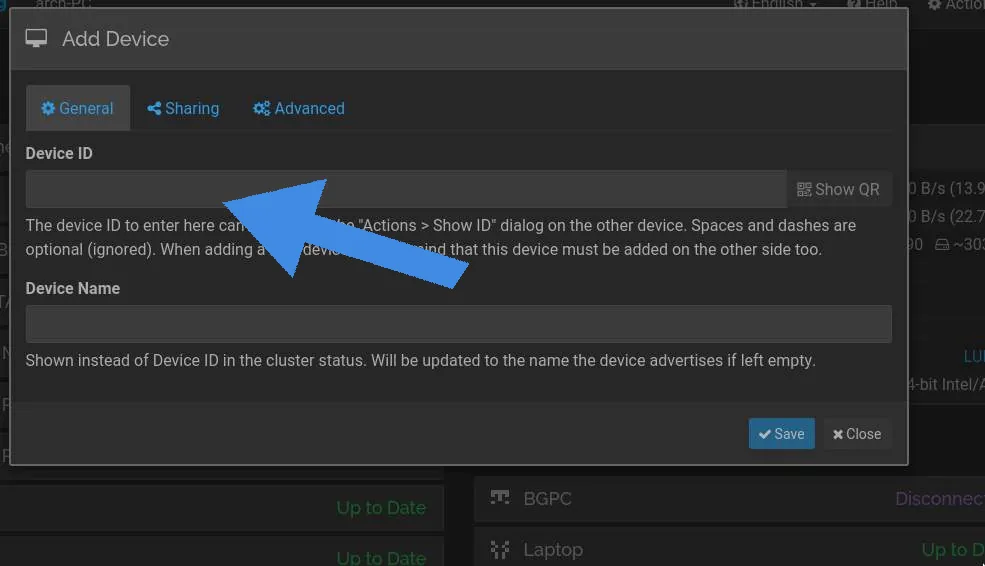 Add your vault to syncthing "Add Folder."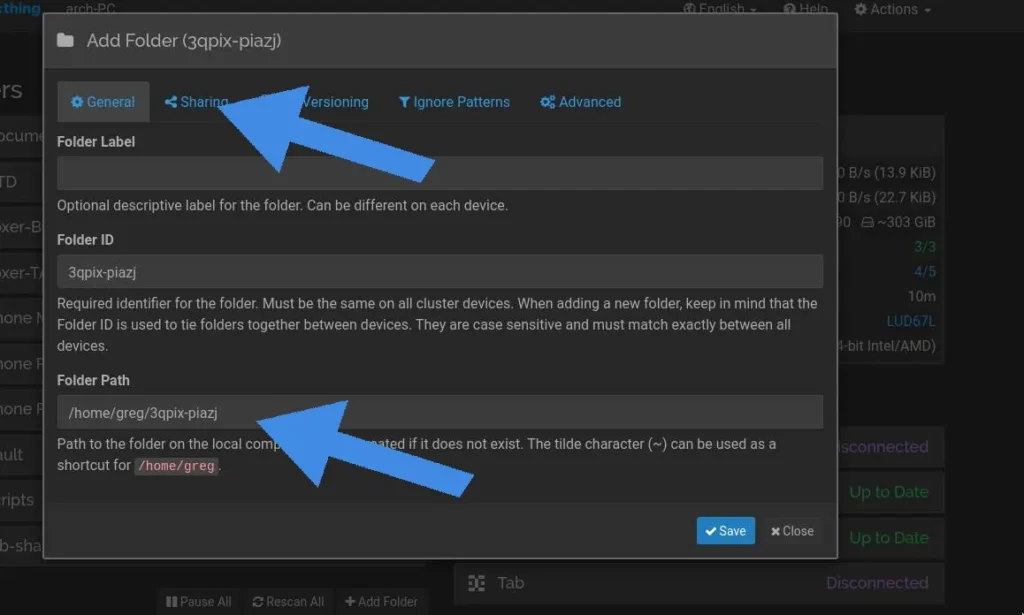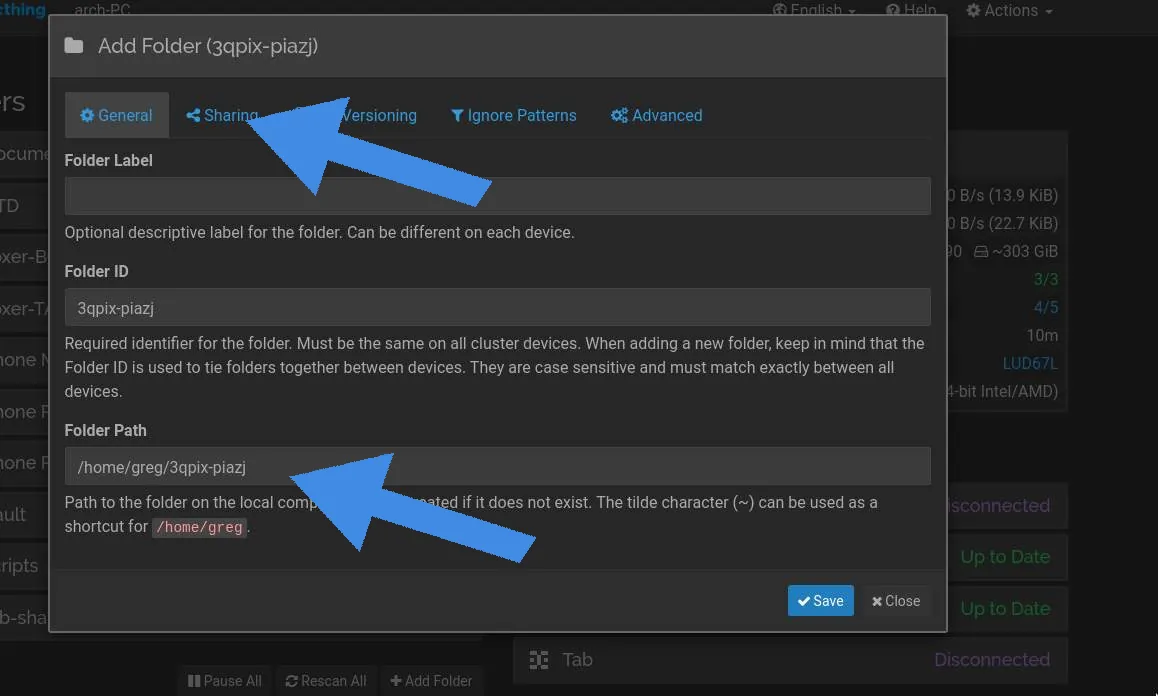 You can select devices to share the folder with when you add it or anytime by clicking "Edit" on the folder.
On your Device
Choose the location you want syncthing to create your synced vault and confirm. I recommend putting your vault inside the Documents folder, as Obsidian is sure to have access to it.
Your vault is now syncing! But you still need to tell Obsidian where it is.
Open Obsidian on your mobile device. The first time you do so, it will ask you if you want to create a new vault or use one that already exists.
Click "use an existing Vault" and browse to your newly synced vault.
That's it. Your vault is now synchronized, and you can use Obsidian.
I have mine synced between my phone, laptop, and PC, and it works seamlessly. Notes are synced immediately.
Other Options to Sync Your Obsidian Vault
You may already use a file syncing service and are wondering if you can use it to sync your Obsidian Notes Vault. Here are the most common options.
Obsidian Sync
Before you start hunting through the app store for a complicated way to get your notes synced up and sync across multiple devices, why not try Obsidian Sync?
Fully Encrypted.
One Year of Version History – all the changes you made in the last year are saved so you can find a paragraph you deleted six months ago.
Obsidian Sync is available through your Obsidian app, so it will work on all devices.
For just $8.00 per month, it's not expensive and might be worth it to you. But there are many other free options to sync your vault too.
Can I sync Obsidian Notes with Dropbox?
Unfortunately, Dropbox's mobile app doesn't sync your files directly to your phone in a folder accessible to Obsidian. So although you can sync your files, you won't be able to use Obsidian.
There are workarounds for this if you really want to use dropbox, but it needs another app Dropsync that syncs your dropbox folder to a third folder that Obsidian can access, but this is probably more trouble than it's worth.
Can I sync Obsidian Notes with Google Drive?
Using Google Drive, the situation is the same as for Dropbox. It's doable, but you will need to install a third app:
This Obsidian forum post will guide you on how to set it up.
Can I sync Obsidian Notes to my iOS devices? (iPhone and IPad)
Looking on the Obsidian forums and Reddit, some people have successfully used iCloud to sync their vaults across devices. However, it might not be reliable enough if your notes are important to you.
Syncthing can be synced to iOS devices using an app called Möbius Sync. This might be especially useful if you are, for example, syncing between a PC (Windows or Linux) and an iOS device.
Final Thoughts – My Recommendations
If you want to sync with an Android device, use synching. It's free and will give you perfect syncing between as many devices as you wish.
If you want to sync with an iOS device, use Obsidian Sync. You have to pay a little, but it will save you time and trouble in the long run.