Meet Gregory, a writer and the brains behind Face Dragons. He's the go-to guy for getting things done. Gregory's been living the digital nomad life in Asia for as long as anyone can remember, helping clients smash their goals. He writes on topics like software, personal knowledge management (PKM), and personal development. When he's not writing, you'll catch him at the local MMA gym, nose buried in a book, or just chilling with the family.
The slomad lifestyle might be precisely what you need. I've traveled Asia for over a decade as a slomad. If you're curious about what a slomad is or if the slomad lifestyle is for you. You'll find the answer here and the slomad tips I've learned over the years to make your new life successful.
Table of Contents
What is a Slomad?
Before answering what a slomad (or slowmad) is, we need to know what a nomad (or digital nomad) is.
Nomad – A person with no fixed residence, typically changing location with the seasons due to farming or pasturing reasons
Digital Nomad – A person who works online and has no fixed residence
Slomad – A digital nomad who changes location at a slower pace than most other digital nomads. Most digital nomads change location about every one to three months. The number one factor determining this is visa duration. When you're in a foreign country, your life is ruled by the visa you can get.
My Slomad Journey
I never intended to become a slomad or digital nomad. I left home to study abroad in China when I was 20. It was a one-year study abroad program. Fifteen years later, I still haven't gone home. The slomad lifestyle seemed to choose me instead o the other way around.
My year abroad quickly turned to two when I realized that my Chinese wouldn't get good enough in a year. The second year came and went just as quickly, and somewhere in the middle, I enrolled in a Trade and Economics degree at a top Chinese university.
After graduating, I got a corporate job and quickly realized that corporate life wasn't for me. So I quit and found a work-from-home job instead.
While working at home, I had a revelation that changed everything.
"I don't need to be sitting here at home to work."
My wife booked tickets, and a week later, we were in Thailand.
The sky didn't fall. I did all my work online from the hotel or a bar on the edge of a Phuket beach. My boss, who I'd never met in person, didn't even know I had left China.
A month in Thailand, and we were hooked. We toured South East Asia: Laos, Cambodia, Korea, Hong Kong, Nepal, and India and spent time in different cities and provinces across China. Each time we stayed as long as we could to keep costs down.
We'd never even heard of a slomad or digital nomad. We were just living a lifestyle we enjoyed, but I guess we've been slomads for the last decade.
Benefits of Being a Slomad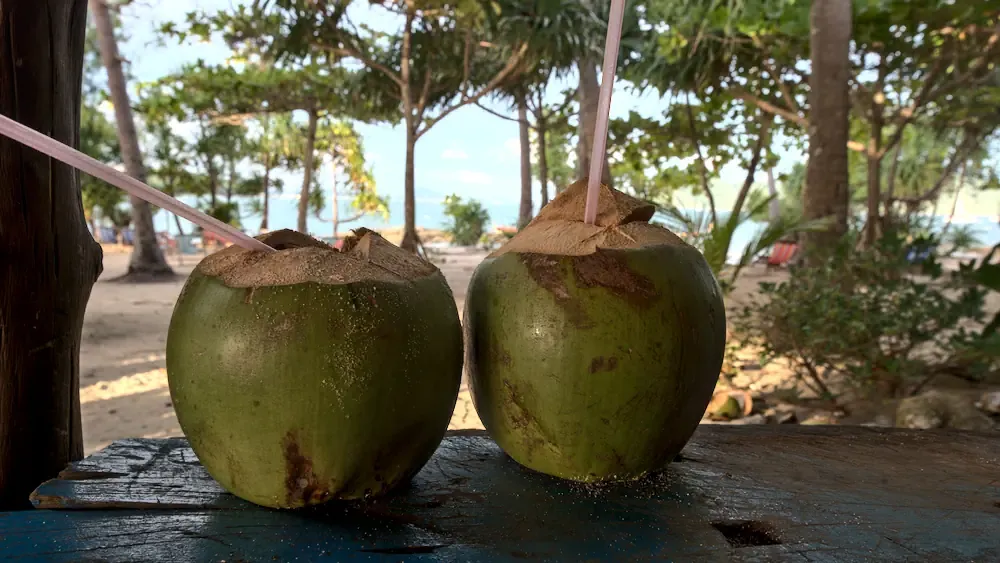 I wrote a post on the benefits of being a digital slomad; check it out if you want to know all eight reasons to be a digital slomad. Here are my top three reasons:
1. Expense
The living expenses of most countries (especially in the same region) are usually very similar. The main cost of being any kind of digital nomad is traveling. So the less you travel, the less you spend.
2. Family Friendly
Travel is great for kids. They see the world and have their minds opened up to other languages and cultures. But constantly being on the road can be challenging for younger children. They can feel a little uprooted each time you leave a location. Plus, traveling with young kids is stressful!
3. Sustainability
We want to live as sustainably as possible and reduce our carbon footprint as much as we can. Traveling less helps us achieve this. However, we don't own cars, so we still feel we have a smaller footprint than if we lived back home permanently.
How Long Do Slomads Stay in One Country?
Every slomad or slomad family is different, but I can tell you from our experience that we use every method to stay as long as possible in each country.
My wife is Chinese, so we can stay in China as long as we like. We take advantage of this by spending time in different places in China, although covid has made that much more difficult.
Using China as a base, we spend a few months in another country twice a year.
How to Become a Digital Slomad
Becoming a slomad isn't all that complicated. Here are the
1. Find a Location-Independent Job or Source of Income.
You won't get very far without any money! So the first thing you should do is find a digital nomad job or create a source of income that you can build online. Here are some excellent options.
Ask your boss if you can work remotely
Freelance on sites like Fiverr
Create a blog
Monetize a YouTube channel or other social media
Become a consultant
For many people, changing careers and taking a freelancing or online gig will mean a reduction in income. Unfortunately, many online or freelancing jobs don't pay as much as traditional jobs. But you will need less money as a digital slomad if you stay in the right places.
Lower pay may be the sacrifice you must make to start a new life.
2. Save Money
Before you pack your things, get some savings together!
I like to have at least six months of expenses in a savings account, so I can still survive if I earn nothing for six months. You may be comfortable with less but having some funds is essential even if you don't lose your income source.
Medical expenses
Losing a high-value item
Missed flights
Price increases
Six months' worth of expenses may seem like a lot, but if you are living in a cheaper country, it will be a fraction of what you spend at home.
3. Pack
When you start a digital nomad life moving from country to country, you likely won't be able to get everything you're used to back home, so pack thoughtfully. If like me, you plan to stay in primarily hot places, appropriate clothes and accessories are easy to come up with. You should also consider:
Medicines
Official Documents
Passport Photos
Tech
Professional Tools
4. Where to Put Your Things
I don't recommend you sell all your belongings once you decide you want to be a digital slomad. There's a chance you will want to come back and return to your life. So first, think about either putting your things in storage or keeping them with a family member.
If you're sure you're not coming back after a year, have a yard sale and make some extra spending money!
5. Rent Out Your House
The first source of income for many first-time slomads is their home. By renting out your home, you can make a genuinely passive income to help your traveling expenses.
6. Get Your Visa and Go
Once everything is organized back home, the only thing left is to decide where to go and get going!
Best Visas for Slomads
If you only have a 30-day visa, you'll move on in 30 days. Digital slomads and the digital nomad community tend to prefer few countries that offer more extended tourist visas.
Thailand 90 Days
Indonesia 60 Days Business Visa 180 Days
Portugal 90 days visa-free (U.S. citizens)
Colombia 90-180 days
Longer visas can be obtained by having dual citizenship, family in the country, or paying for longer (and usually more expensive) visas. Look out for new digital nomad visas many countries have created since covid.
What Jobs Can Slomads Do
There are plenty of remote work opportunities and jobs for digital nomads and slomads. Here are three you could start today with minimal experience:
Virtual Assistant
Becoming a virtual assistant on platforms like Fiverr is straightforward. Set up an account and start offering your services. You'll want to start with a lower price to encourage your first few clients, but with some good reviews under your belt, you can earn good money.
Freelance Writer
Freelance writing gigs can pay well. You'll often find people paying over $100 per article. Prices from 2c-10c per word are standard. Expect to start on the lower end of the scale, but once you have a small portfolio of quality work, you'll be able to earn more than enough to live on by writing one article per day.
You can find writing gigs on freelancer websites like Fiverr and Upwork. Another good option is ProBlogger.
Online English Teacher
There are so many language learning platforms available now! And although some demand from the Chinese market has dried up, there is still money to be made teaching English online. Check out these platforms if you're interested:
Tips for the Slomad Lifestyle
Here are some tips that I've learned over the years.
Go Back to the Same Places.
We like to return to the same places year after year. We know what to expect, where we will stay, and get to know people there. It doesn't feel like we start life over again each time we move.
Homeschool
If you have children, you must consider homeschooling if you plan on living a nomadic lifestyle of any kind. Starting to homeschool while living a digital nomad lifestyle is challenging, but it's perfectly doable with a little effort and know-how.
Digital Nomad Travel Tips
Travel to adjacent countries – save money with shorter trips and great for visa runs.
Don't book accommodation – I've always found better places to stay after I arrive than online, cheaper too!
Consider other choices – Trains, Buses, and Boats all offer great alternative travel options to flying.
Travel the World as a Digital Slomad
Being location dependant is stressful, and things don't always go to plan, but if that's what it takes to travel the globe all year long, it's fine with me.
I've met many slomads who take a couple of years off, travel the world, and then settle back down somewhere. And I've met some that have been traveling longer than I have.
What will your slomad journey look like?