Themes brighten up (or darken) your Obsidian vault, but they do more than just switch between light and dark modes. Themes help you find a look and feel that suits you. Want a different background color? Or a different color palette for text and headings? Install one of the themes below or customize further to create the best Obsidian Theme for you!
How to Install Obsidian Themes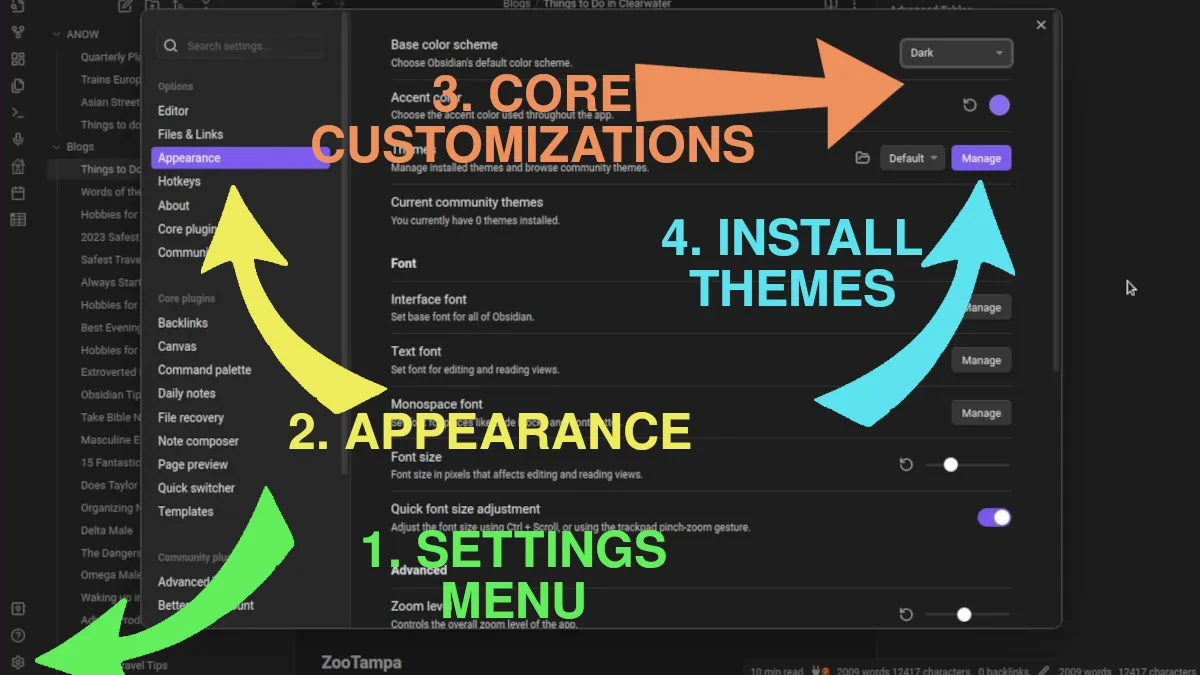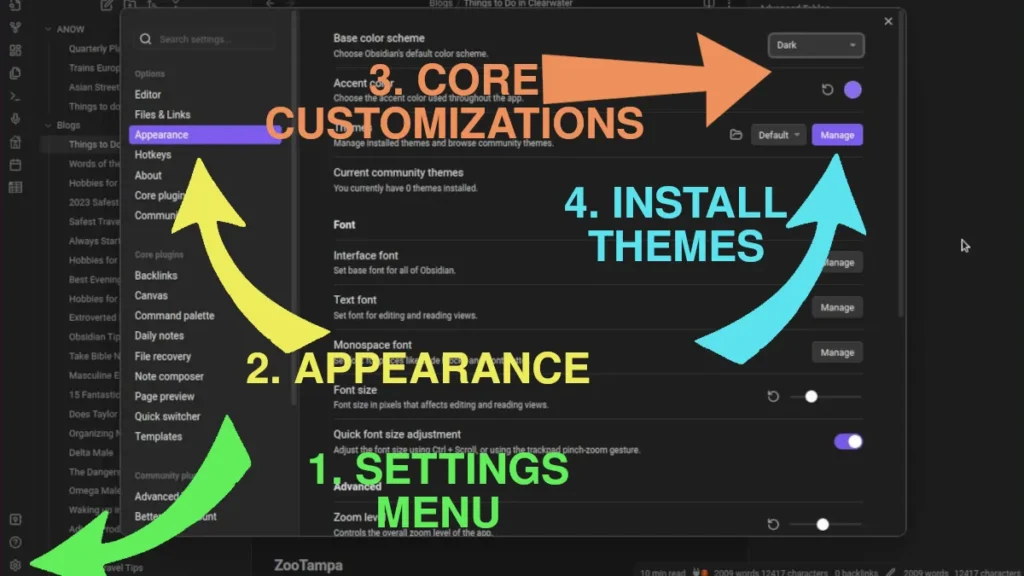 Downloading and installing themes is simple enough. Open up Obsidian and follow the instructions below.
Click on the Settings Menu (Bottom Left)
Click on "Appearance"
Before Installing a theme,, try changing the core colors
Click the "Manage" Button to download and install new themes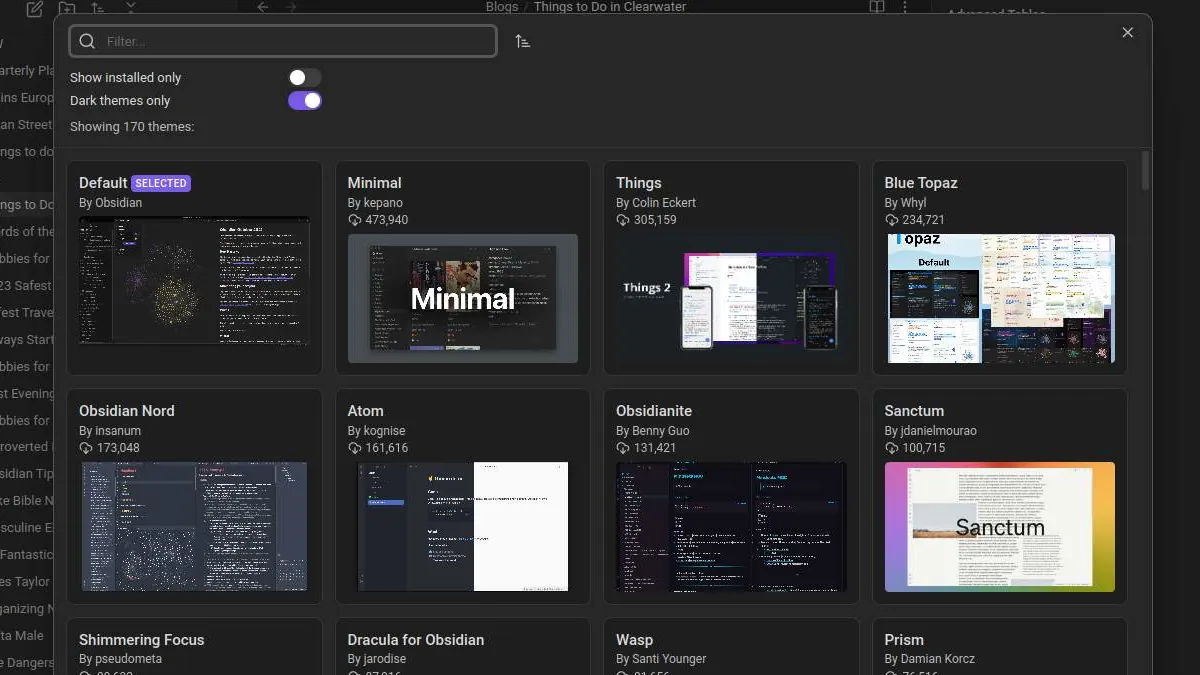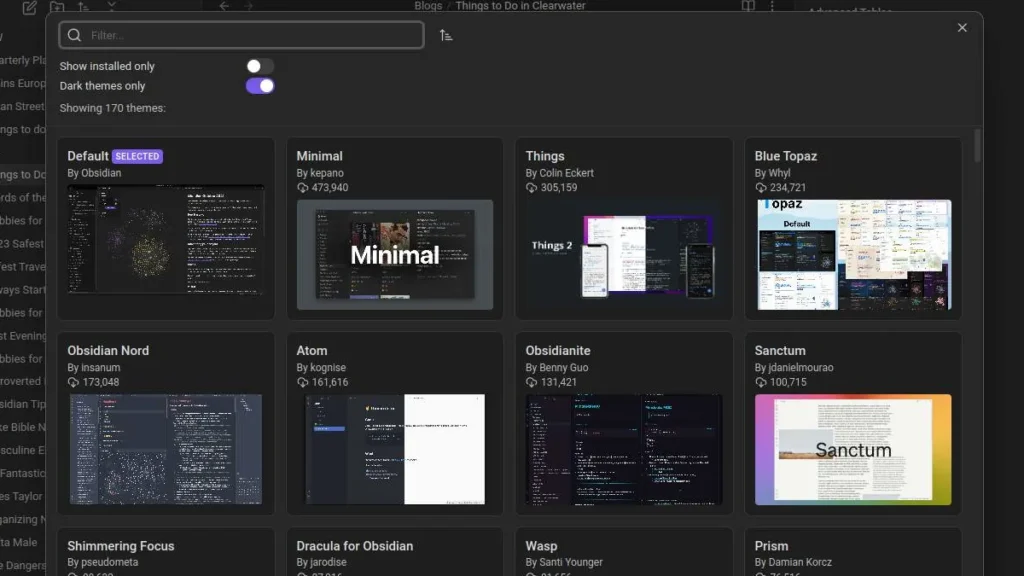 Search or browse for themes and click to download and install them.
The 11 Best Obsidian Themes by Downloads (Plus One Extra)
1. Minimal
Minimal is the most popular Obsidian theme, with (at the time of writing) almost half a million downloads. Accompanying Minimal is the "Minimal Settings Plugin," which you can download from the community plugins. I have a guide if you need a refresher on installing Obsidian plugins or just want to know the best Obsidian Plugins for your vault.
The Minimal Settings Plugin gives you absolute control over every aspect of your theme, so if you don't want it to look quite so minimalist, this is an excellent option.
As you can see from the screenshot of our test page below, Minimal really is very minimalistic, straight out of the box. It's monotone and the perfect canvas for your customizations.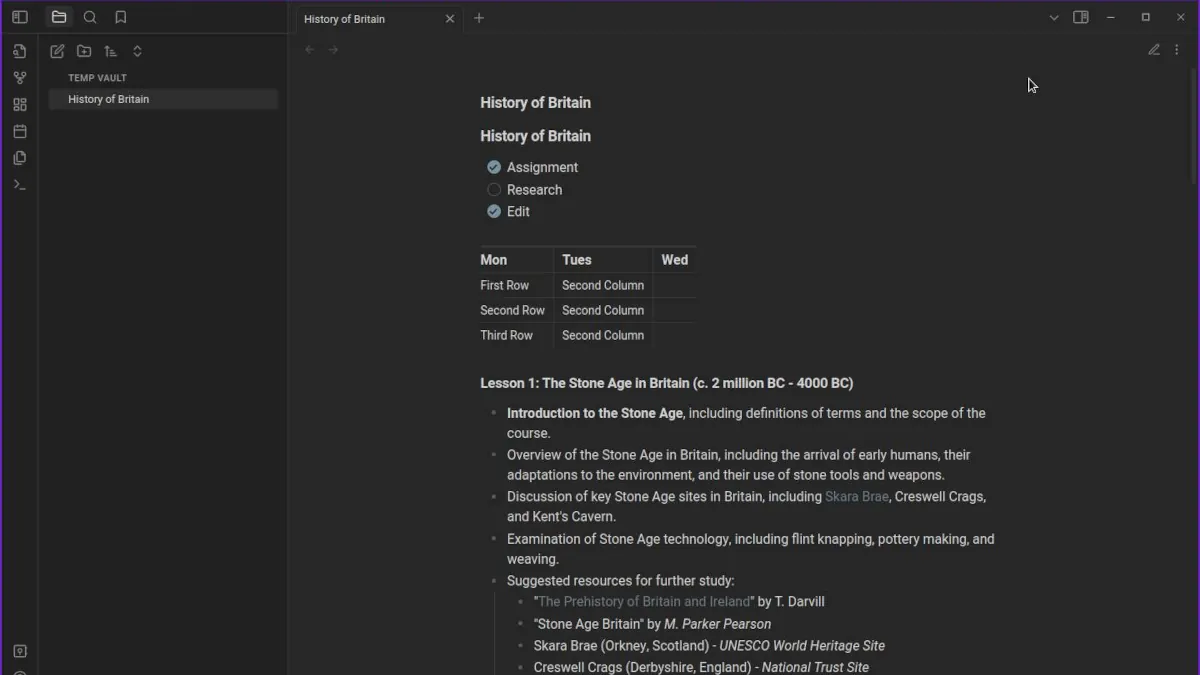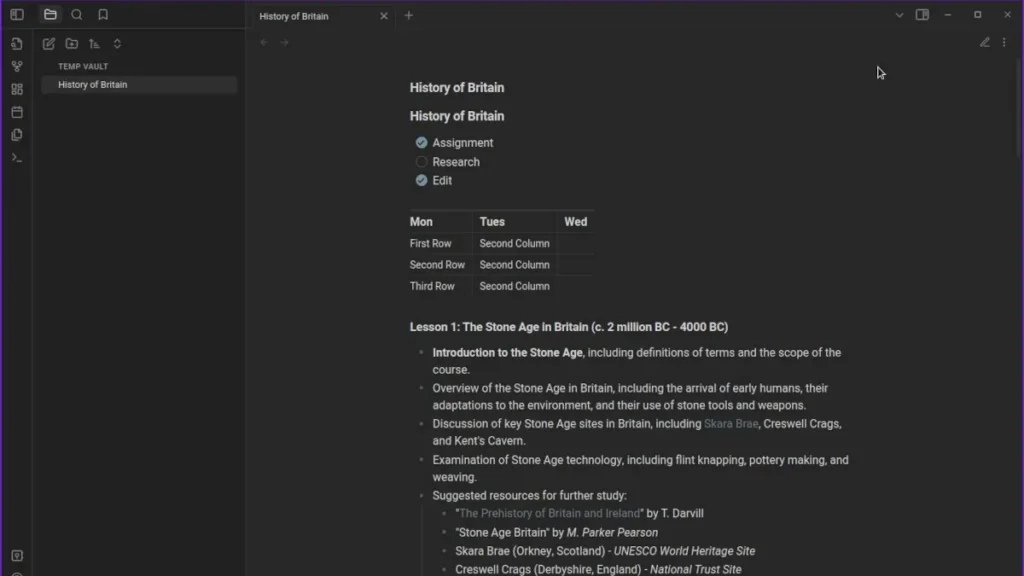 ---
2. Things 2
If you're an iPhone user, you'll probably have heard of Things. It's a task management and productivity app designed and created by cultured code. Colin took the look and feel of that app, known for its minimal sleep style, and brought it to Obsidian with the Things 2 theme.
Looking at the test page below, there is a little color that highlights links, bold text, and italics, but the page is still easy to look at, and the colors are fairly muted, giving it a nice aesthetic. This is the theme you want if you're setting up GTD in Obsidian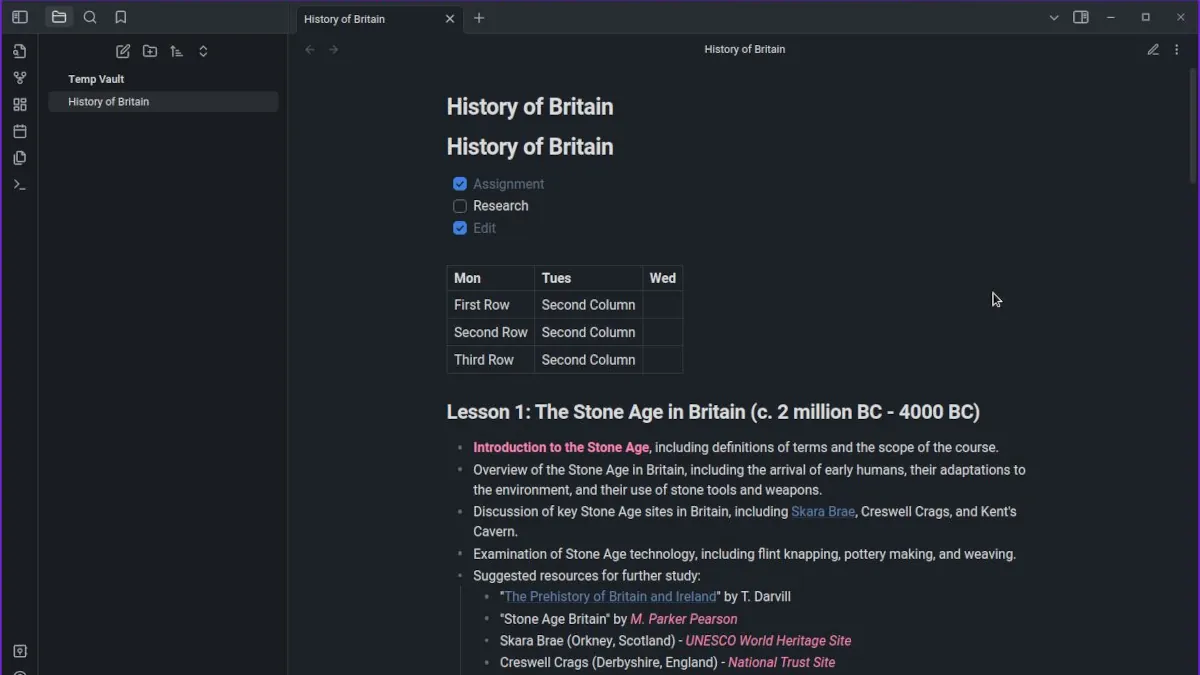 ---
3. Blue Topaz
Blue Topaz is another Obsidian theme with a settings plugin for making more customizations. The theme's GitHub page also offers advice to Chinese users for fonts and other settings. The original description of "I wanted to make a blue theme," doesn't shine through to the appearance, however, as you can see below.
With its default settings, Blue Topaz isn't the most attractive theme on this list. The lime green headings and faint link text make me want to instantly download the accompanying plugin so I can change them.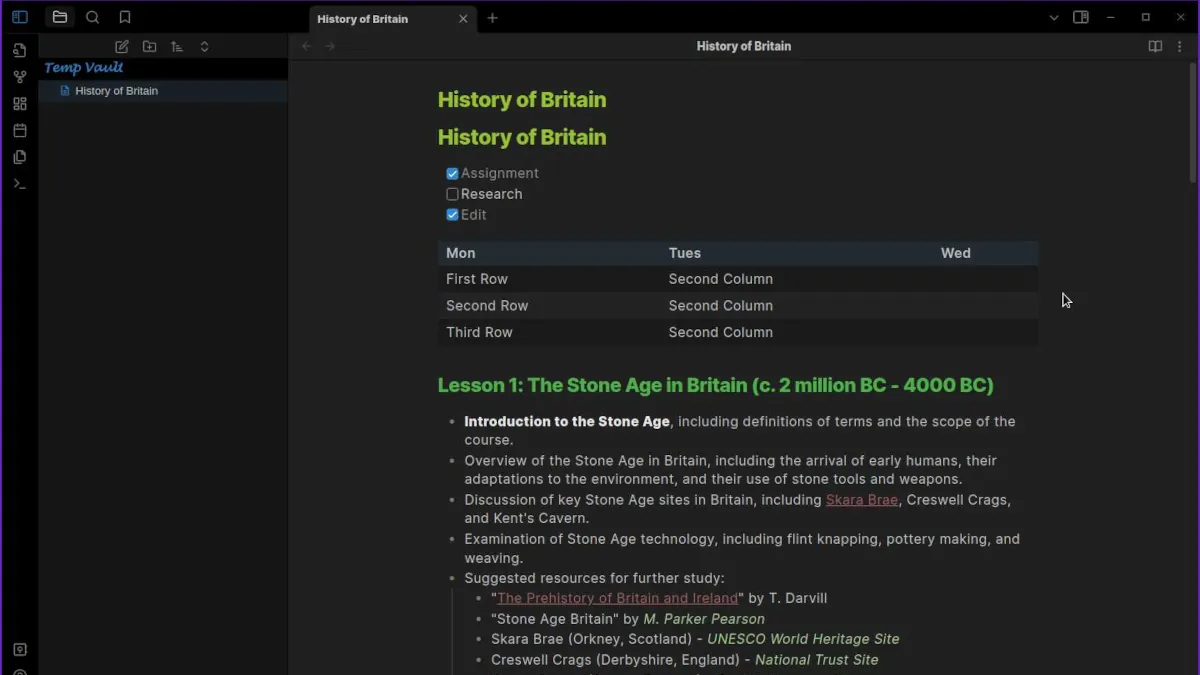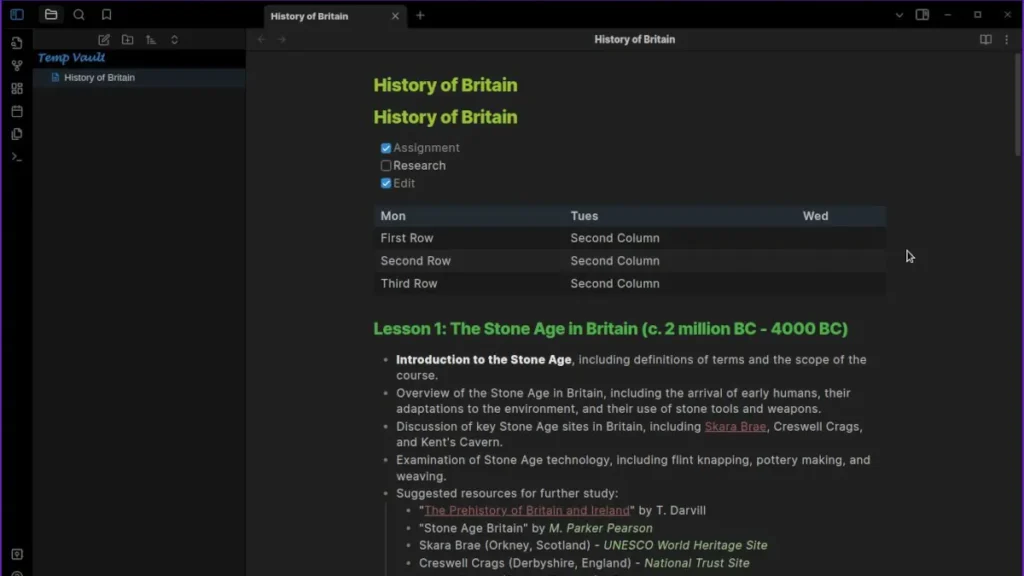 ---
4. Obsidian Nord
Obsidian Nord is a simple theme, similar to Minimal and Things 2, with some different color choices by default. If you want something that looks good and don't want to spend time customizing, this is a strong choice.
The yellowish color of the heading and white text makes for easy reading. Using the default options, there's nothing you would hate about this theme.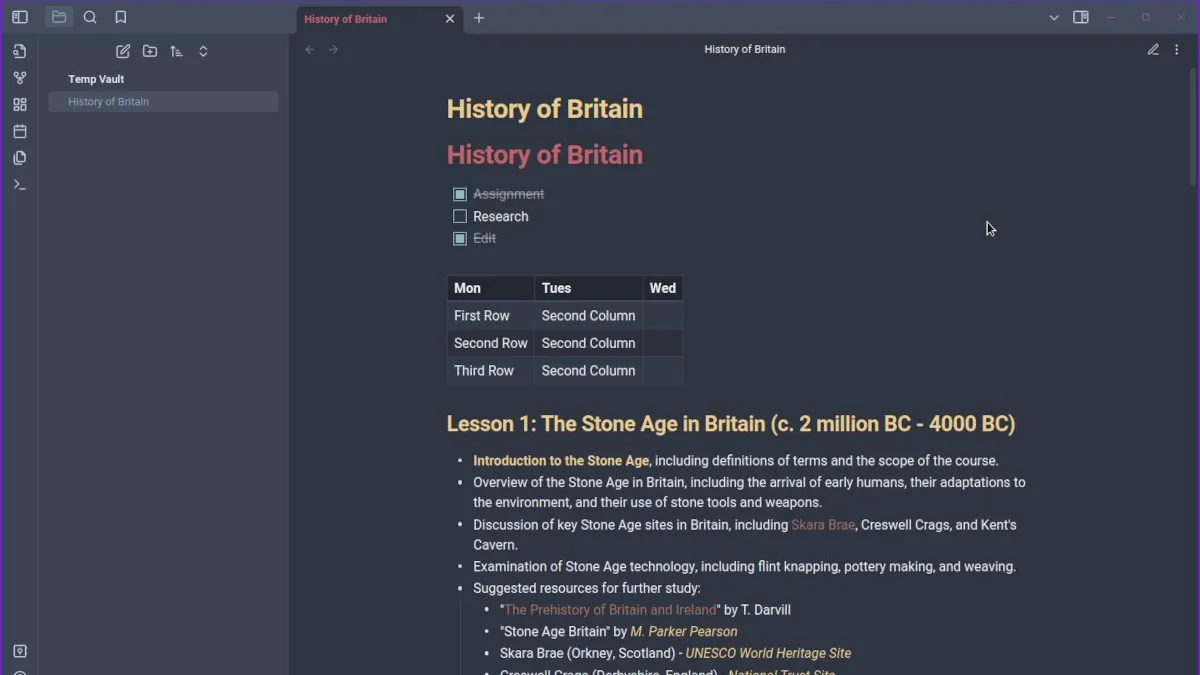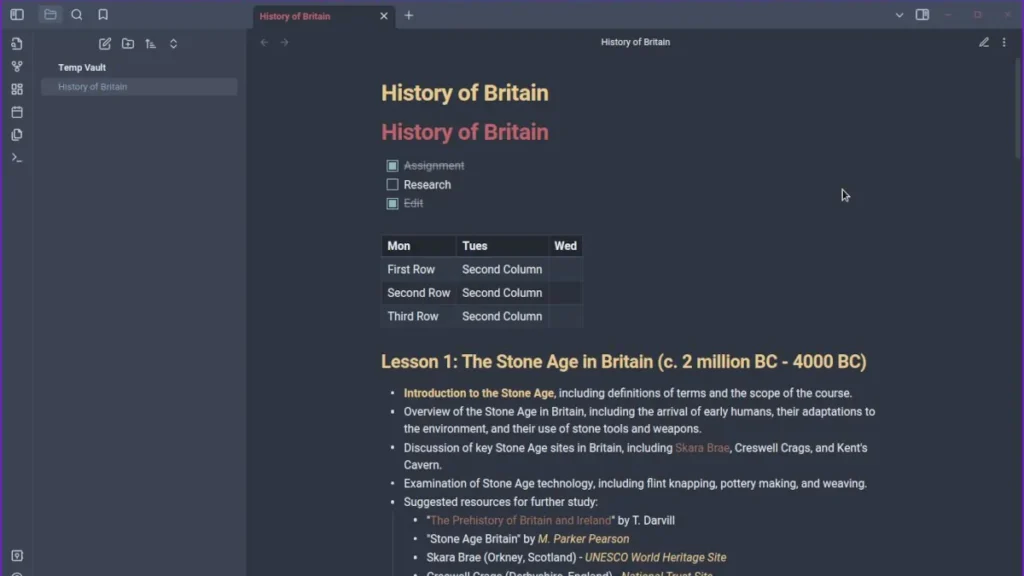 ---
5. Atom
Atom is a high-contrast theme with either black on white or white on black, depending on whether you are using a light theme or a dark one.
If you like a simple, high-contrast look with some blue accents, you can use Atom without making any changes.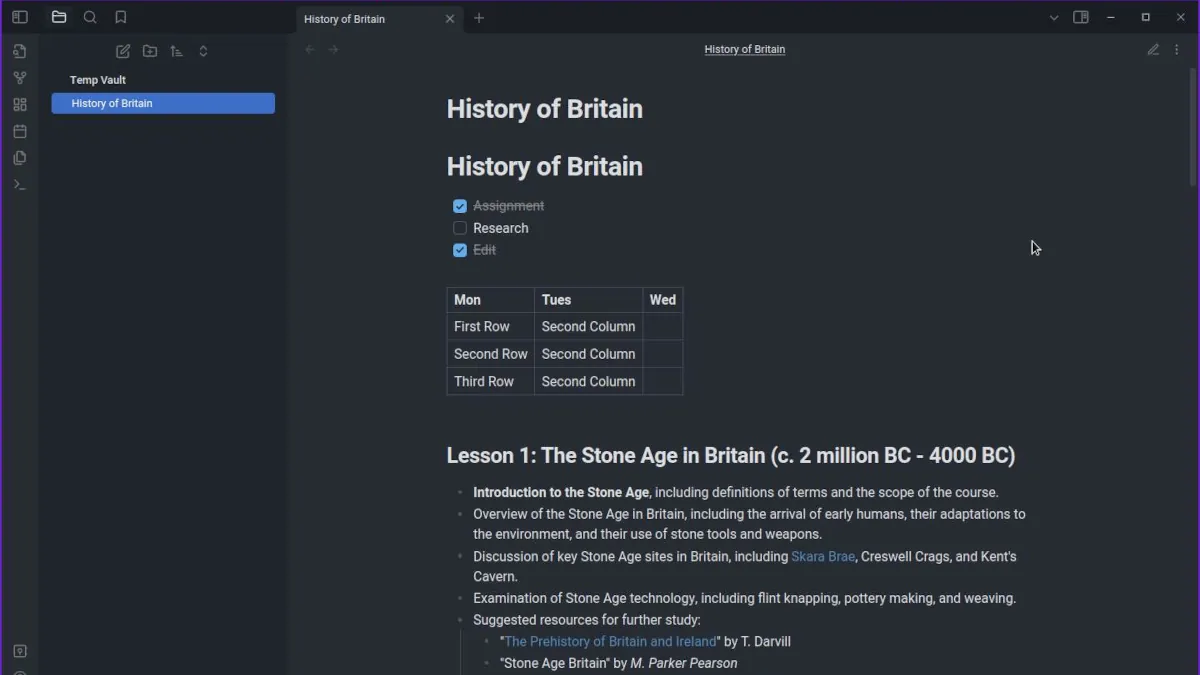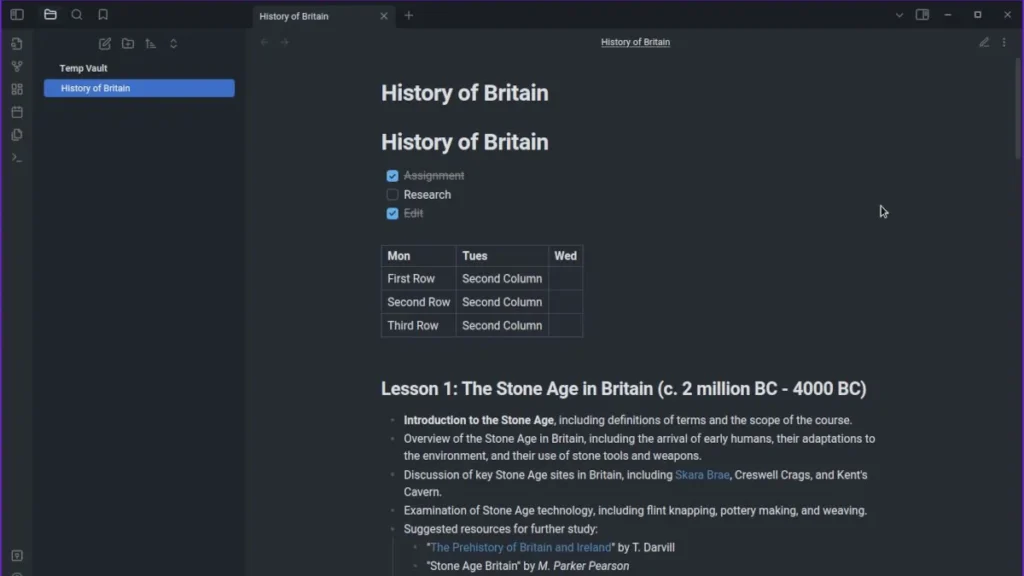 ---
6. Obsidianite
To me, the look and feel of Obsidianite is similar to the Atom theme above. It has a little more color, for example, in the headings, but otherwise, it's another white-on-black Obsidian theme.
The aqua-blue highlights are refreshing when using the default settings, and I would happily use this theme out of the box.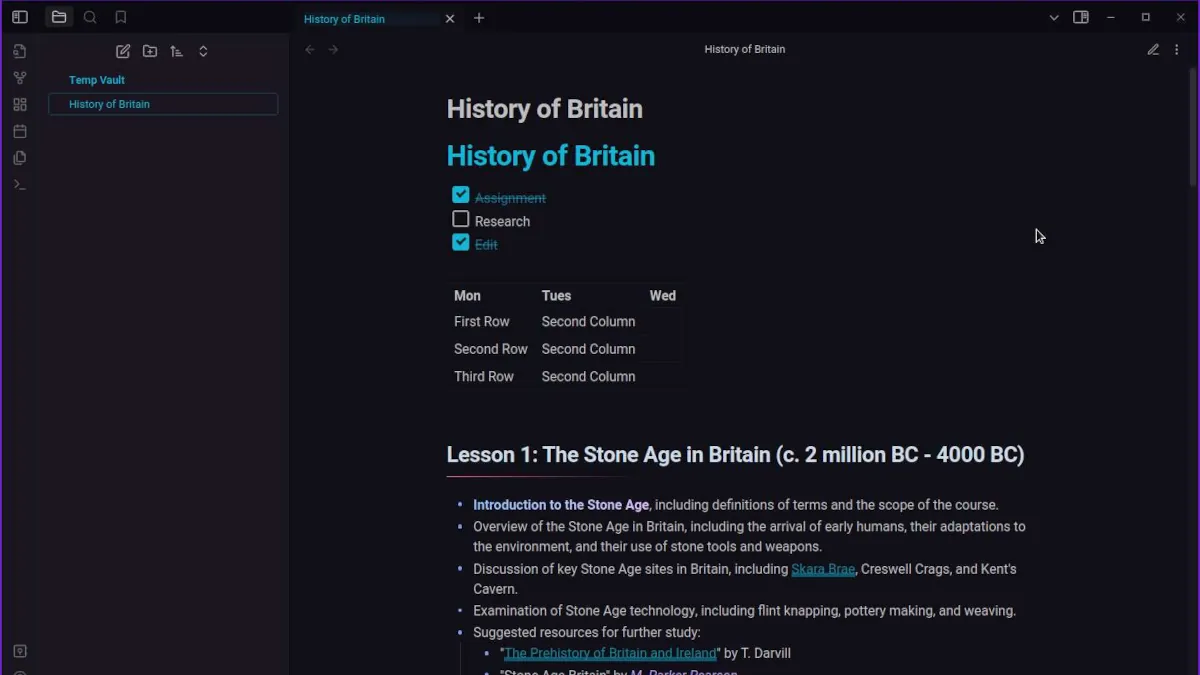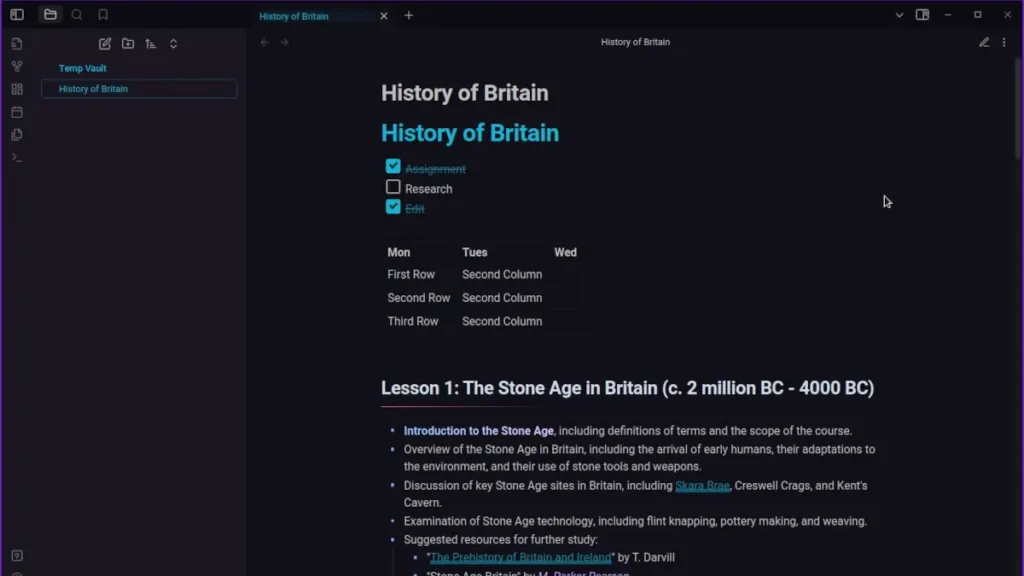 ---
7. Sanctum
The name Sanctum gives the feel of being in a sanctuary when you are taking notes in your vault, and there is something about the choices J Daniel Mourao has made that makes this theme easy on the eyes. It is another high contrast white on black theme, but it's easier to read than some of the others.
In my test vault, you can see some of these choices, such as the round check boxes and the enlarged heading font sizes, make this theme simple but pretty.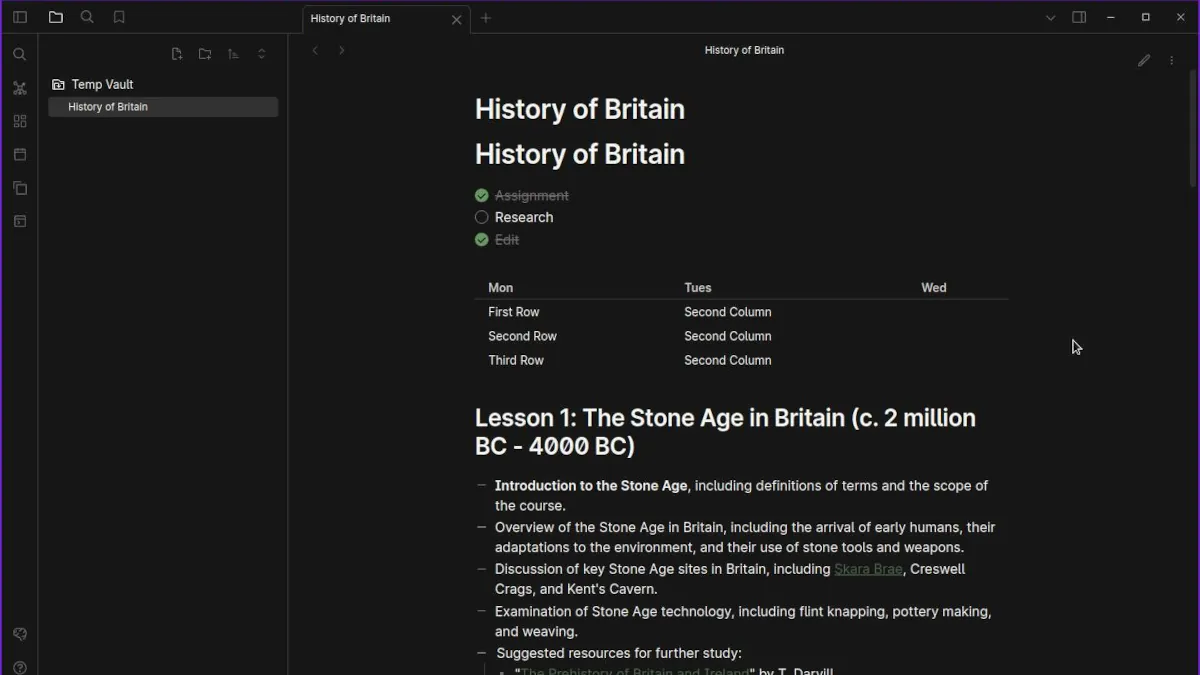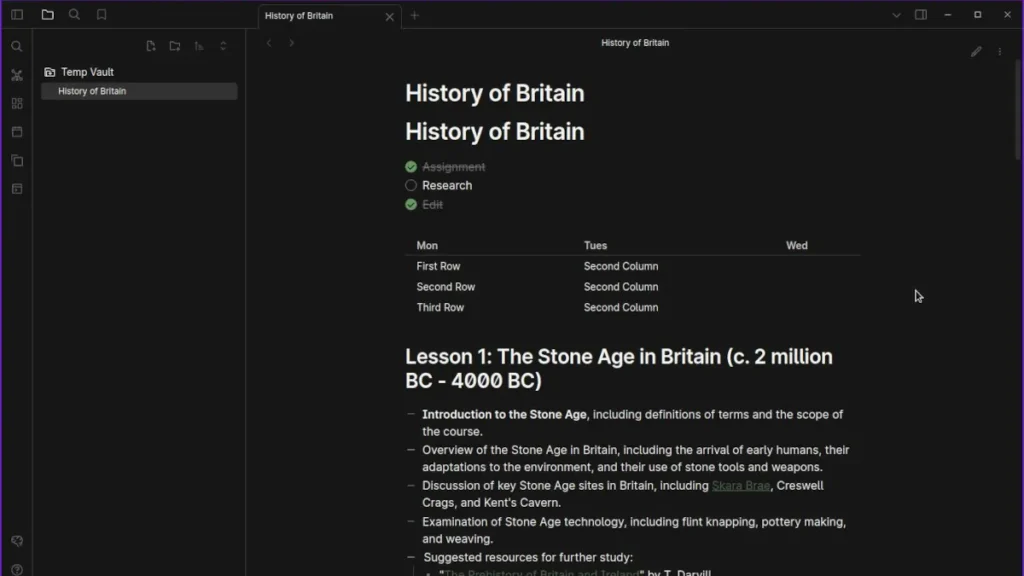 ---
8. Shimmering Focus
Shimmering Focus, as you can see from the picture above, has won awards for its "aggressively minimalistic theme," the author Chris (Pseudometa) rep[lied to me on Twitter, saying, "Shimmering Focus' minimalism refers to the removal of unneeded UI elements (bars, buttons, etc.) not a minimalism of colors like Santum or Minimal." So Shimmering Focus is the perfect choice if you're looking for a clutter-free and distraction-free writing environment.
In the screenshot below, you can see seven colors and two fonts, but the theme creator does a good job of pulling them together into an integrated whole.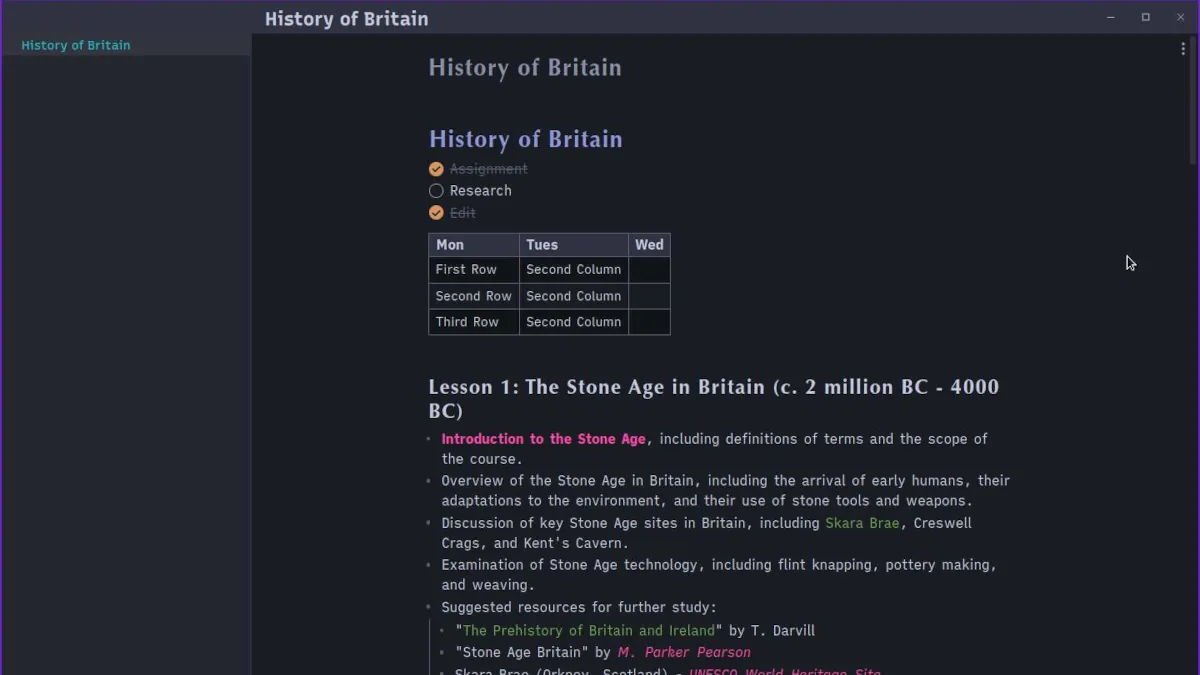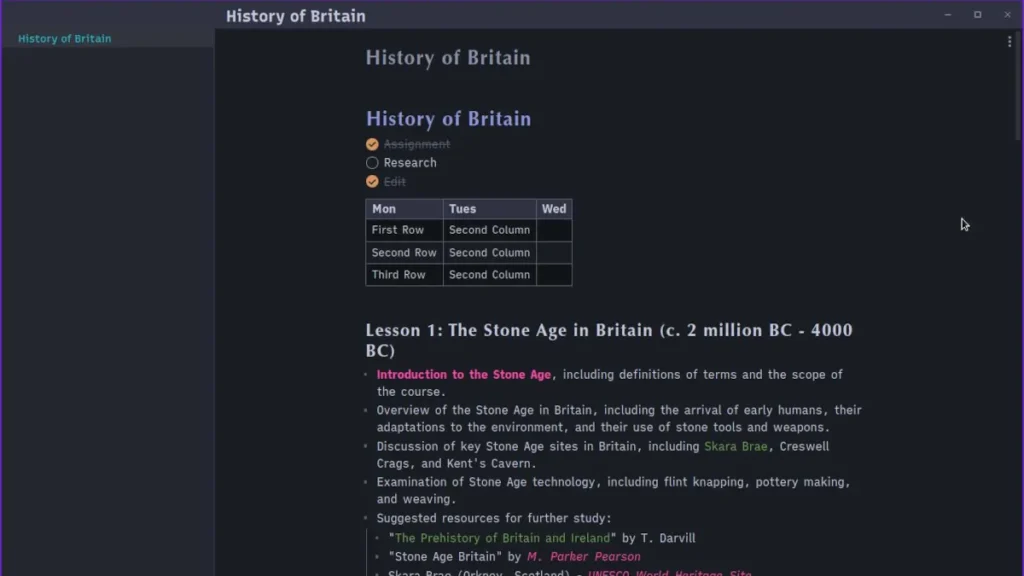 ---
9. Dracula for Obsidian
This theme may no longer be maintained, but you can still download and install it. There are some truly bold choices here, but then would you expect anything less from a theme called Dracula?
Out of the box, I love the look of this theme. The bold colors and retro design makes me think back to when operating systems had this flat look.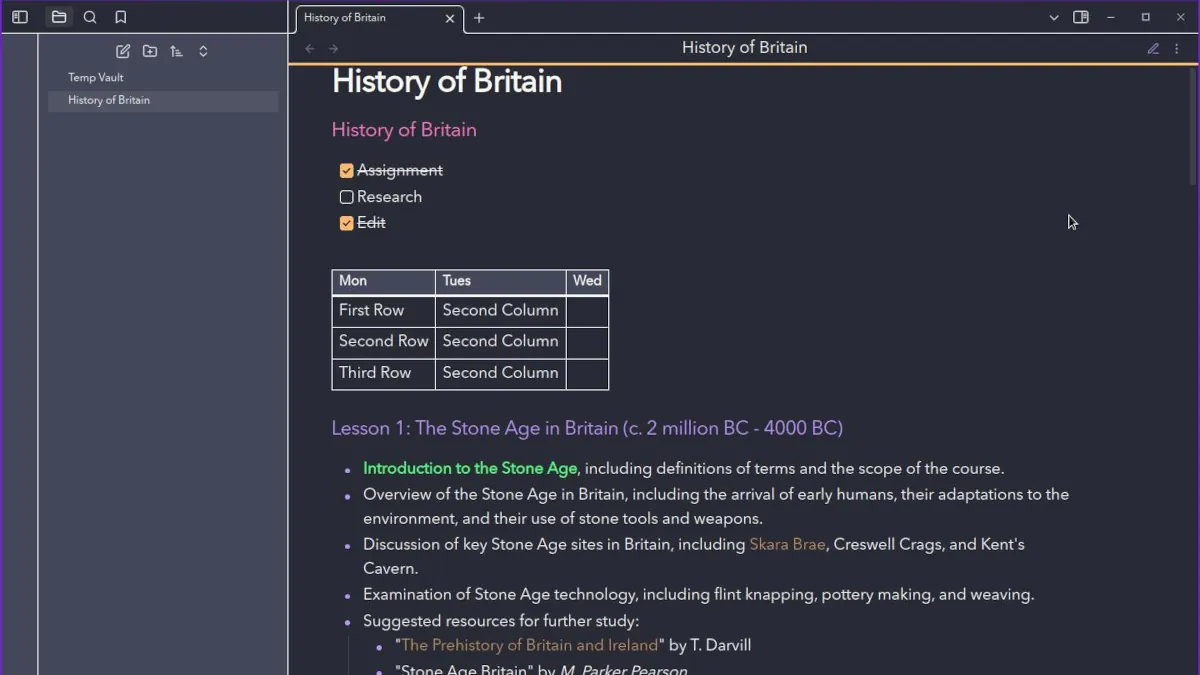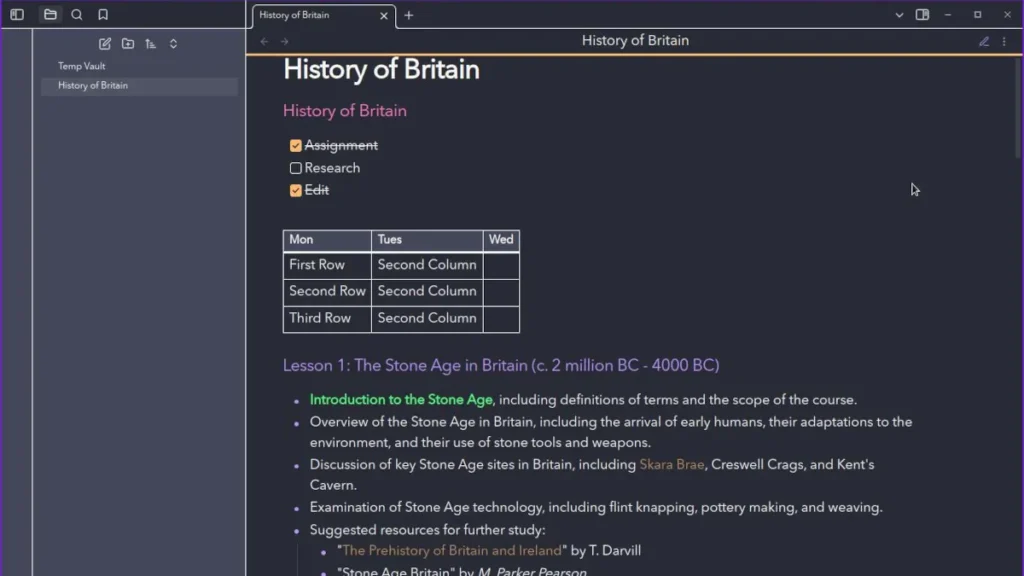 ---
10. Wasp
A wasp always means danger and a way to ruin a BBQ or pool party, but I think Santi, the developer of Wasp, named it for the color. The yellow and black of the Wasp theme give your Obsidian Vault a cool style.
There's no doubt in my mind that I would use this theme exactly as it comes after download. I love the colors and everything about it.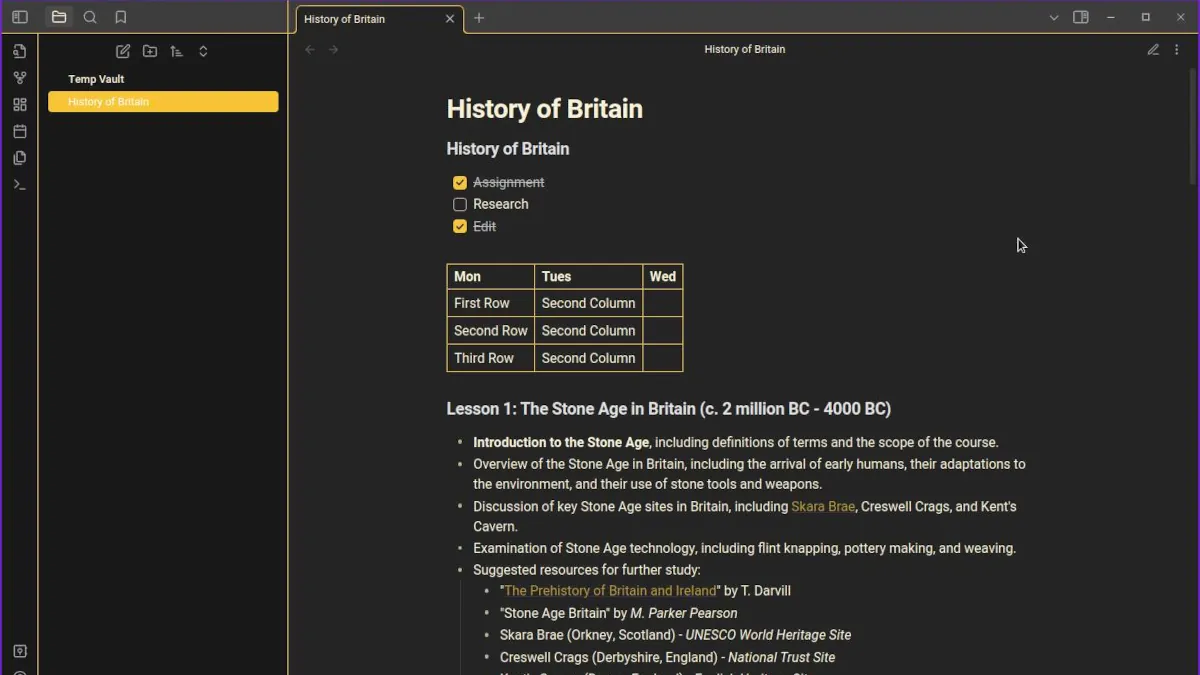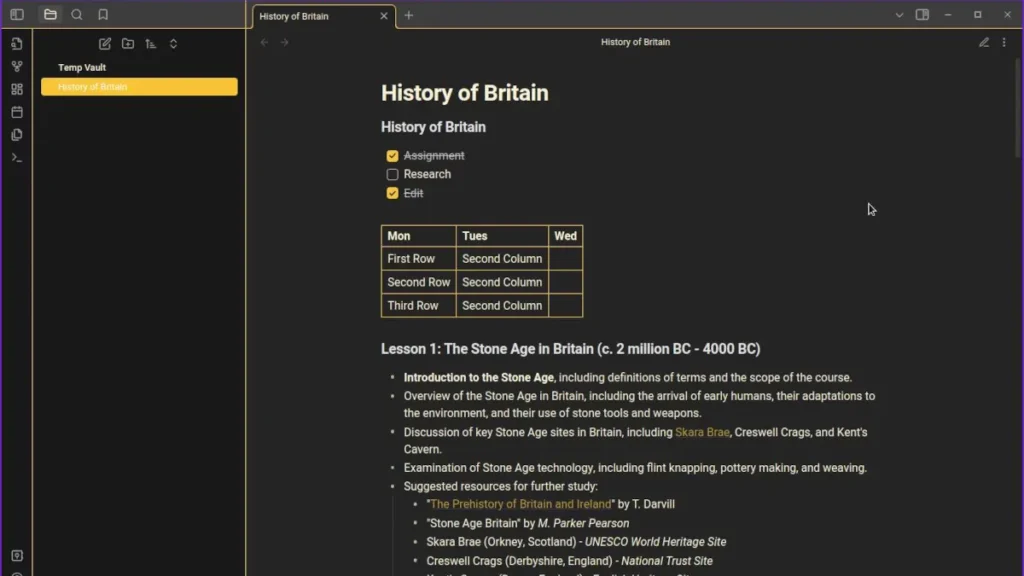 ---
11. Prism
When I saw the examples of Prism on their GitHub page and, considering the name, I was expecting a rainbow of colors after enabling this Obsidian theme. That's not what I got, however. It looks like, to use this theme as it was meant, you must also download the settings plugin and make adjustments.
Without downloading the Settings plugin, this theme does very little, as you can see from the screenshot of our example note below. There is a message telling you to download the plugin, so at least you'll know.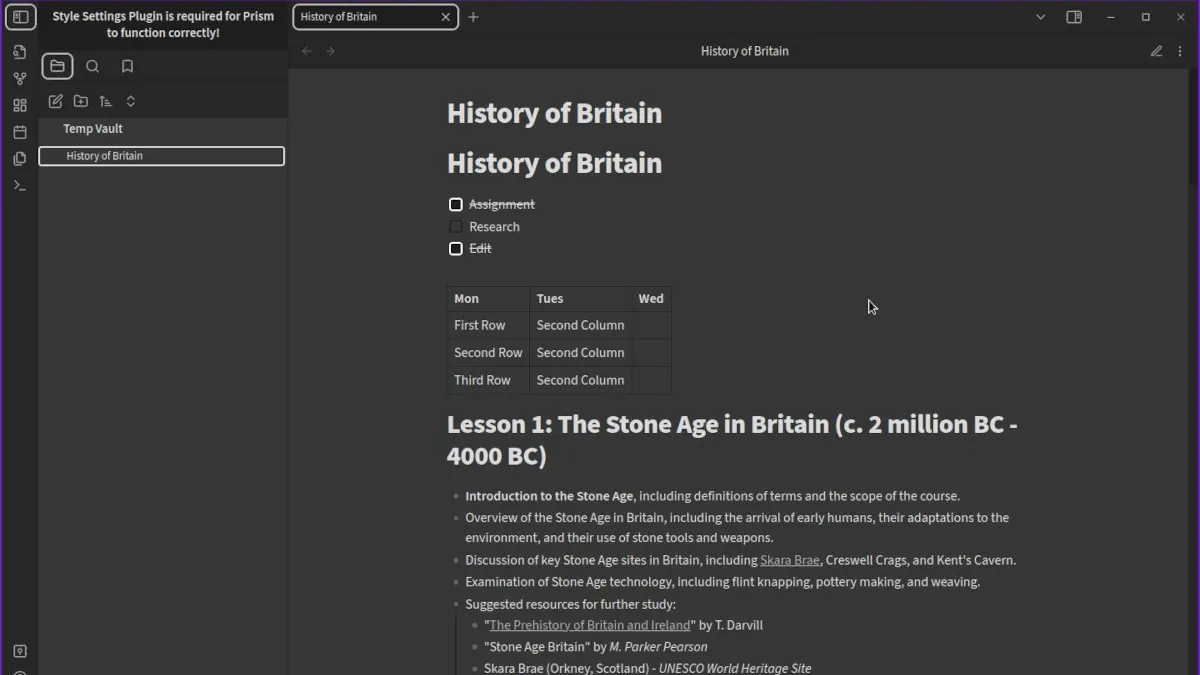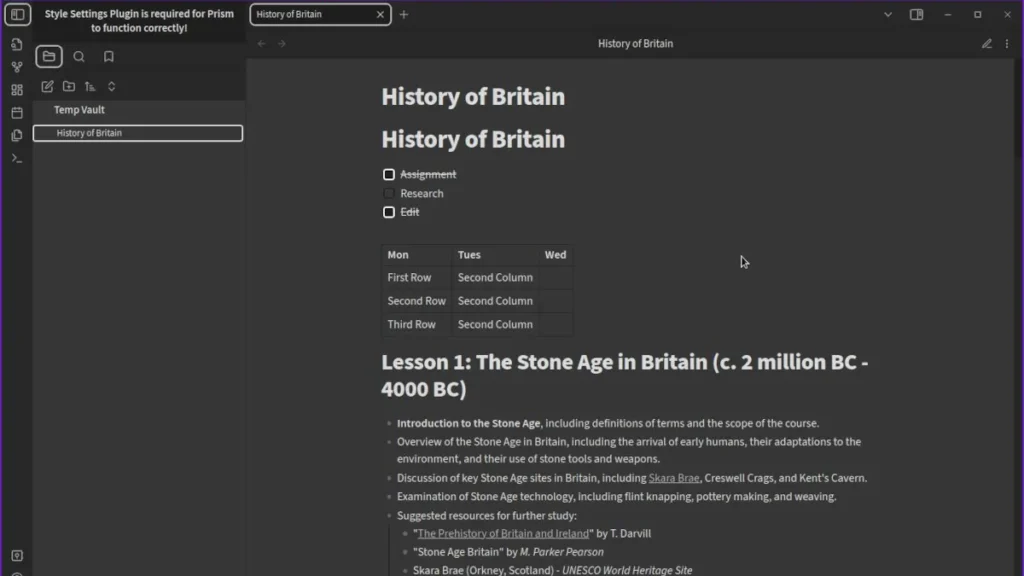 ---
Honorable Mention: Obsidian Terminal
If you want to look like a 1980s hacker or Neo from The Matrix, this is the theme for you. It turns your Obsidian Vault into a hacker green-on-black environment just like an old-style terminal.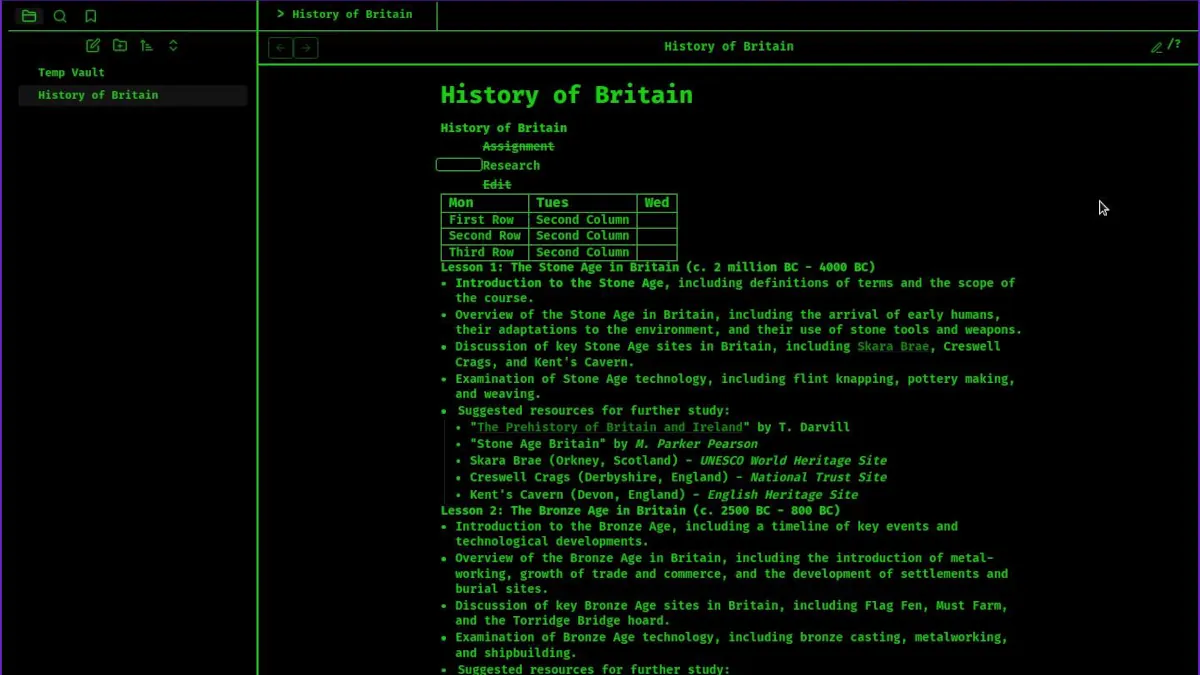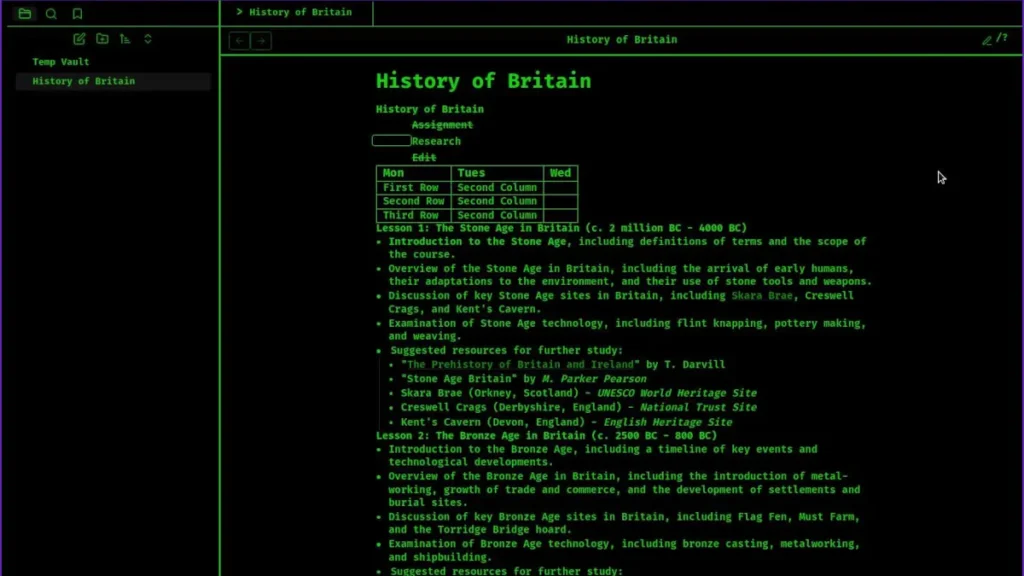 ---
Obsidian Themes FAQ
How Do Themes Help With PKM or Productivity?
Technically speaking, themes don't really help with productivity. All they do is make your vault look nice. However, a more attractive Obsidian vault will encourage and entice you to use it more and for longer. So if you want to spend more time taking notes or building a Zettelkasten in Obsidian, a theme you like is a must-have.
Which Theme Is Best for a Customizer
If you love tinkering and digging into the setting, making minute changes and adjustments, Minimal with its Settings plugin is the theme for you.
What's the Best Obsidian Theme that "Just Works"
If you don't want to think about customizing and just want a theme that looks good out of the box on desktop and mobile, go with Things 2, you won't regret it.
Do I need to Install the Theme on Mobile Too?
As long as you are syncing your Obsidian vault to your devices, your theme will sync too.