Meet Gregory, a writer and the brains behind Face Dragons. He's the go-to guy for getting things done. Gregory's been living the digital nomad life in Asia for as long as anyone can remember, helping clients smash their goals. He writes on topics like software, personal knowledge management (PKM), and personal development. When he's not writing, you'll catch him at the local MMA gym, nose buried in a book, or just chilling with the family.
After over a decade of traveling Asia, I've tried some fantastic Asian street food, from small, simple stalls along the Mekong River to huge hot food markets in Thailand. Anyone will tell you that one of the best things about living in Asia is the food. It's not only that there are great restaurants, but incredible snacks lining the streets too.
As a digital slomad for the last 15 years, I've been lucky to find some tastey street food. Some of my favorite Asian street food dishes were found entirely by accident, while others became everyday street food snacks. Some street food vendors still recognize me even when I come back years later.
If you have a list of goals for the year, add eating some of these snacks to it.
China
I've lived in China for many years and tried every kind of Chinese street food. Some, like the BBQ meats and pancakes below, I still enjoy now, while others, like stinky tofu, never got a second chance. If you visit China or spend time here, you must try these.
Yang Rou Chuan – Lamb Skewers
Yang rou chuan was the first thing I ate after arriving in China, and you must try it before leaving. One of the most popular street foods across China, you can find these lamb skewers in every city.
Locals will make an evening routine of this tasty street snack, often bringing their own beers and stools to sit on. They chat all night long while the griller keeps the kebabs flowing.
Originally from Xin Jiang in the west of China, these lamb kebabs, usually covered in cumin and chili flakes, are everywhere now. Perfect if you're starting the keto diet.
Jian Bing Guozi – Tianjin Pancakes
Imagine a paper-thin pancake handmade in front of you, fried eggs added on top with onions, chives, and your choice of sauce. Wrapped around a dough stick and put in paper, it makes the perfect breakfast to eat on the go.
The only problem is everyone else thinks so too!
In the early morning, you will need to line up if you want to take away a da bing ji dan, but the line moves fast, and it's worth the wait.
Baozi – Steamed Buns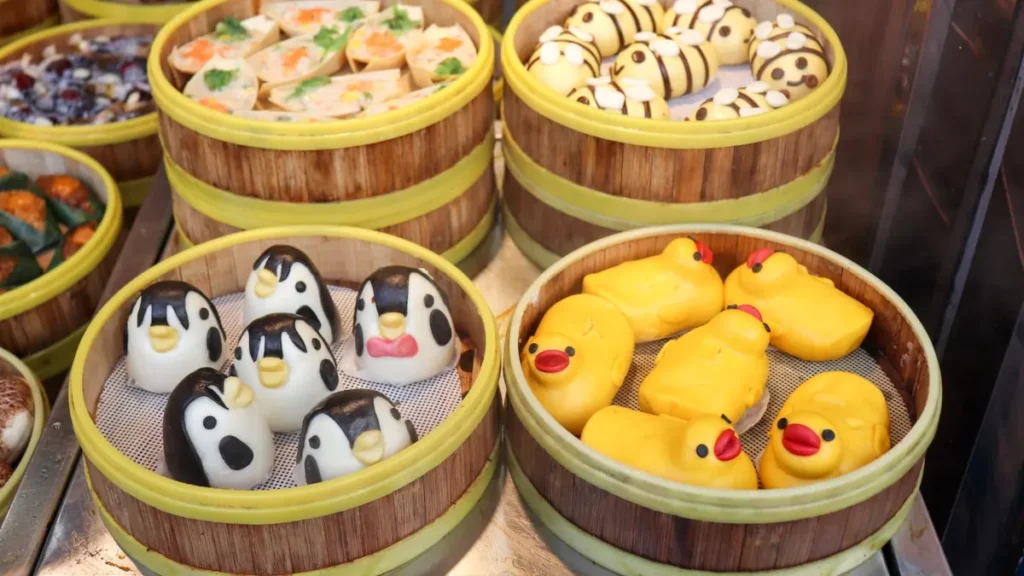 If you thought Chinese food was all just rice and noodles, think again. Baozi is a treasured part of Chinese cuisine.
Baozi is steamed dough buns usually filled with something savory like pork and cabbage, but there are traditional sweet varieties, like red bean buns.
Baozi spans street food and sit-down cuisine culture. You're just as likely to find them in an expensive restaurant like Tianjin's famous Gou Bu Li as you are to see them in the marketplaces or on street corners. After so many years in China, a baozi is rarely my first choice of street food, but occasionally, when I do have them, and I have to admit, they're pretty good.
Stocking Tea in Hong Kong
Listed in the intangible cultural heritage inventory of Hong Kong, silk stocking tea (sometimes known as pantyhose tea) is a smooth milk tea that isn't filtered through silk or pantyhose. Instead, it's filtered numerous times through a cloth sack. As a result, the color of the tea stains the cloth giving it the appearance of a silk stocking.
The potent brew of black tea is poured into evaporated milk rather than regular milk, giving it its silky smooth texture and toffee caramel color.
Over 2.5 million Hong Kongers drink this strong tea mixture every day. It's the perfect pick-me-up for that post dim sum slump.
Thailand
Thailand is one of my favorite countries in Southeast Asia; it's laid back, the people are friendly, and of course, there's Thai street food! So if you love sweet, spicy, or sour foods, Thailand has you covered!
Spicy Mango
Be careful if you buy mango from a street vendor in Thailand. It may have a spicy surprise!
Trust the Thais to take a sweet fruit like the mango, which grows all over Thailand, and cover it with spicy chili. But if you get the opportunity, this is one street snack you don't want to miss.
The strange juxtaposition between sweet and spice is super refreshing. The sweetness of the fruit acts to counter the kick of the chili. Still, even if you're an extroverted introvert you should tell the vendor that you only want a little chili unless you can take the heat.
Pad Thai – Thai Noodles
A discussion of Asian street food is not possible without mentioning pad thai.
As a family, we have spent months in Thailand almost every since becoming digital nomads. But it was on our first trip there together that my wife discovered a woman cooking pad thai in a street food stall by the road near our hotel. It was better than anything we had at our hotel or the restaurants nearby, and it was a fraction of the price! So it became our daily breakfast while we were in Phuket.
Luk Chup – Marzipan Fruits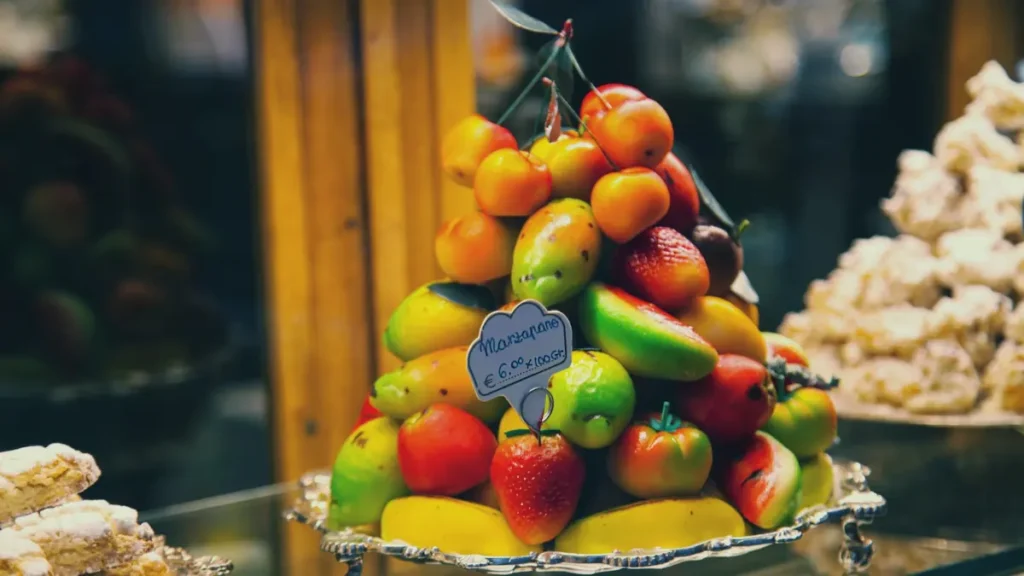 You'll find luk chup all over Thailand in dessert shops, marketplaces, and street stalls. However, this sweet snack is not what it seems. Modeled to look like fruits, luk chup is actually made from mung bean marzipan.
These marzipan creations were brought to Thailand by the Portuguese, but as almonds aren't native to Thailand, they were replaced with mung beans. In Europe, you'll still find the original marzipan fruit lookalikes, especially in Siciliy, but if you're in Thailand, you can't leave without trying luk chup.
If you're really feeling creative you could even try making some! It might seem a little odd but it could be a new hobby for nerds everywhere.
Nepal
Stepping off the plane in Nepal felt different from all the other countries I had visited. The airport is small and nestled in the mountains, and I felt I was entering a kingdom that few get to see. Of course, Nepal is open to anyone who wants to visit, but it always feels special to me.
Nepalese street food is no different. With the influence of Indian and Tibetan cuisine and the large number of foreign tourists arriving every year, Kathmandu feels like a melting pot, which is excellent if you want to try different cuisine.
Thukba – Soup Noodles
Thukba (or thukpa) is another Tibetan import. Thukba in Tibetan means noodles, but these aren't fried noodles you'd expect when ordering chow mein or lo mein at your local Chinese restaurant.
Thukba is noodles made from buckwheat in a broth or stock. Though sometimes served with meat, most often you'll find vegetable thukba. If you like ramen, you'll love Nepalese or Tibetan Thukpa.
Momo – Dumplings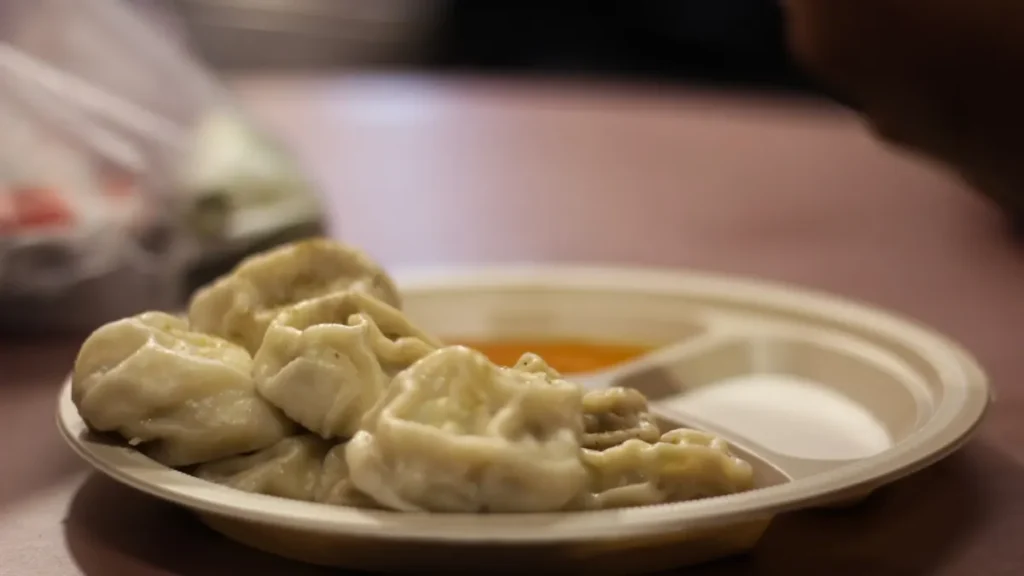 Many countries in Asia make dumplings, but the ones in Nepal, called momos, were imported by the Tibetan community who live there.
Momos are made with a simple dough of water and flour, rolled out flat, and filled with different fillings. The dough is then wrapped around the stuffing and sealed.
Vegetarian momos are common among Buddhist Tibetan, but there are also plenty of street vendors selling dumplings filled with meat. When I ordered these in Kathmandu, they came with various dipping sauces.
So if you're not planning to visit Tibet any time soon, know that you can find momos in any country with a Tibetan community. However, India, Bhutan, and Nepal are the best places to find them.
Indonesia
It's easy to just talk about Balinese street food when it comes to Indonesia, and I'll admit I'm much more familar with Bali than any other part of Indonesia. But there's great Indonesian street food all over like pempek, satay and siomay fish dumplings. These two are my favorites though.
Babi Guling – Balinese Suckling Pig
If you've ever traveled to Bali, you must have tried babi guling. In Ubud, across from the royal palace, is a restaurant called Warung Ibu Oka. If you've spent the morning looking around the court, it's the perfect place to get lunch and a cold drink.
Babi Guling is roasted pork stuffed with a mixture of chili, lemongrass, shrimp paste, shallots, turmeric, coriander, galangal, and garlic. The result is the most fragrant, flavorful roast pork you've ever tasted. Served with white rice, it makes the perfect meal to recharge and explore more.
Nasi Goreng – Fried Rice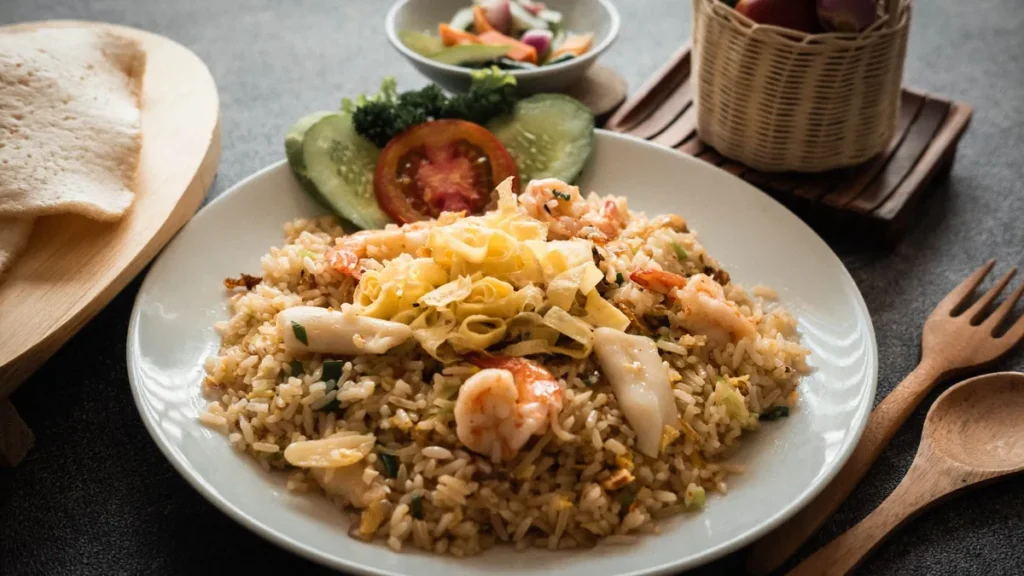 Even before I moved to Asia and became a digital slomad, I loved fried rice. As a child, we would order Chinese food every Friday for dinner, and I always had the same thing – Cantonese sweet and sour pork balls on top of a big bowl of fried rice.
But it wasn't until I spent time in Asia that I realized how good fried rice could be.
My wife and I spent our honeymoon in Bali. I don't know if it was the fantastic people, the beautiful buildings, or the Bintangs I'd drunk, but the Indonesian fried rice, nasi goreng, was better than any I'd had anywhere else in Asia.
Like most fried rice dishes, nasi goreng is rice fried in oil with some meat (usually chicken), but what makes it different is the sweet soy sauce, chili, and salty shrimp paste. The result is a sweet, spicy, salty meal you'll crave when you leave Indonesia.
Japan
Japanese street food is undoubtedly the most hygienic I've encountered in Asia. While I'm not a germaphobe, I sometimes worry about the cleanliness of some street food vendors. But in Japan, it's not something you need to worry about.
Takoyaki – Octopus Balls
If you've ever had deep-fried Cantonese pork balls, you'll have some idea of what takoyaki is like. About the size of a golf ball, these thick dough balls are deep-fried till crispy and have a piece of octopus in the middle.
For me, it's what comes with the octopus balls that make them unique. Takoyaki sauce is unlike anything you've had back home. It's a mixture of Worcestershire sauce, ketchup, and honey; It's incredible. Paper-thin pieces of onion are then scattered on the takoyaki, which dances in the hot steam from the freshly fried dough balls.
Walk along as you eat them with a toothpick, don't burn your mouth, though!
Okonomiyaki – Savory Pancake
Okonomiyaki is a savory pancake found all over Japan. Usually found with meat (though vegetarian versions aren't hard to find), the pancake is made from a batter mixed with meat, onion, cabbage, and ginger. The batter is then cooked on a hot griddle or frying pan.
Toppings are added to the pancake, and the sweet and sour Okonomiyaki sauce drizzles on top.
Laos
One of the things that surprised me about Laos was how much French influence remained, especially in Luang Prabang, my favorite place in Laos. You probably don't come all the way to Asia to buy sandwiches on the street, but maybe you should.
Mok Pa – Steamed Fish
While some Asian street foods can be pretty unhealthy, there are a few things you'll find as good for you as Laotian Mok Pa.
Mok pa is fresh fish infused with herbs like lemongrass and kaffir lime leaves, wrapped in banana leaves and steamed right before you. Usually found close to a barbeque stand, my wife goes for the mok pa, and I take the BBQ meat every time; we find an uncomfortably low table nearby and eat till full.
French Baguettes
It shouldn't be surprising that elements of French cuisine were left in Laos when the French left in 1953. Still, seeing French baguettes filled with meats and cheese in towns across Laos does make you want to pinch yourself.
The French obviously gave the Laotian bakers the authentic recipe, though, because compared with baguettes I've had in other Asian countries, French bread in Laos is tres bon!
India
Indian street food has endless varieties; each region offers its own style and takes on traditional recipes. You'll find Fish Thali in Goa, Aloo Chat in Delhi, and Khatta in Himadel Pradesh.
Samosas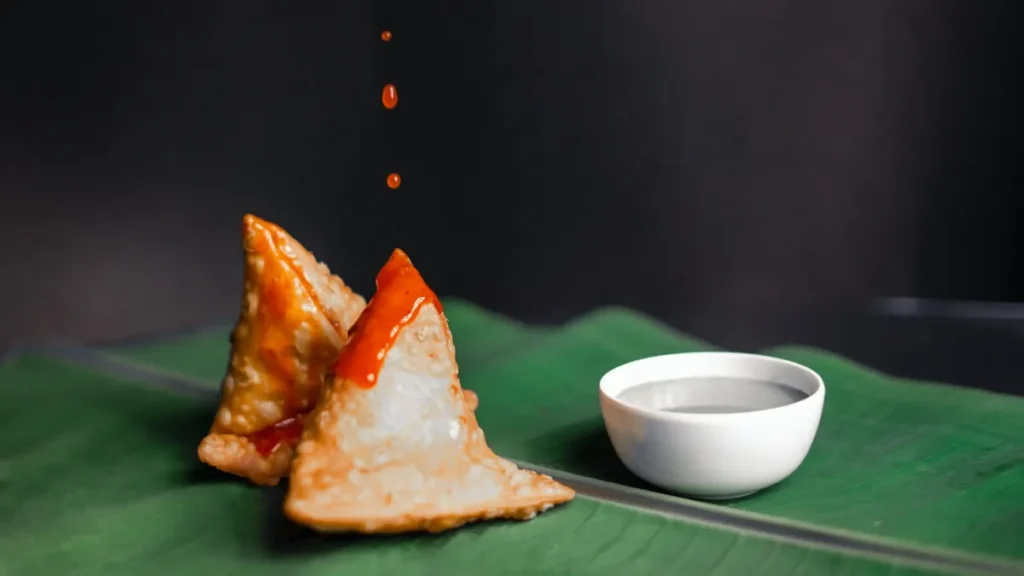 Samosa is a deep-fried pastry pyramid that comes with all different types of fillings. The most common fillings you will find are potato, onion, and pea. Vegetarian and non-vegetarian versions are standard. The spices you find inside make or break a good samosa.
A balance of chili, ginger, and other spices combined with mint or coriander chutney, makes samosa one of the best Indian street foods you'll find.
Chaat – Indian Tapas
There are many different types of chaat. You'll find variations across India. You can think of chaat as Indian tapas. Most contain a starchy base, such as samosa, fried bread, or puffed rice, a mixture of vegetables is added, chutney or sauce tops it off, then crispy noodles, fried potatoes, or fried chickpeas are sprinkled on top to add crunch.
A crunchy, flavorful, filling meal with endless variety found throughout Indian street cuisine, what more could you ask for?
Korea
The Korean peninsula is an excellent place for gastronomic explorations. There are so many Asian street food snacks here that are unlike anything you'll find anywhere else. For example, they have cold noodles served with ice cubes in the summer. Instead of chips, you can buy kim, crispy dried seaweed. But tteokbokki and kimbap are my favorite street snacks.
Tteokbokki – Spicy Rice Cakes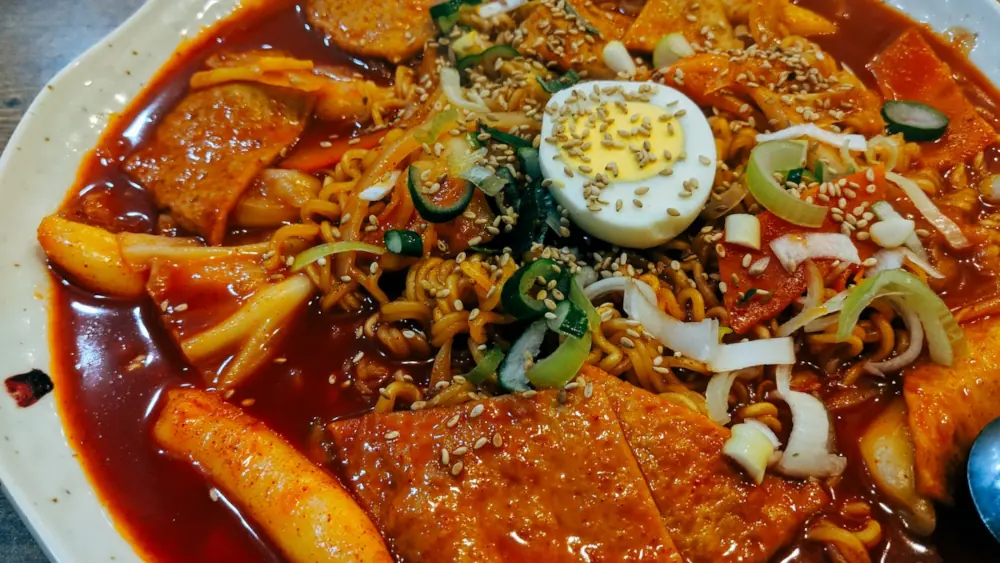 One of Korea's most famous street foods is Tteokbokki, or spicy rice cakes.
The rice cakes are like thick sticky noodles cooked in a spicy sauce containing gochujang. The rice cakes simmer away with fish cakes, eggs, vegetables, or other ingredients until served. You'll find vendors with vast pans of Tteokbokki simmering. Next time you spot one, ask them to dish you up a portion.
Kimbap – Sushi Rolls
You've undoubtedly had sushi rolls back home in a Japanese restaurant but don't you wish you could pick them up from a little place while walking on the street?
Well, in Korea, you can.
Korean kimbap is essentially Japanese sushi rolls (don't tell Korean people that, though!) A seaweed-wrapped roll of rice and other fillings.
As a student, I picked these up almost daily from a small kimbap booth just off campus.
Vietnam
Pho – Soup Noodles
If you've ever been to a Vietnamese restaurant, you've likely had pho. It's similar to ramen or soup noodle dishes you find elsewhere. Pho is the common version found throughout Vietnam. What makes pho so good is the fresh flavor. Filled with everything from crunchy scallions to fresh pieces of cucumber. If you have the chance, I recommend you sit down with a bowl.
Ca Phe Trung – Egg coffee
Does this drink count as Asian street food? Maybe, it does have egg in it!
Long before Dave Asprey started making bulletproof coffee, the Vietnamese were making egg coffee. Similar in concept, bulletproof coffee mixes butter and oil to coffee to add fats to it, while egg coffee uses the yolk of the egg to achieve a similar result.
An egg yolk (and sugar) is whisked into condensed milk and then poured into a half cup of strong robusto coffee to make this pick-me-up which will keep you energized longer. The fats in the egg yolk slow down the absorption of caffeine and give you some long-lasting calories too.
Many athletes have started drinking egg coffee before their workouts.
Want to Try Asian Street Foods at Home?
If you're stuck at home salivating, you don't have to feel left out. You can make street foods from home. Search Youtube for any of the street snacks above, and you'll find videos teaching you how to make them. Bon appetit!