Just downloaded Logseq and looking to upgrade and customize with a new theme? Or is it time for a change, and you want to see some screenshots of the best Logseq Themes out in 2023? Make your markdown shine with new formatting and a different color palette, from minimalist high-contrast themes to themes dedicated to writing to journaling.
How to Install Logseq Themes
Before you can get started deciding on a suitable theme for you, you must know how to download and install Logseq themes. Thankfully the Logseq team has made it easy with a theme marketplace next to the plugin marketplace. So if you've already installed Logseq plugins, downloading and installing themes should be no problem. Here's how: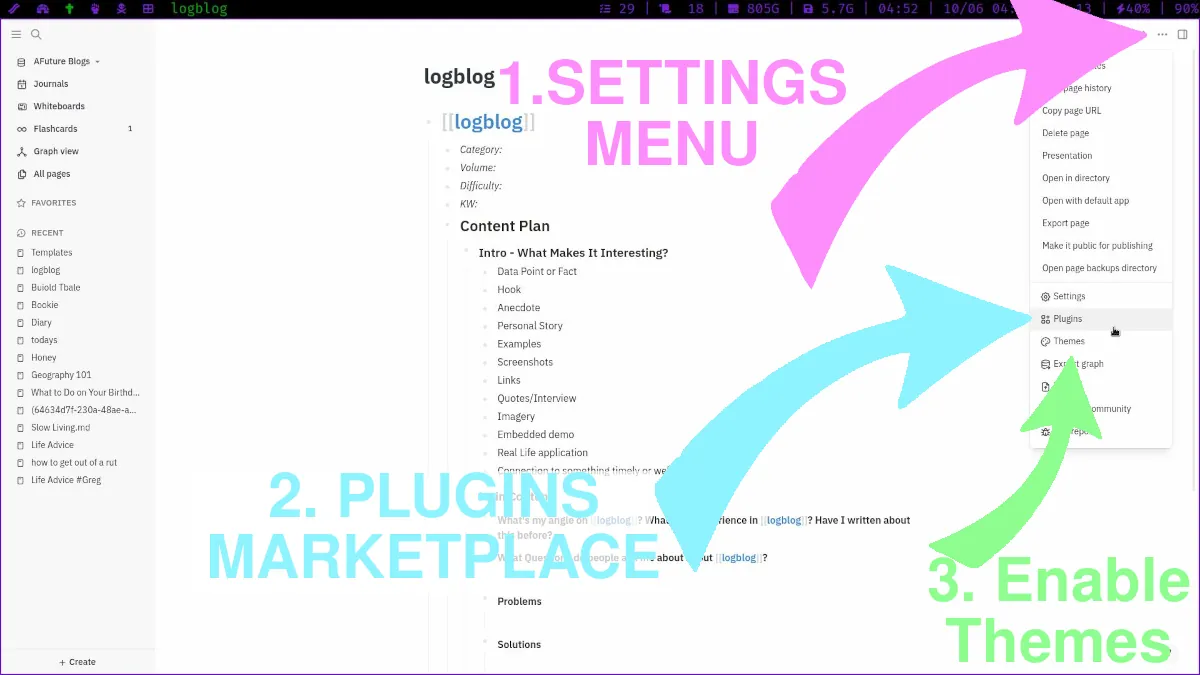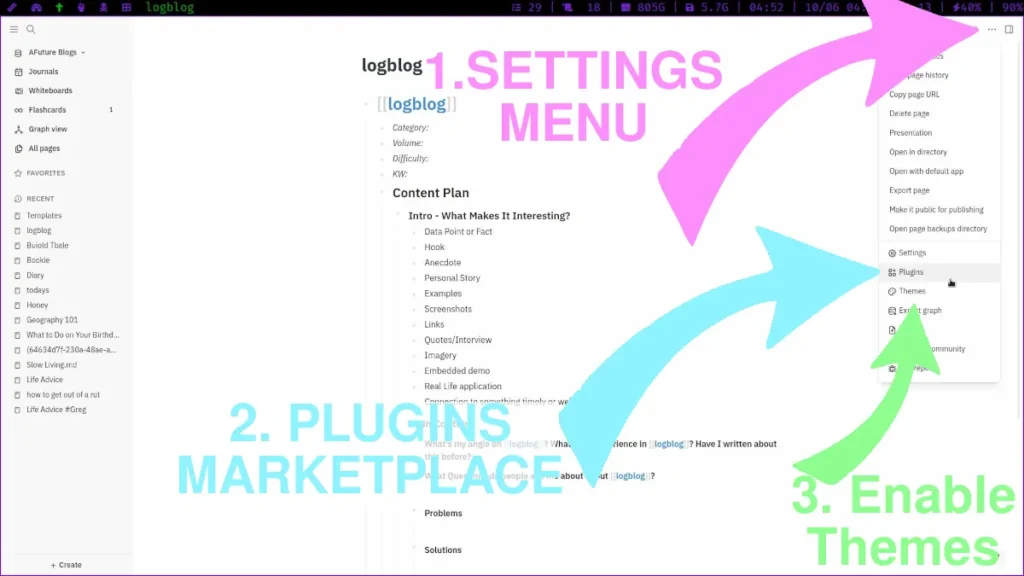 Open the Logseq Menu (three dots at the top right)
Click on "Plugins"
It's tempting to click "Themes," but that's for switching or enabling themes that are already installed.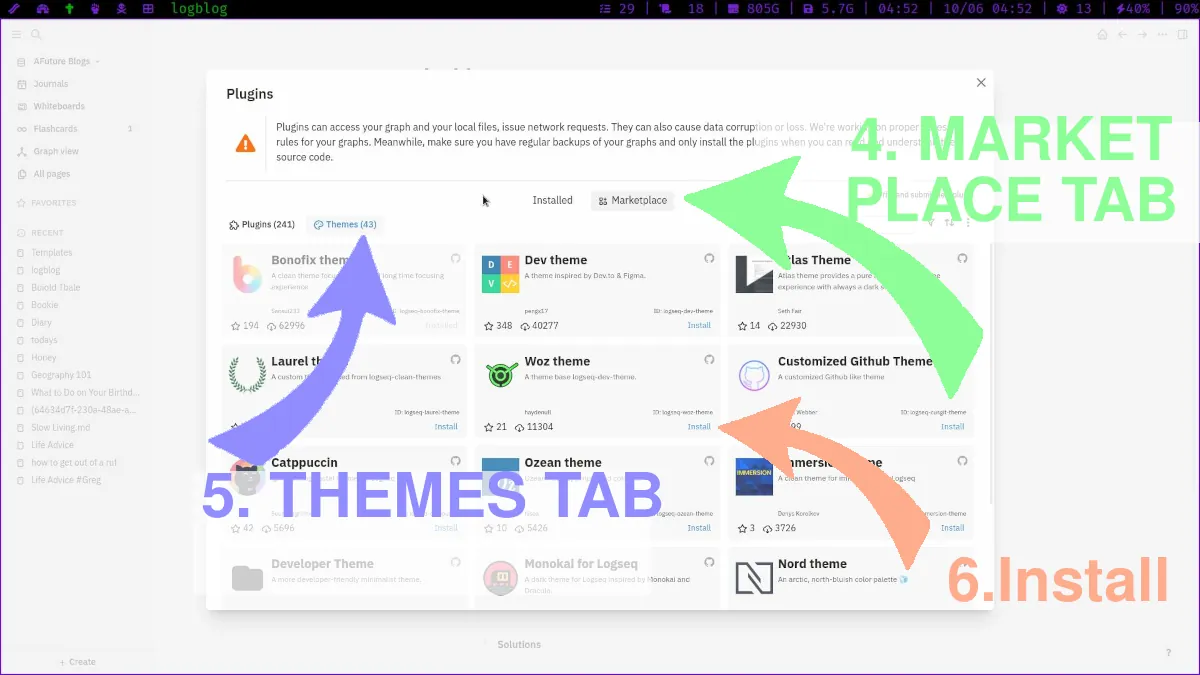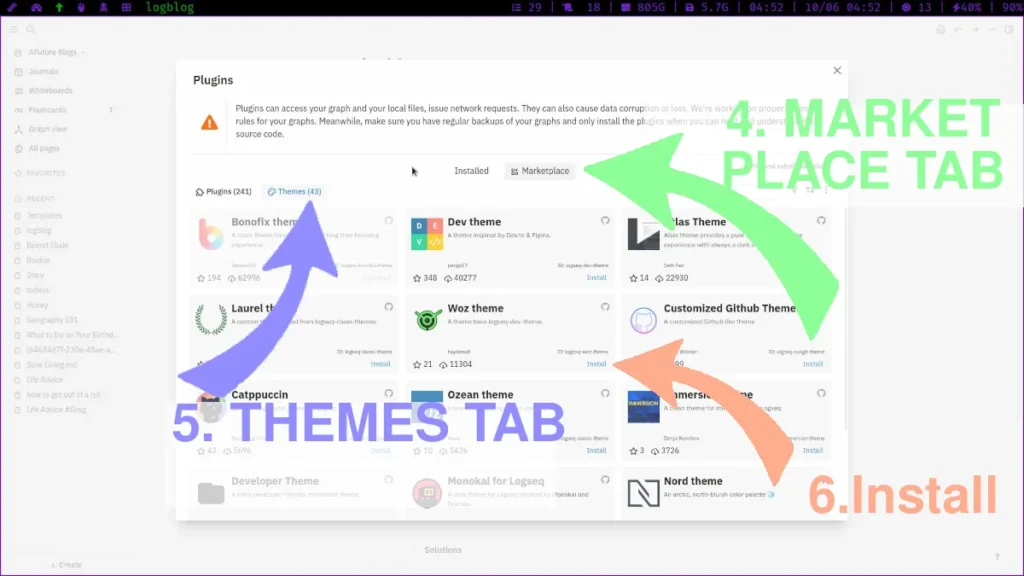 After clicking Plugins, the Plugin Window will open. Click "Marketplace."
Now Select the Themes Tab
Click "Install"
It's that simple.
The Best Logseq Themes in 2023
Bonofix Theme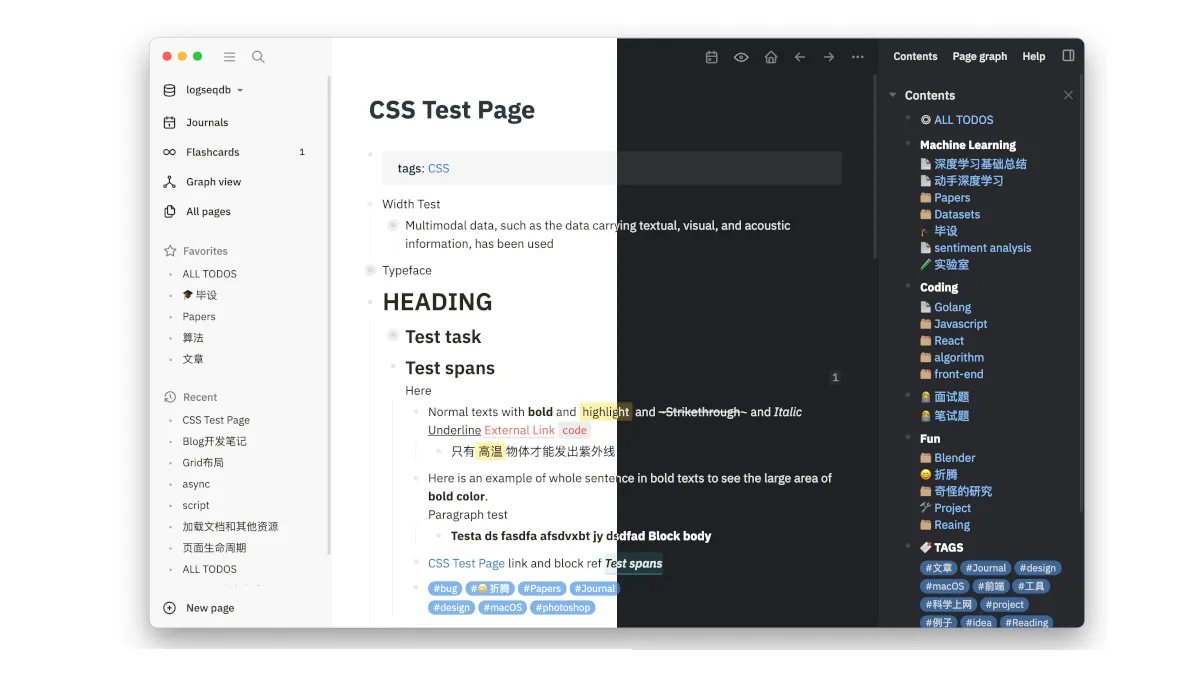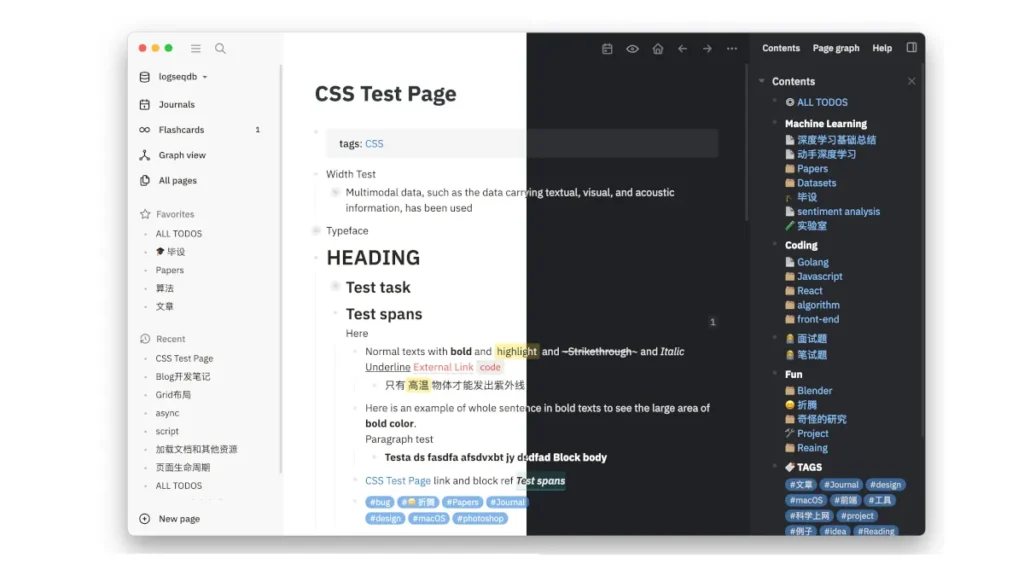 Bonofix is the most downloaded theme in the Logseq Marketplace. It has a Notion-like look and feel and focuses on long-form writing and Bullet Journaling.
Dev Theme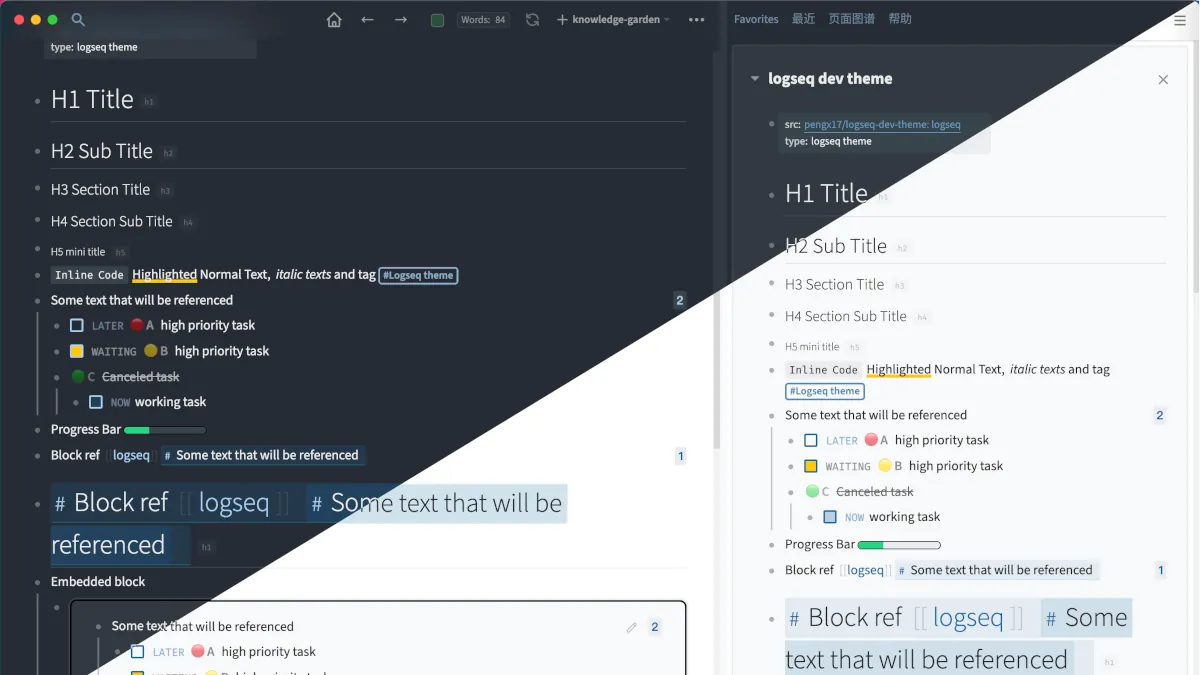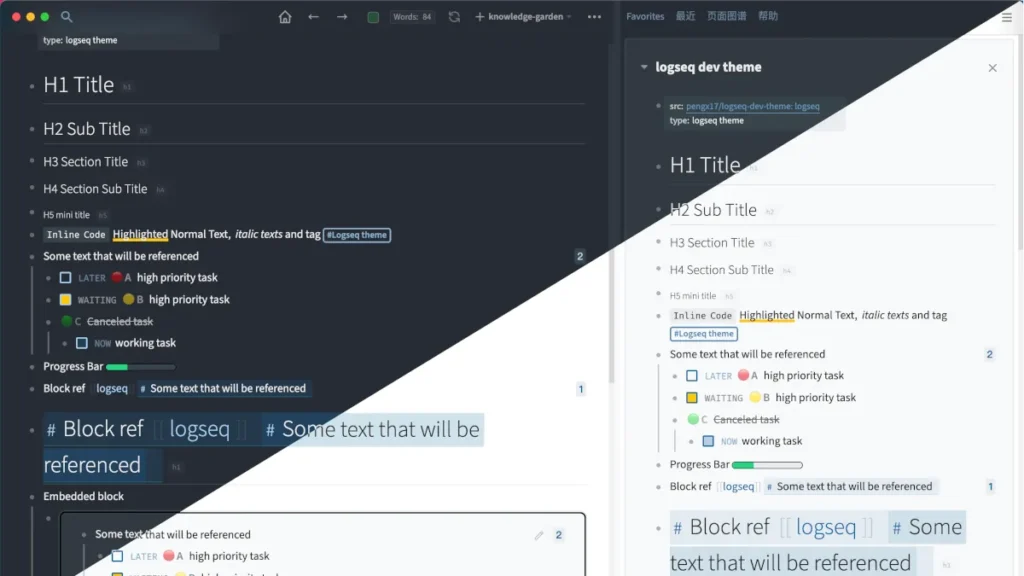 Pengx17, creator of one of the best Logseq Plugins, Bullet Threading, also made The Logseq Dev Theme. He says it looks best on macOS and is especially proud of the font choices and punchy colors. This theme will make your Logseq Markdown look great!
Atlas Theme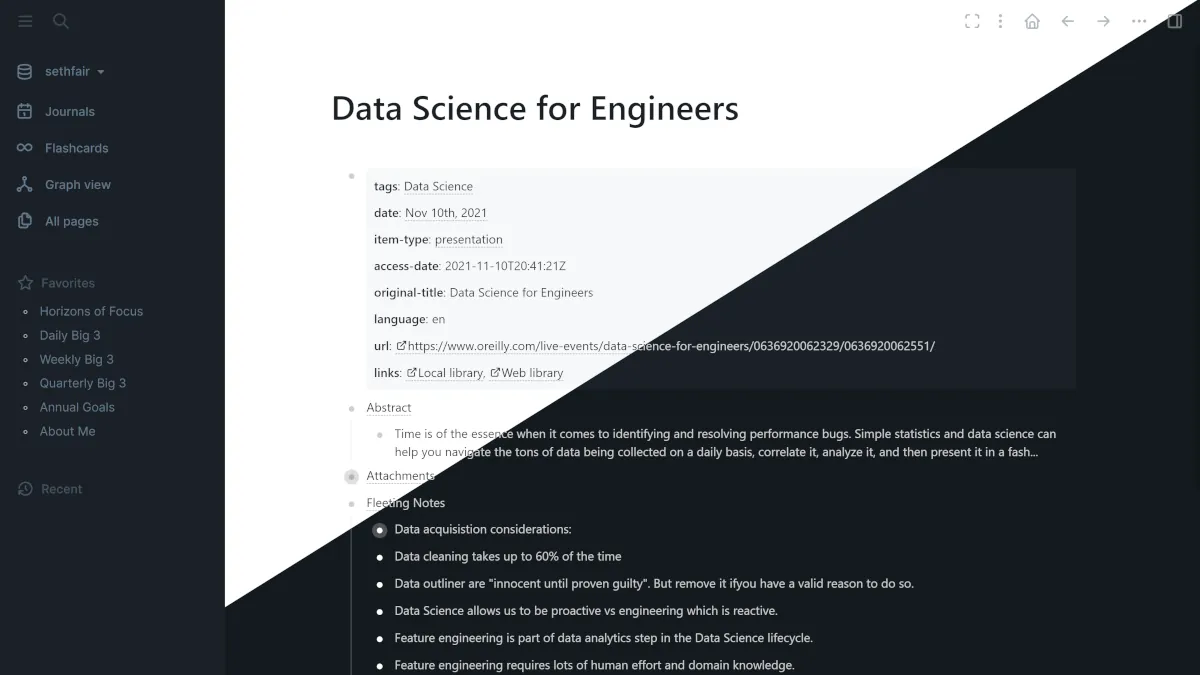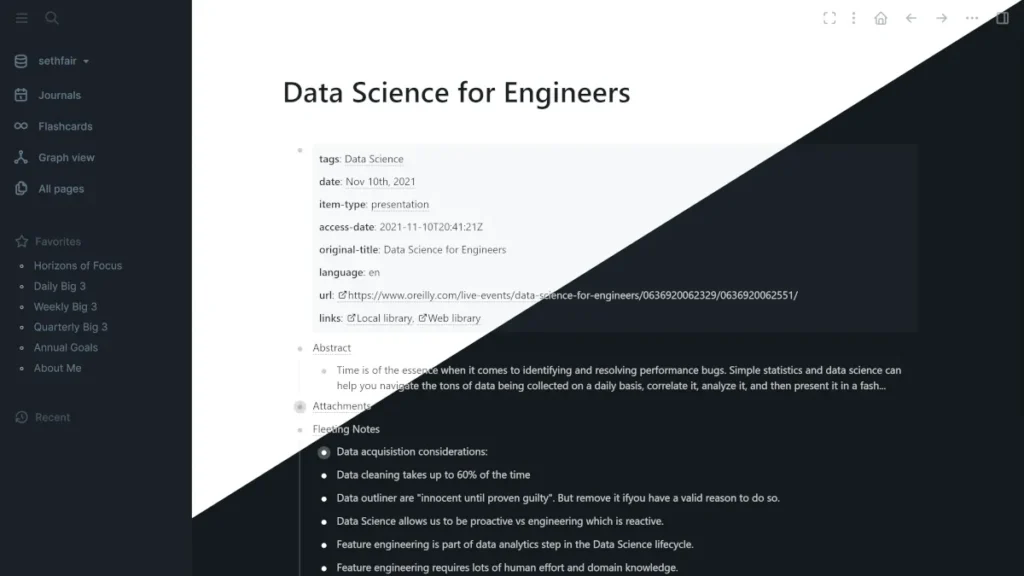 Atlas in a distraction-free theme. The spacing between blocks and large margins gives this theme a minimal and focused feel. The UI is basic, black on white or white on black, keeping distracting colors and other UI elements to a minimum.
Laurel Theme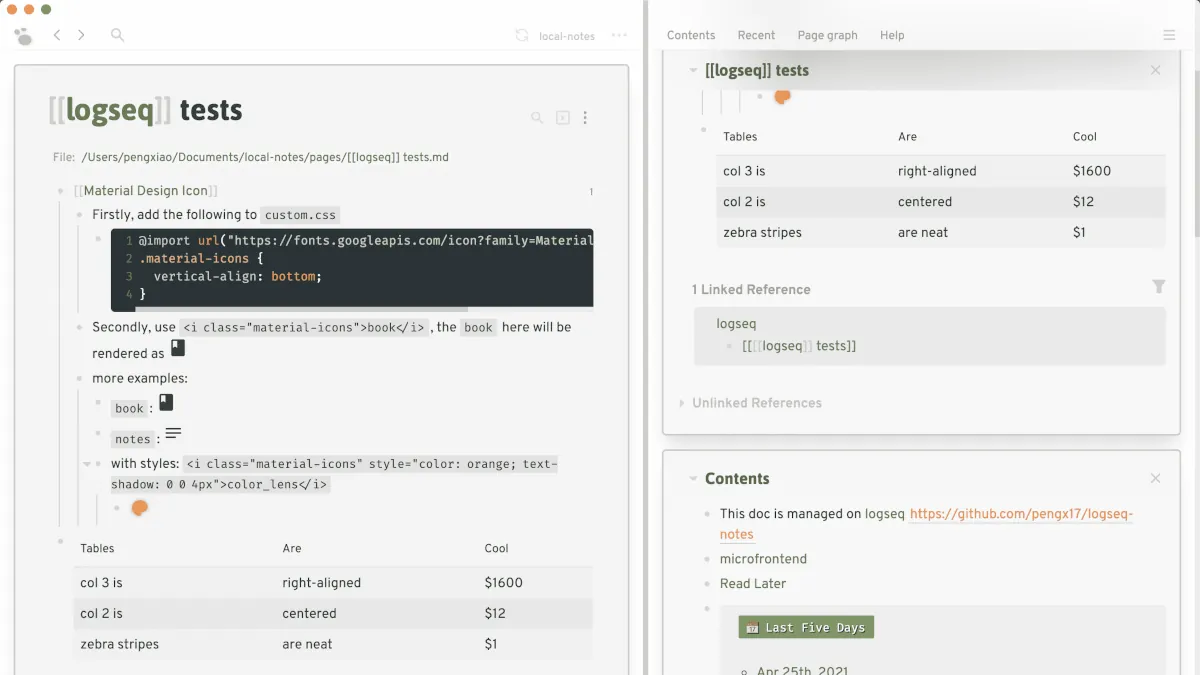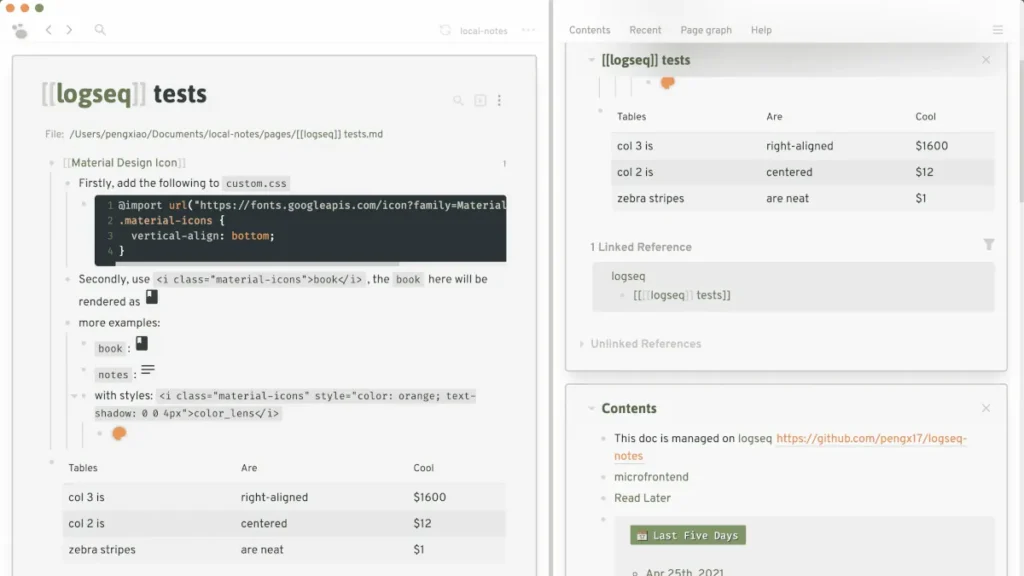 If you prefer a note-taking app with a little more going on and a few bells and whistles, look at the Laurel theme. This theme is more appropriate for students doing research or for someone wanting to emphasize key elements such as tables, code blocks, and lists.
Woz Theme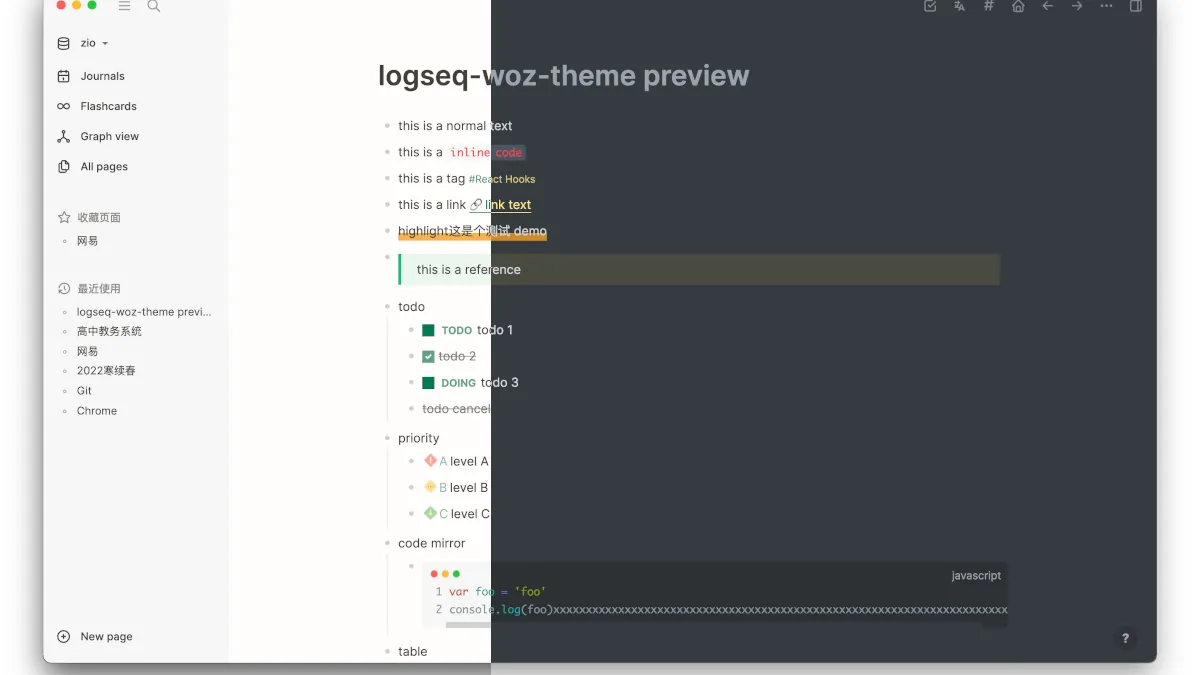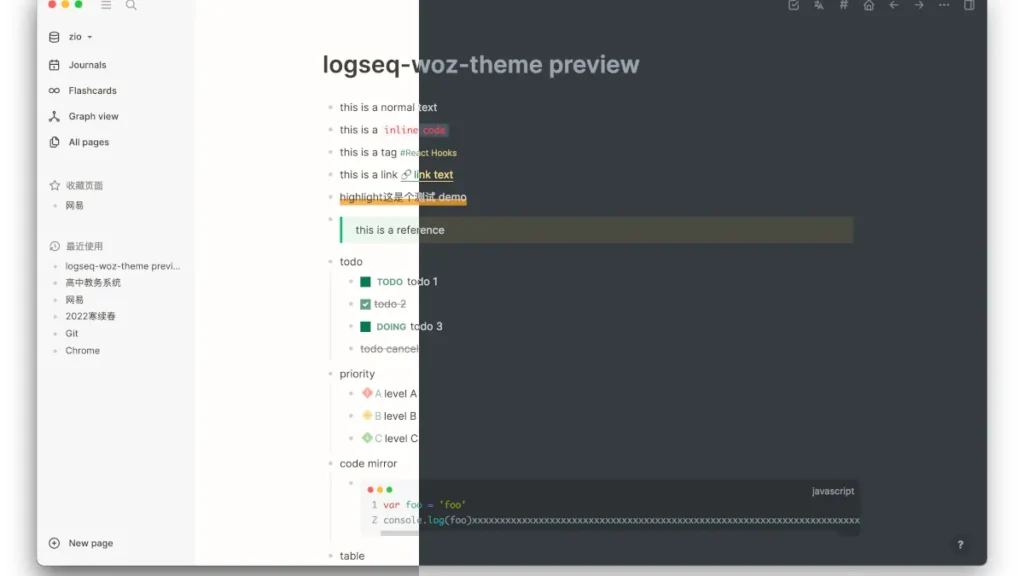 Woz is a decent theme if you just want Logseq to look good. It's not especially minimal or specialized for writing or anything in particular. But I like the dark theme with the orange accent colors.
Customized GitHub Theme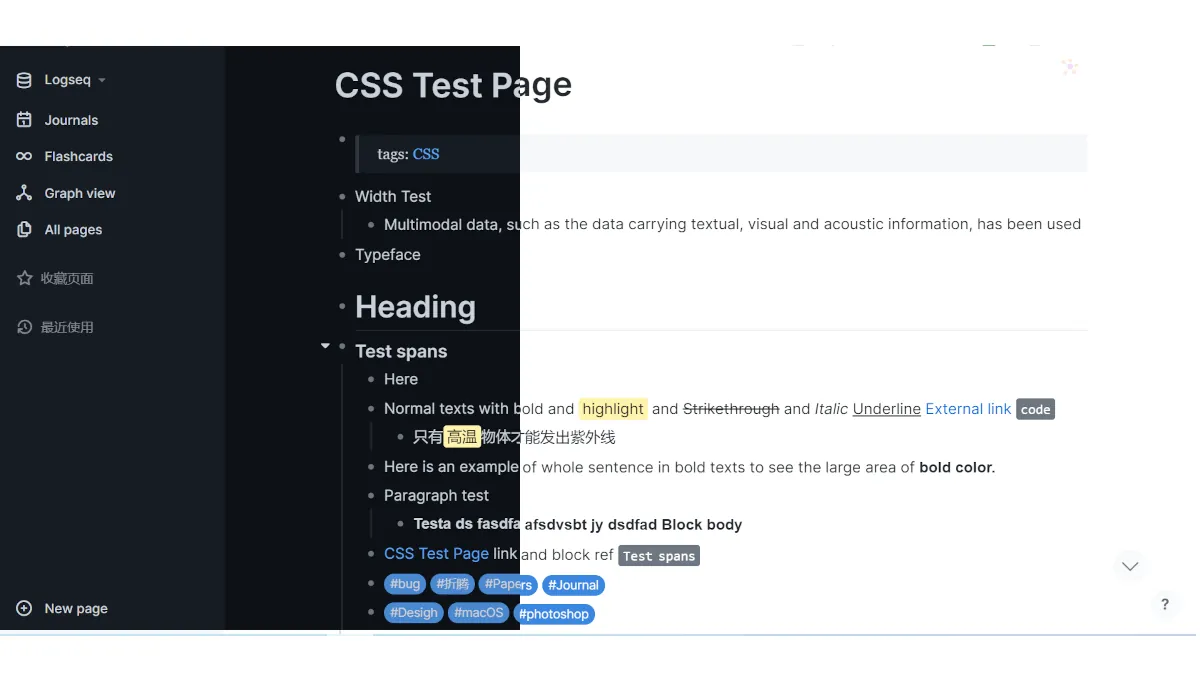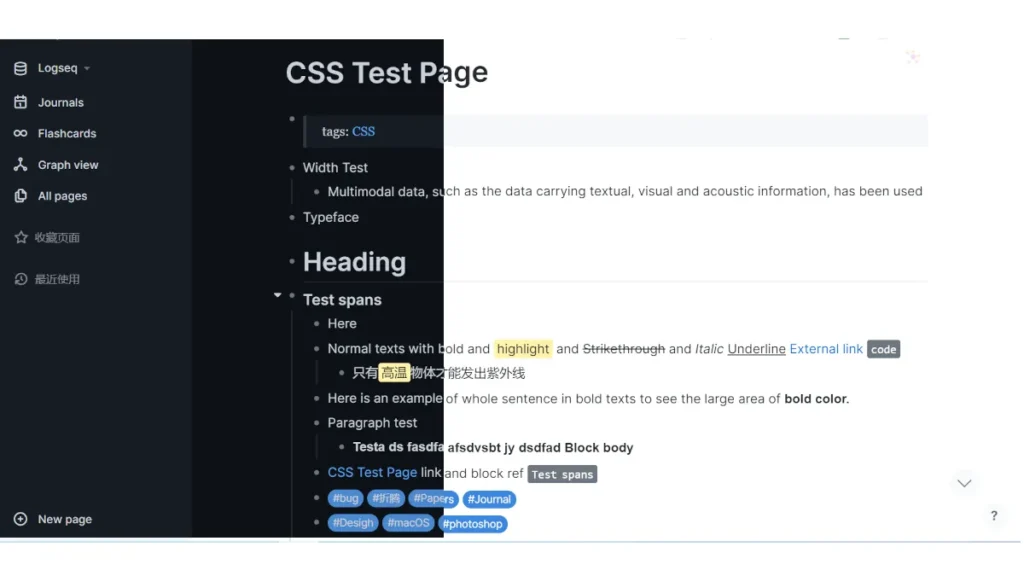 Customized GitHub Theme is so named because it's a fork of a previous project called Logseq GitHub Theme; the developer has also taken inspiration from the Bonofix theme above. As far as I can tell, the theme is meant to mimic the look and feel of GitHub.
Catppuccin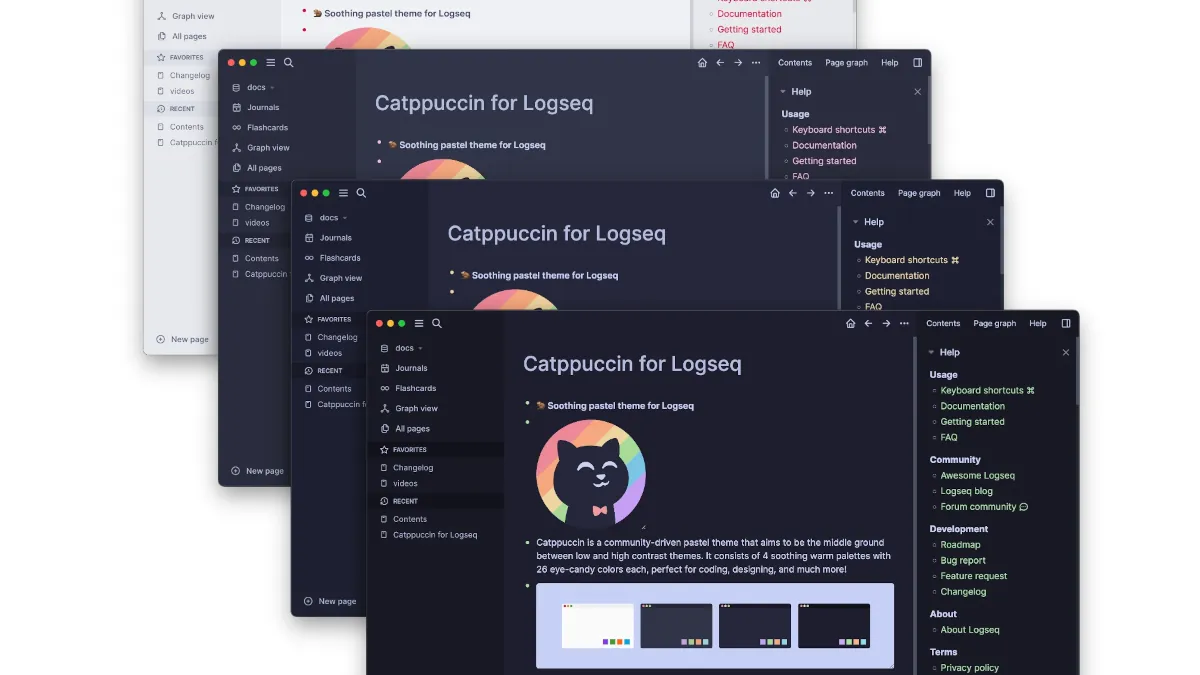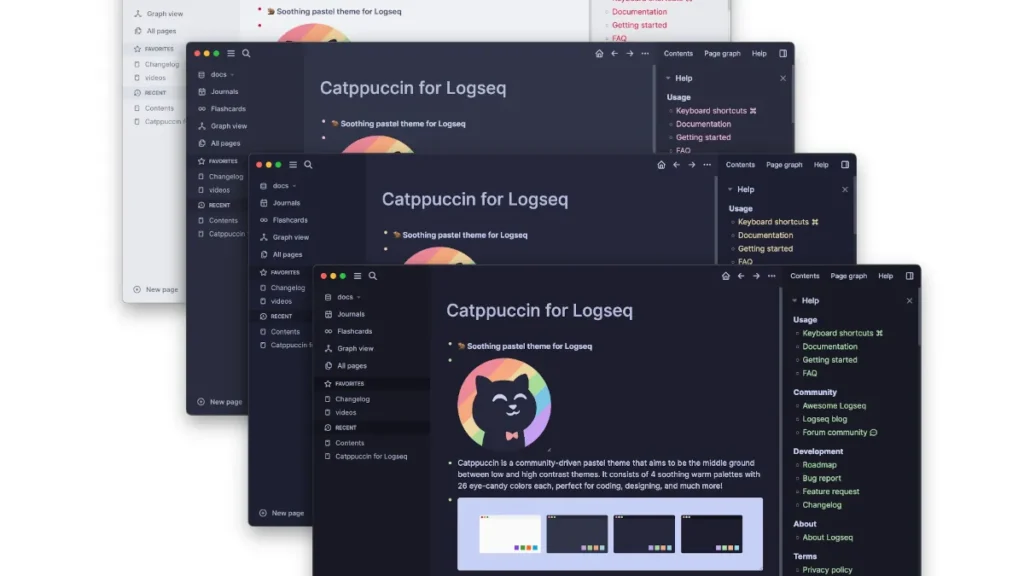 Looking at the GitHub page for the Catppuccin theme, there is no doubt of the developer's love for their feline friends. But this theme isn't meant to be a gimmick; its pastel color palette is designed to create some relief from the extremely high contrast and low contrast options out there. Multiple versions of this theme are selectable in the Settings menu, so you're bound to find one you like.
Ozean Theme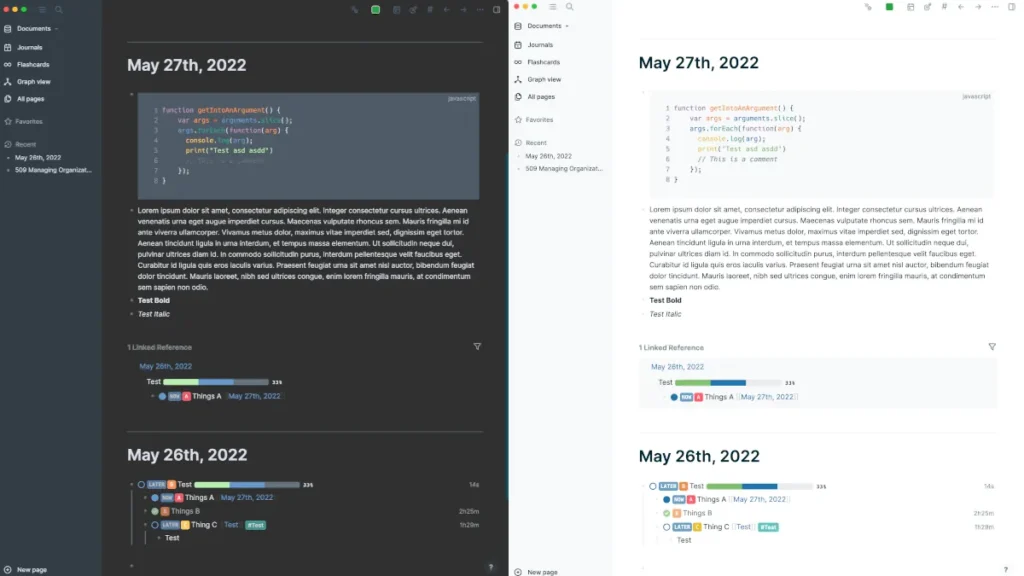 When I first saw the name of this theme, I assumed it was based on the WordPress theme Ocean, but after reading the description, it turns out it's inspired by Oceanic Next, which is a color scheme used in IDEs like visual code and text editors such as Vim and Neovim. The colors work well, and I'd happily use this theme for focused writing or taking notes.
Immersion Theme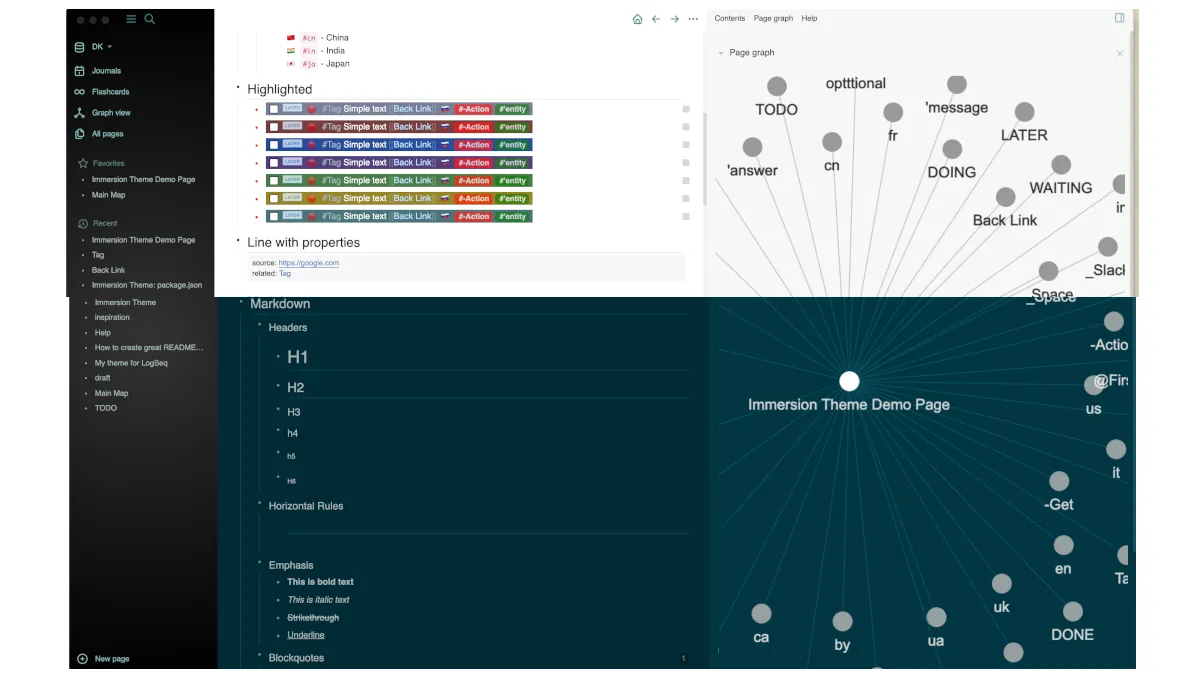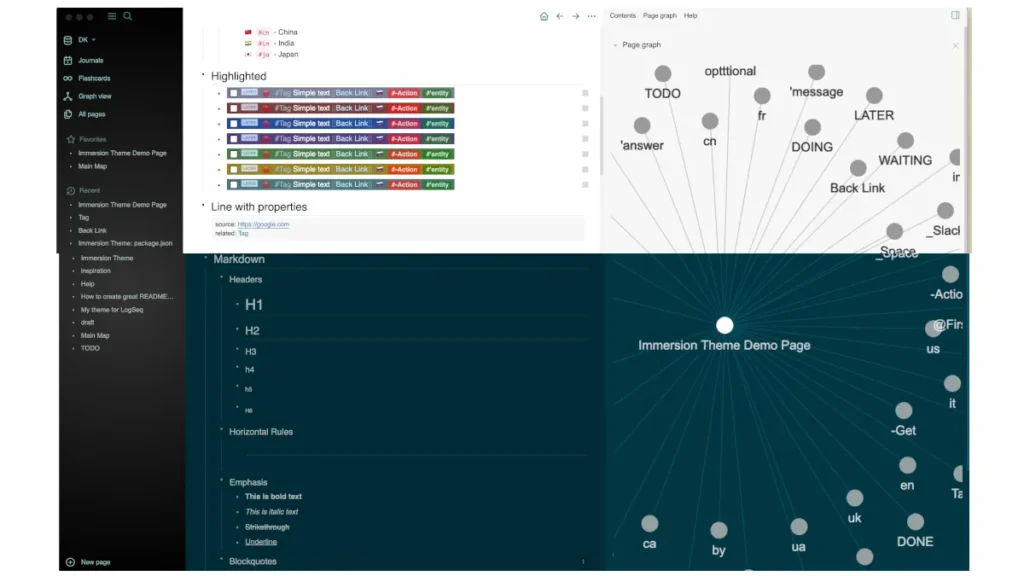 I get the idea of Immersion when I look at this theme. It's not too high contrast to be jarring to the eyes, but the text is also easily readable. The colors are slightly muted but still help to differentiate important elements. This is not a theme that will wow you with fancy menus and icons or crazy neon colors, but it will draw you into your second brain or notes system, which is what you want.
Honorable Mention: Bujo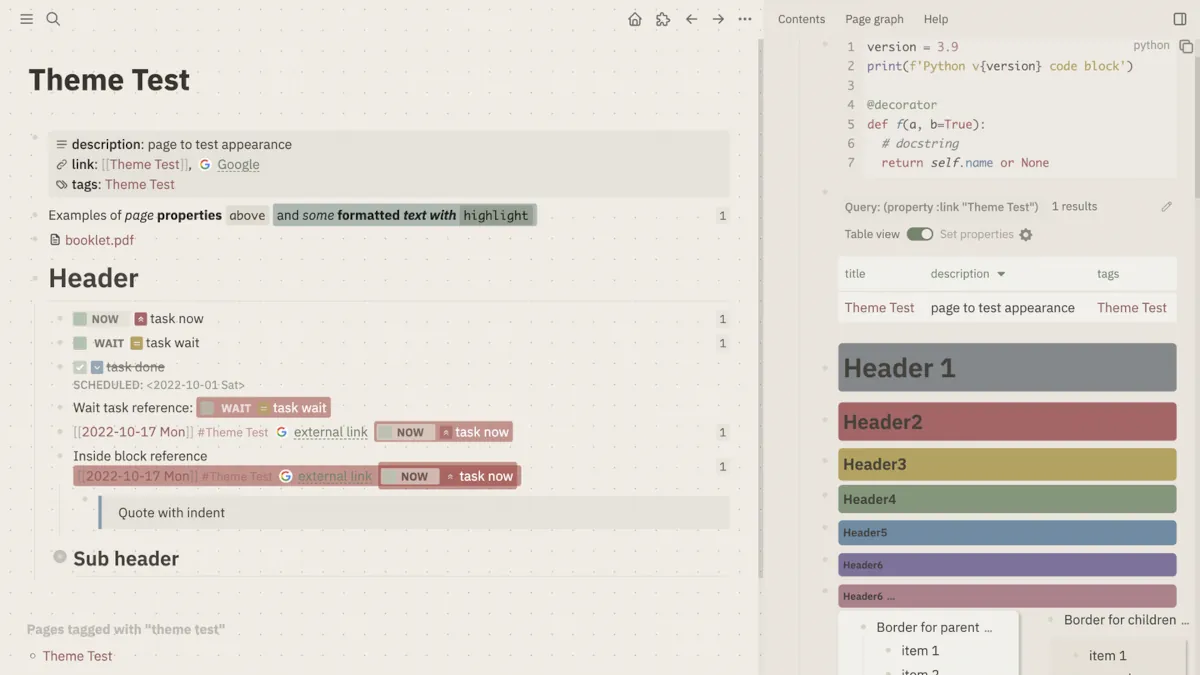 I've been a fan of Bullet Journaling since I read The Bullet Journal Method a few years ago. I liked it so much that I decided to swap my GTD system of over a decade to try out Bullet Journaling. The sepia background and the dots of this theme do have a paper-like style, and the dark colors look good. If you're into high contrast, this won't be the theme for you, but if you want to set up a Bullet Journal, try this theme out.
Make Logseq Work For You
At Face Dragons, we believe that Personal Knowledge Management is one of the keys to facing the Dragon of Ignorance and creating the life you deserve. Logseq is a great tool to use to build your second brain or just take better notes, so you have more knowledge to make better decisions in life.
Getting better at using Logseq or Obsidian will help you do this.