Everyone's heard and used Evernote. It's been around for years and is the industry standard for keeping track of your notes. But there's a new app in town. Obsidian has quickly become the best note-taking app and second-brain software. So it's natural that you're wondering which to choose. This Evernote vs. Obsidian comparison goes through all the features and tells you which is best for you.
A good notes app is more than just a place to jot down ideas. It can also be one of the best productivity apps you use. For capturing to-dos and to organize your work, digital notes apps can't be beaten, but make sure it has the features you want before you download and install.
The Comparison Chart: Evernote vs. Obsidian
| Feature | Evernote | Obsidian |
| --- | --- | --- |
| Paradigm | Hierarchical Cloud Based Note Taking App | Bi-directional Linking Local Second Brain App |
| Format | Rich Text | Markdown |
| Limitations | 60MB/Month Free | None |
| Price | Monthly Subscription (approx $9/month) | Free for Personal Use |
| Offline | Paid Only | Yes |
| Linking | No | Bidirectional |
| Web Clipper | Yes | With Plugin |
| Plugins | No | Yes |
| Note Sharing | Yes | No (Only with additional software, e.g., Dropbox) |
| Export Format | ENEX, HTML, XML | PDF, Markdown |
| Open Source | No | No |
| Sync Between Devices | 2 Devices Free | Free with File Sharing Software (Dropbox, Google Drive, Microsoft One Drive, etc.) Or paid with an Obsidian Sync Subscription |
| Templates | Paid Only | Yes |
| Calendar | Paid Only | With Plugin |
| Collaboration | Limited Access for free | No |
| Offline Access | Paid Only | Yes |
Table comparing the features of Evernote vs. Obsidian
What Is Obsidian, and Is It for Me?
Obsidian is a relatively new, cross-platform second-brain software that links locally stored markdown files to create a network of ideas.
Obsidian files are local
Unlike most apps you use today, Obsidian doesn't store your files on its servers. Instead, they are all saved on your hard drive, giving you control of your data. This is great for privacy, as you don't need to worry about who has access to your notes, with other note-taking apps such as Google Keep, Notion, Roam Research, etc. In addition, your files are stored on their servers, so you have to trust the company offering you the service and that their security can fend off hackers trying to steal their data.
However, with Obsidian, all your files are stored within a regular folder on your hard drive. In addition, you can use your file explorer to open the file and see all your notes, even without Obsidian running. So if you ever stop using Obsidian, all your files are already right there.
Obsidian uses markdown
It's not just that you have the files. You can open them too. They are not some strange encoded format that only special software can read. Your files are stored as plain text files with a .md extension. You can open these text files in any text editor like notepad, Microsoft Word, Google Docs, or Pages
Where Obsidian's files differ from other text files is the basic markdown syntax it uses. This includes a few special characters, such as:
# to make a heading
[[]] square brackets to create links
** stars to make text bold or italic
You will need to learn this syntax before you can use Obsidian effectively but don't worry, it's simple, and you can use this Obsidian Markdown Syntax Cheatsheet if you forget.
Links are King in Obsidian
Obsidian's recent success is closely related to its ability to link your notes. Much like a Wikipedia page, you can add links within the text of your notes to other notes that are related or referred to.
Unlike wiki links, however, links in Obsidian are bi-directional, meaning you can see the incoming and outgoing connections. This is especially useful for postgraduate students or anyone doing research or writing essays or articles. They can quickly find related ideas or knowledge to write about.
The Knowledge Graph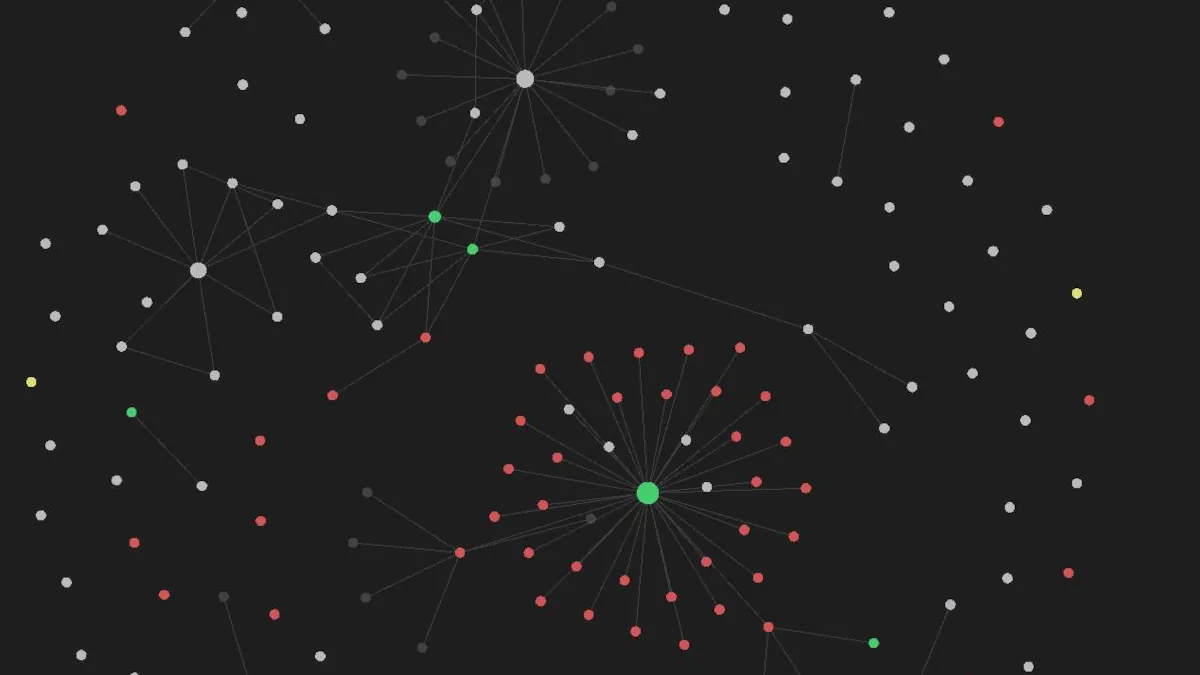 Obsidian isn't just a place to lock away the information you encounter. You can actually see it.
Obsidian has a feature called the knowledge graph, a visual representation of every note or file in your vault. The files are each represented by a dot, and the links are shown by lines joining the dots.
Using the graph, you can quickly see which areas of your vault are more closely interlinked or which topics are not linked to anything.
Community Plugins
The last feature I will highlight about Obsidian is its plugins. Plugins give Obsidian extra functionality. They are made mainly by the community and are free to download and install with a click inside Obsidian's settings. There are hundreds to choose from; check out the best Obsidian plugins here.
Kindle Highlights
Tasks
Editor Syntax Highlighting
Other Obsidian Features
Organize your notes with tags, folders, or categories
Notes are Searchable and queriable (with the dataview plugin)
Record Audio notes and reference them with links
Customizable Obsidian Hotkeys for efficiency
Who Is Obsidian For?
Obsidian is for you if:
Evernote
Evernote was a revolutionary note-taking application when it was first released in 2008. The ability to quickly move between notes and sync notes between different devices made it a must for students and professionals. However, with so many apps now offering what Evernote does, the question must be asked is Evernote Still Relevant?
Web Clipper
The reason so many people love Evernote is the web clipper. Evernote has a browser extension that will take information from a web page and put it straight into a note in your system with one click of a button.
Available on browsers such as Google Chrome, Firefox, Safari, and Edge, the convenience factor of clipping useful information is off the charts. If you use it well, the web clipper can be invaluable. Just try to avoid cutting everything you see, or it will quickly become unmanageable.
OCR
For all the benefits that come with PDF documents, there is one constant drawback, you can't edit or sometimes even copy the text contained within. Evernote built its OCR feature to combat this exact problem.
OCR stands for Optical Character Recognition. It's a way to turn text from an image (or PFDs) into editable text you can use. In the early 2000s, OCR was hailed as the best way to connect our analog and digital worlds, but apart from some very specialized use cases, the world didn't really need it.
If you like to jot notes down in a notebook or prefer scribbling notes on paper, Evernote's OCR will help to digitize them, as long as your handwriting isn't too messy!
Syncing and Storage
There are two types of people: those who want control and those who don't. If you wish to have all your files under your control and be responsible for backing them up or syncing them between devices, Obsidian is a great choice. But if you want that taken care of for you, Evernote might be more your speed.
With Evernote, you know that anything you write in your notebooks will be saved and synced. You can instantly access it on your phone, tablet, laptop, desktop, or browser.
Other Evernote Features
Of course, there are other features you may find helpful in Evernote. Most of them work as you'd expect, but you need to pay for a premium subscription to use them.
Tasks and to-do lists
Calendar
Templates
Who Is Evernote For?
Evernote is for you if:
You don't mind paying a monthly subscription.
Need to share meeting notes with other Evernote users
You don't want to worry about backups and syncing.
You just need a place to capture notes.
Which Did You Decide?
Whichever choice you made, at least now you're fully aware of the advantages and disadvantages of each application and their differences. Level up your Personal Knowledge Management journey with one of these Face Dragons posts.
Originally from the U.K, Greg has lived in Asia for over 15 years. Fluent in a handful of languages, he ran a management consultancy before creating Face Dragons. He spends his time now traveling around Asia, writing, taking photos, and drinking coffee.