Meet Gregory, a writer and the brains behind Face Dragons. He's the go-to guy for getting things done. Gregory's been living the digital nomad life in Asia for as long as anyone can remember, helping clients smash their goals. He writes on topics like software, personal knowledge management (PKM), and personal development. When he's not writing, you'll catch him at the local MMA gym, nose buried in a book, or just chilling with the family.
Thinking about installing Obsidian? These Obsidian alternatives may suit you better.
Getting things done right now is almost impossible without some kind of notes app. Even those with no interest in a life-organizing second brain or zettelkasten still use the notes app on their phone for those things "I just need to jot down for later."
However, to maximize your productivity and creativity, you need a personal knowledge management system. Obsidian is popular, but check out these Obsidian alternatives before you choose.
Skip Ahead to One of These Obsidian Alternatives
Obsidian's Best Features
Obsidian has taken the PKM world by storm, developed as a second-brain software, and has quickly become a popular PKM app. The Obsidian Sub over on Reddit has (as of Sep 2023) 93K Members, which is enormous for note-taking software. For context, the Evernote SubReddit has only 19,000 members.
The popularity has given Obsidian the momentum to keep developing a feature set you now expect in any note app. Here are the top features.
1. Bi-Directional Linking
Obsidian wasn't the first note-taking app to let you link notes together. Still, it made linking (particularly bi-directional linking) a requirement for any alternative note-taking app you want to use.
In Obsidian, you can create in-line links to other notes like on a webpage; using links, you can start your own personal wiki. But linking in Obsidian is more potent than that.
Obsidian's bi-directional linking means you can also see backlinks to a note. For example, imagine a note about Rome with a link to another note about Gladiators. By looking at the backlinks on the Gladiator page, I'd see that Rome links to it.
These two-way links make navigating your notes system much more straightforward and combining them with Obsidian Templates make a powerful and efficient way to take notes.
2. Using Plain Text Files and Markdown Formatting
Is markdown a feature? Or a non-feature?
Obsidian doesn't have many basic formatting options, such as fonts and font sizes by default. Instead, it uses Obsidian markdown to format your notes, with a small but valuable set of formatting options.
The benefit of using markdown is in the way Obsidian saves your notes. It uses a plain text format, mardown files (.md), which means every note you create in Obsidian will have its own .md file in your Obsidian folder. You can open and edit this file with any editor made in the last 50 years.
With plain text files, you can easily switch to an Obsidian alternative without exporting your notes or copying and pasting everything.
Markdown files means you can make Obsidian sync to your mobile devices, too. Use Dropbox, Google Drive, iCloud, or any cloud storage solution to sync your files.
3. Free Obsidian Plugins
One of the big problems with some traditional note-taking applications is that they don't allow developers to create plugins for their platforms. Want a button inside Evernote to start a Pomodoro timer? Well, you can only have it if Evernote decides to create one.
With Obsidian, however, anyone can create plugins that extend it's functionality. Hundreds of excellent Obsidian Plugins are available, so you can probably find what you need.
4. The Visual Knowledge Graph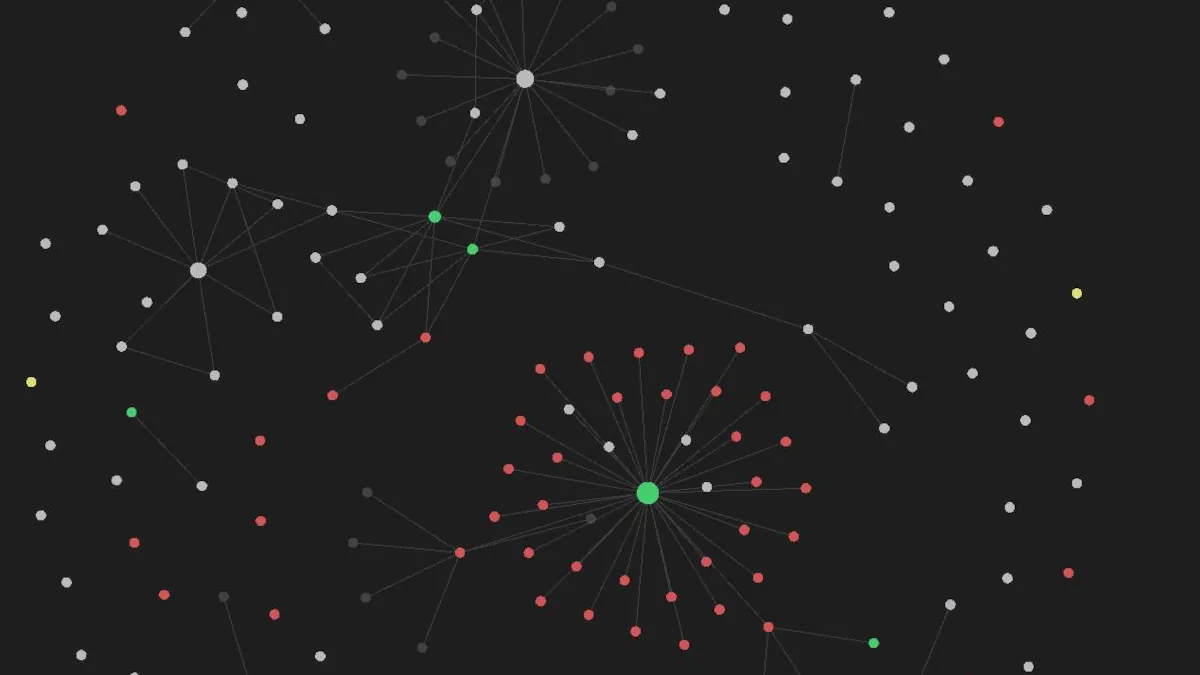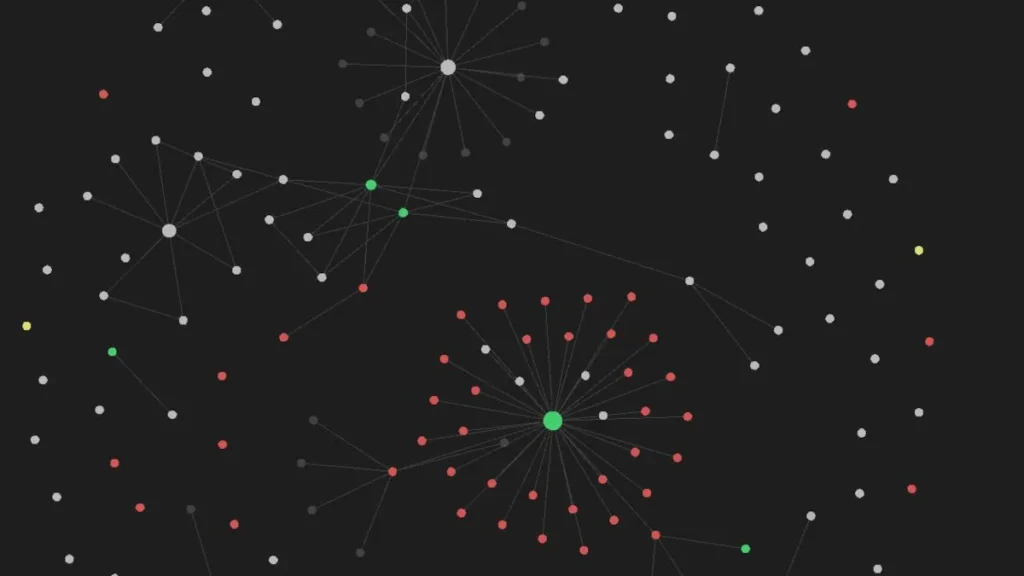 The knowledge graph is a tool you didn't know you needed until you saw it in Obsidian. It's a visual representation of your notes and their relationships to each other.
Using the filters and the local graph for an individual note, the knowledge graph can be used when you want to explore a topic, especially if you have a vast number of notes. Academics taking school notes or doing research will find these features helpful in rediscovering notes they had forgotten about or writing essays.
For everyone else, the knowledge graph may be fun to look at, but it is usually not a productive way to view your vault.
Why You Might Want an Obsidian Alternative
You Want a Free and Open Source Alternative to Obsidian
I get it. You want to use as much free and open-source (FOSS) software as possible, especially regarding important or personal information. Obsidian might have all the features you need, but without them making the source code accessible, you'll never really know what it's doing.
Obsidian is known to connect to the internet (perhaps for checking for updates), which adds an extra worry about what it is doing exactly.
Luckily, there are plenty of FOSS Obsidian alternatives on the list below.
Obsidian Doesn't Have a Feature You Need
It seems hard to believe that there is something you need that Obsidian can't do when considering how many available plugins it has. But, it's possible you don't like the look and feel or want something with a different philosophy behind it, such as a WYSIWYG editor, something specifically designed for mobile, not using Electron, or an app with an outliner philosophy and better editing of transcluded notes.
1. Logseq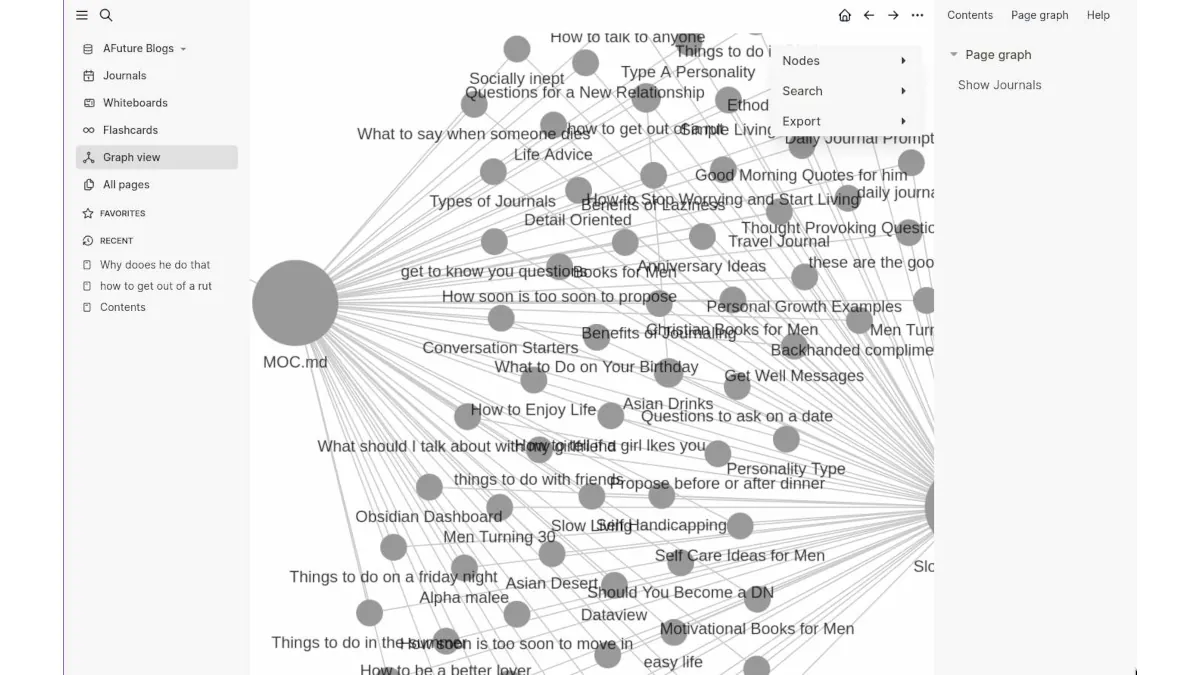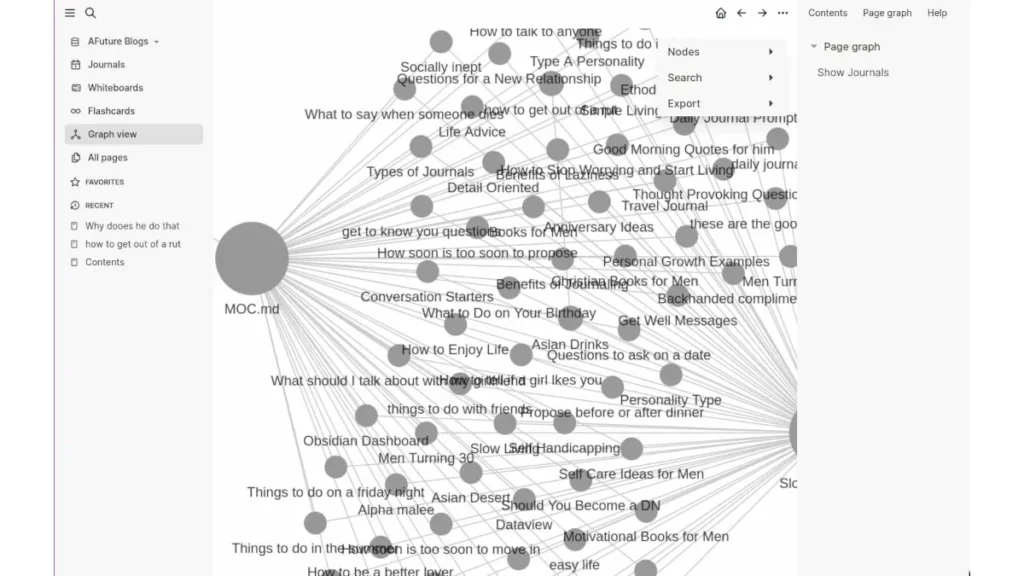 | | |
| --- | --- |
| Free and Open-Source | Yes |
| Format | Markdown |
| Plugins | Yes |
| Linking | Bi-directional |
| Price | Free |
Logseq is the obvious option for anyone looking for an alternative to Obsidian. It's free, it's FOSS, and it has a very similar feature set to Obsidian. Including awesome Logseq plugins that are free to download.
Logseq is a note-taking application based on the outliner philosophy, which will be familiar to anyone who has used Roam Research. In Logseq, every line you write is treated as a bullet point, and every bullet point can be referenced or linked to in other notes.
Logseq has a slightly steeper learning curve, but it's a powerful personal knowledge management application once you've got the hang of it.
2. QOwnNotes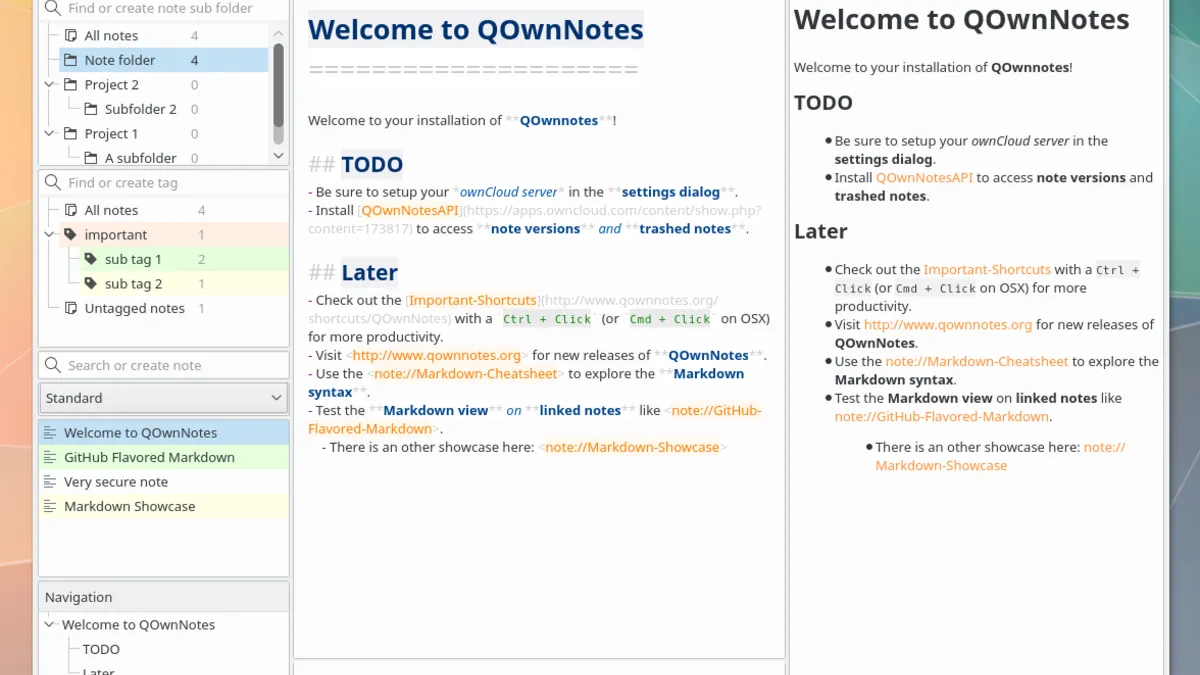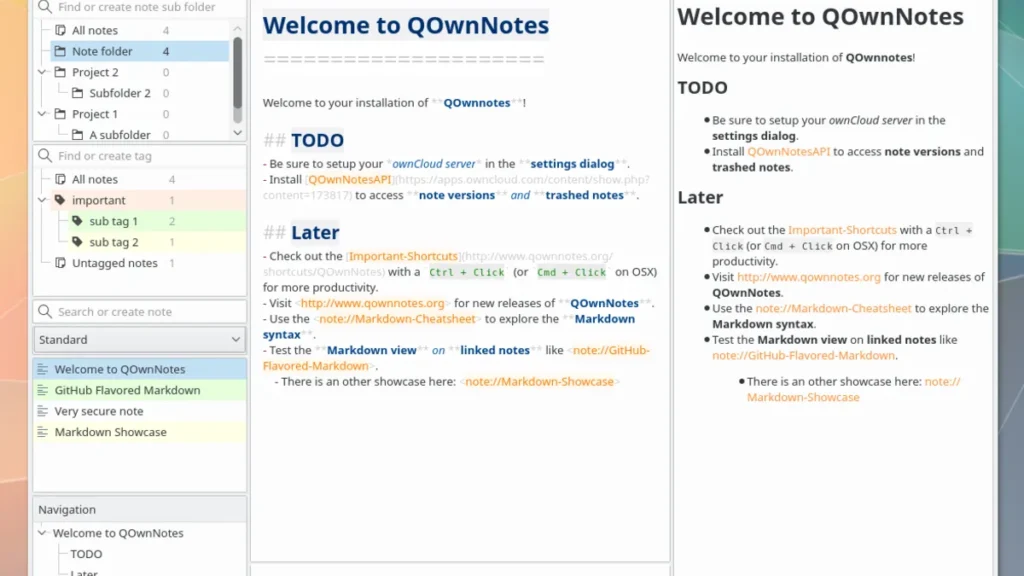 | | |
| --- | --- |
| Free and Open-Source | Yes |
| Format | Markdown |
| Plugins | Yes (Scripting) |
| Linking | Yes |
| Price | Free |
QOwnNotes is an incredible notes app that most have never heard of. Jam-packed with features and functionality, it's a true competitor to Obsidian and Logseq.
3. VimWiki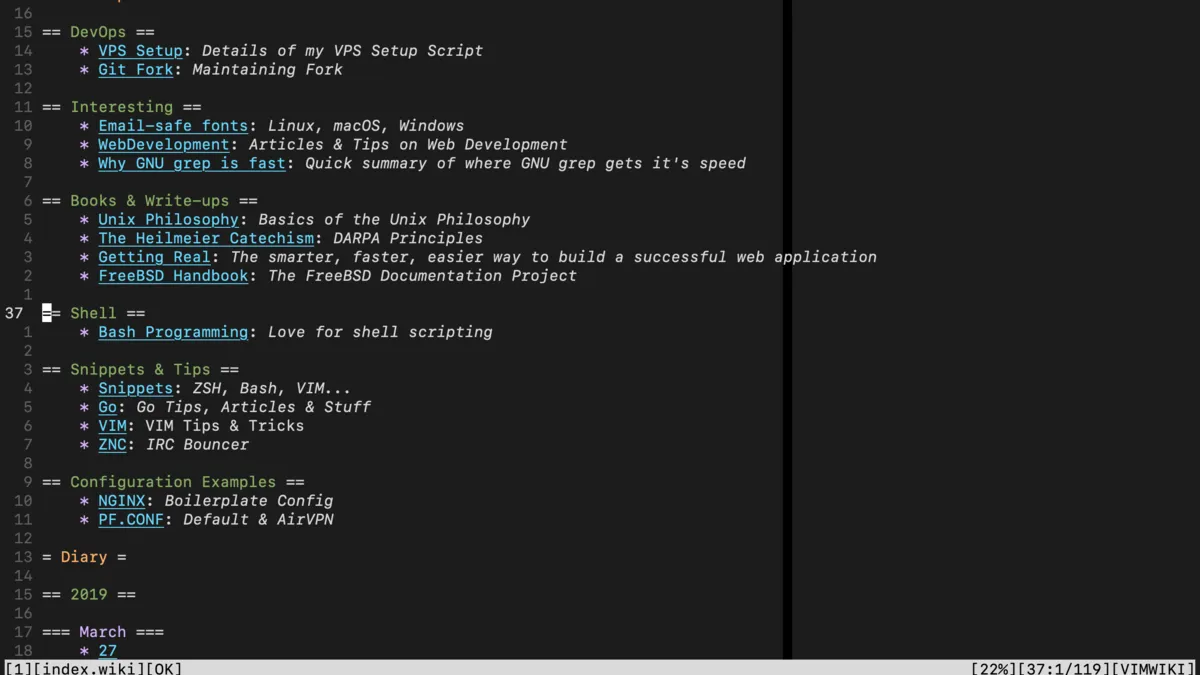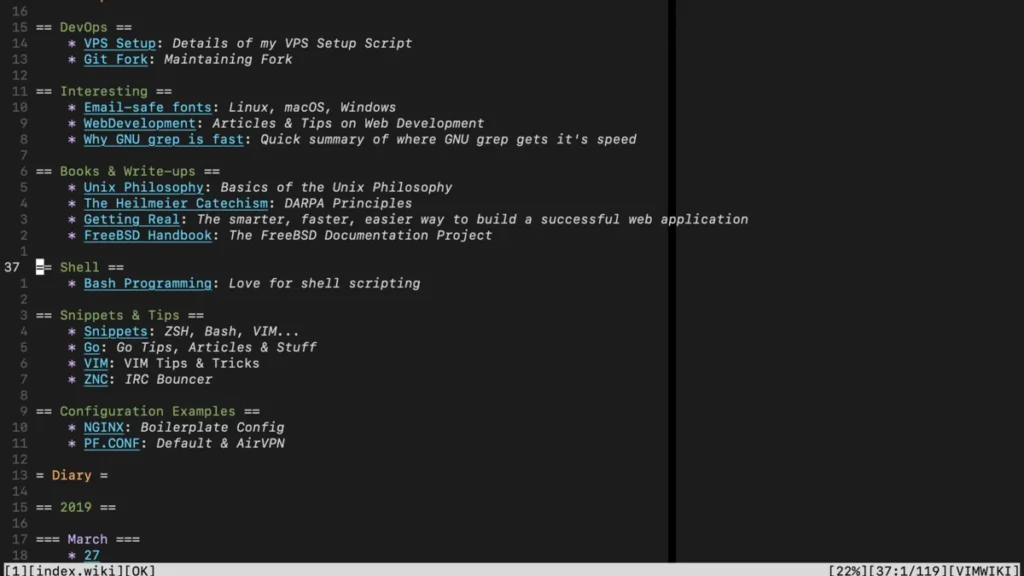 | | |
| --- | --- |
| Free and Open-Source | Yes |
| Format | Markdown/Orgmode |
| Plugins | Yes |
| Linking | One Directional |
| Price | Free |
If you've ever used Vim, you probably loved or hated it. When you first open up Vim, it can be bewildering, as all you get is a blank page and a cursor. But if you consider yourself a minimalist or like the idea of tinkering around and configuring a notes app exactly how you want it, Vim and VimWiki may be for you.
VimWiki is a plugin for Vim or NeoVim that turns your text editor into a wiki-like second-brain app. VimWiki handles that markdown syntax highlighting and linking with cool features like hitting enter in normal mode to create a link.
I created a guide for making a second brain with Vim and Vimwiki. Take a look and get your own customizable Obsidian Alternative.
4. OrgMode (Emacs)
| | |
| --- | --- |
| Free and Open-Source | Yes |
| Format | Orgmade/Markdown |
| Plugins | Yes |
| Linking | One Directional |
| Price | Free |
Emacs and Vim are often put into the same category of editor as they both emerged at a similar time. However, Vim and Emacs have always lived at opposite ends of the editor spectrum. Vim is a minimal, distraction-free editor that expects users to configure it to their liking, whereas emacs is a massive piece of software that tries to do everything.
Emacs Org Mode is the markdown editor that serves as a great alternative to Obsidian for anyone who wants access to an email client, browser text editor, and task management system within an all-encompassing productivity system.
5. Markor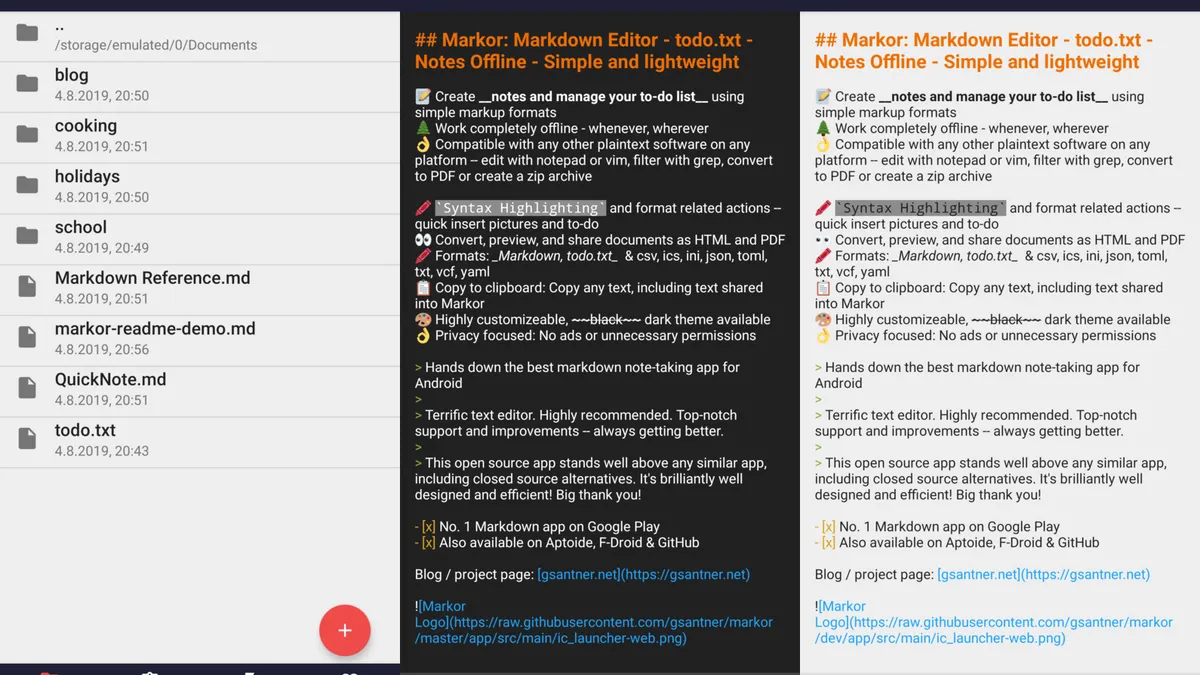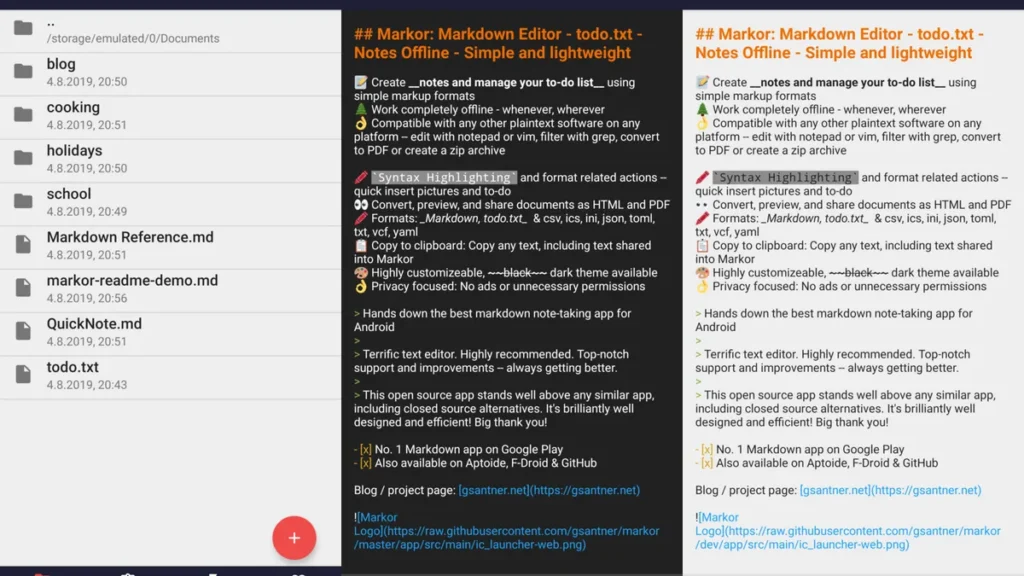 | | |
| --- | --- |
| Free and Open-Source | Yes |
| Format | Markdown |
| Plugins | No |
| Linking | One Directional |
| Price | Free |
Markorn is an Android app. It's a markdown editor and reader, so like Obsidian, it has both editor and reader modes. It supports markdown syntax, so you can open your Obsidian notes immediately with Markdor without converting or importing them.
If you primarily work on your phone or Android tablet, Markor is a superb alternative to downloading Obsidian. It's lightweight, fast, and supports creating shortcuts you can pin to your homepage or taskbar.
6. Joplin
| | |
| --- | --- |
| Free and Open-Source | Yes |
| Format | JEX (can export to Markdown/JSON) |
| Plugins | Yes |
| Linking | Yes |
| Price | Free |
Joplin is a free and open-source note-taking application that has been around for a while. Created before the days of Logseq and Obsidian and Notion, when Evernote was king of the note-taking space, it acts and feels familiar to anyone who has used Evernote.
Unfortunately, Joplin shows it's age when it comes to linking. It's still possible by finding the note you want to link to and right-clicking it, copying, and then pasting the link into your new note. Still, it leaves much to be desired compared to the new generation of bi-directional linking-enabled second-brain applications.
7. SimpleNote
| | |
| --- | --- |
| Free and Open-Source | Client only |
| Format | Markdown |
| Plugins | No |
| Linking | Yes |
| Price | Free |
SimpleNote is a free and open-source (client-only) notes app available for all platforms. It uses markdown and is accessible in the browser, too. Linking is possible in SimpleNote, though not as easily as with Obsidian. However, SimpleNotes servers aren't free or open-source, and it's unclear from their privacy policy just how much data they collect on their backend. Read it for yourself and make up your own mind.
8. Notion
| | |
| --- | --- |
| Free and Open-Source | No |
| Format | Database (export to CSV, HTML, or PDF) |
| Plugins | Yes (intergrations) |
| Linking | Yes |
| Price | Free for individuals |
Notion is the obvious choice for an Obsidian alternative because it heavily influenced Obsidian's development. However, there aren't many benefits from switching to Notion from Obsidian. Notion is known to be slow, and you need an active internet connection to use it. (offline is possible if you leave your browser open till you reconnect.)
Notion is freemium software, however, which means you can use it for personal use, but if you want to unlock all it has to offer, you will need to pay a monthly subscription, starting from $8 /month (Sep 2023.)
9. Evernote
| | |
| --- | --- |
| Free and Open-Source | No |
| Format | Database (Export to .ENEX) |
| Plugins | No |
| Linking | Yes |
| Price | Free for basic features |
Evernote was created in 2008 and enjoyed a monopoly in the note-taking space for some time. In the 2020s, however, it shows it's age. Linking is an apparent afterthought, so clunky it's just unusable. Plugins are non-existent, and rather than using an open format like markdown, Evernote actively locks you in with its proprietary design.
It's also expensive in a world where the best note apps are free. With corporations using Microsoft products and small businesses generally opting for Google alternatives, I'm not sure who Evernote's target audience is anymore. If you have notes in Evernote, export them (here's how to migrate to Obsidian) and have an external copy ready to import to another notes software on this list.
10. Roam Research
| | |
| --- | --- |
| Free and Open-Source | No |
| Format | (exportable to many formats |
| Plugins | Yes (Extensions) |
| Linking | Yes |
| Price | $15/month |
Roam Research is an outlining tool, "As easy to use as a document. As powerful as a graph database." Primarily designed for students and academics doing deep research who need to keep a large quantity of notes organized, it's the software that inspired Logseq.
Roam research is well made, and you won't be disappointed if you're looking for an outliner. However, you'll be forgiven for not wanting to pay $15/month when you can download and install Logseq for free.
11. Microsoft OneNote
| | |
| --- | --- |
| Free and Open-Source | No |
| Format | .one |
| Plugins | No |
| Linking | Yes |
| Price | Free with limitations |
Everyone is familiar with Microsoft's Office Suite, whether from being forced to use it at school or by your company. If you're already invested in the Microsoft ecosystem, it makes sense to use their note-taking software, too, doesn't it?
You can create links in Microsoft OneNote, not only to other notes but also to other files in your Microsoft OneDrive (e.g., Word or PowerPoint files.) However, links aren't bi-directional. OneNote Doesn't use Markdown either; it wants you to keep paying for your subscription, and although many apps integrate with OneNote, you can't create your own plugins.
12. Google Keep
| | |
| --- | --- |
| Free and Open-Source | No |
| Format | Unknown |
| Plugins | No |
| Linking | No |
| Price | Free |
Google Keep is the antithesis of a note-taking app like Obsidian. It's proprietary, obviously, but it doesn't try to offer a complete second-brain or zettelkasten experience. It's designed for taking quick notes and storing them simply, similar to how the default notes app on your phone works.
If you already use Google's other apps and want to continue using the ecosystem, give Google Keep a try, but bookmark this list for when you need something with more features.
13. Apple Notes
| | |
| --- | --- |
| Free and Open-Source | No |
| Format | SQLite Database |
| Plugins | No |
| Linking | Yes |
| Price | Free |
Apple users will likely be familiar with Apple Notes, which comes preinstalled on iPhones. Non-Apple users can't download Apple Notes. Can Apple Notes compete with Obsidian? It depends on what you want from your notes app. Apple Notes will stay synced with your MacBook, and you can create links too.
However, Apple Notes is designed as a simple note-taking application, so don't expect all the features of Obsidian. It doesn't use markdown either, so if that's a requirement for you, look elsewhere.
Didn't Find One?
If you didn't find a notes app like Obsidian that you want to try, just go with Obsidian, it's feature rich and if you don't like it you can easily switch later. Use this Getting Started with Obsidian guide to help.